2022 is bringing with it a whole array of new releases: a new Add-on Coaching function and the new Scramble Game and Quiz Game, both available on the web application.
Add-on coaching is here!
The Add-on coaching function was designed with our clients to offer the best possible support experience. It can now be deployed on your Teach on Mars applications!
Firstly, the new function enables Coaches to discuss with learners in an intuitive and simple way, just like with WhatsApp or Messenger. This way, coaches can start up a conversation which may involve questions, advice or other informal messages.

Once the person's needs have been pinpointed, coaches can recommend a course in the application to enable learners to access content in just one click. Once the course has been completed by the learner, coaches can evaluate the expertise acquired. This function is based on your expertise reference framework which you import directly into the Mission Center. Just like the add-on Manager, you decide which Coaches can access the role bearing the same name and which coaches can evaluate skills among the learners they manage.

This unique function is pushing the boundaries of mobile learning even further. Contact your account manager for more details.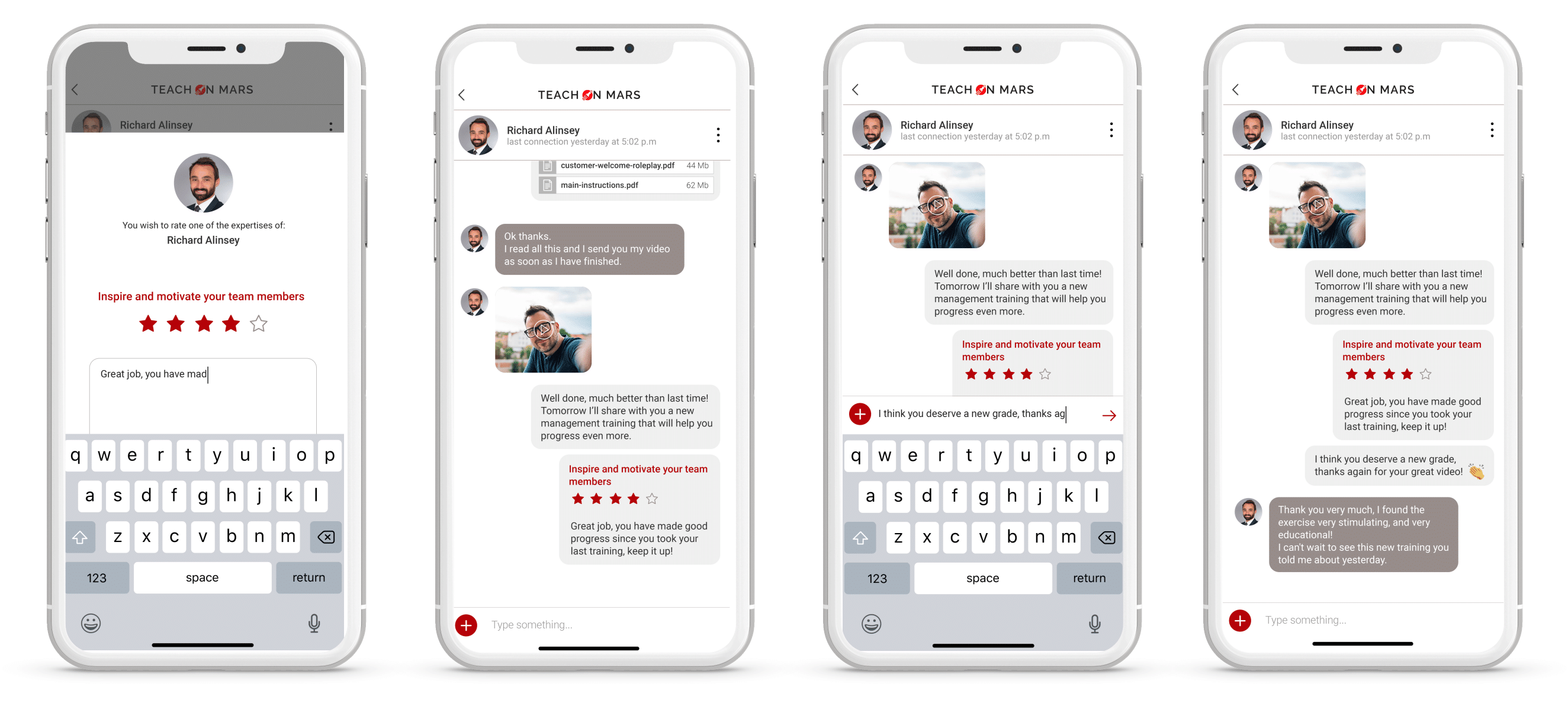 The new Scramble Game
As we promised, the Scramble Game is now available. The aim of this latest game is to put a word or a sentence back together using scrambled letters or words respectively. It's a true pedagogical innovation.
Greater concentration
This activity is also particularly effective for remotivating learners after they've done more top-down content. It's impossible to do this activity without concentrating on the content and the reason for this is simple: you don't only have to choose the right answer, you also have to build it (cf. Bloom's taxonomy). From a neurological standpoint, this requires a great deal more attention and the result is better memorisation.
Added absorption of information
Perfect for absorbing information, it enables learners to check their knowledge at various levels of their learning:

• Learners know the answer and look for the pieces to put the expression back together, consequently for them, this activity represents a simple evaluation of knowledge.
• Learners vaguely recall the answer and use the pieces to put the expression back together, making it an anchoring activity.
• Learners find the answer by trying out their reasoning based on the possibilities given, this enables them to create internal questioning, which top-down content will supplement.
Creating the activity
The activity functions in a simple manner: like for the other activities, you fill out the author answer form by providing a question, the right answer and some traps (random letters or incorrect answers). The author tool takes care of the rest, and throws up randomly placed bricks during the activity.

In a nutshell, the activity is easy to use and can be customised by means of a background image.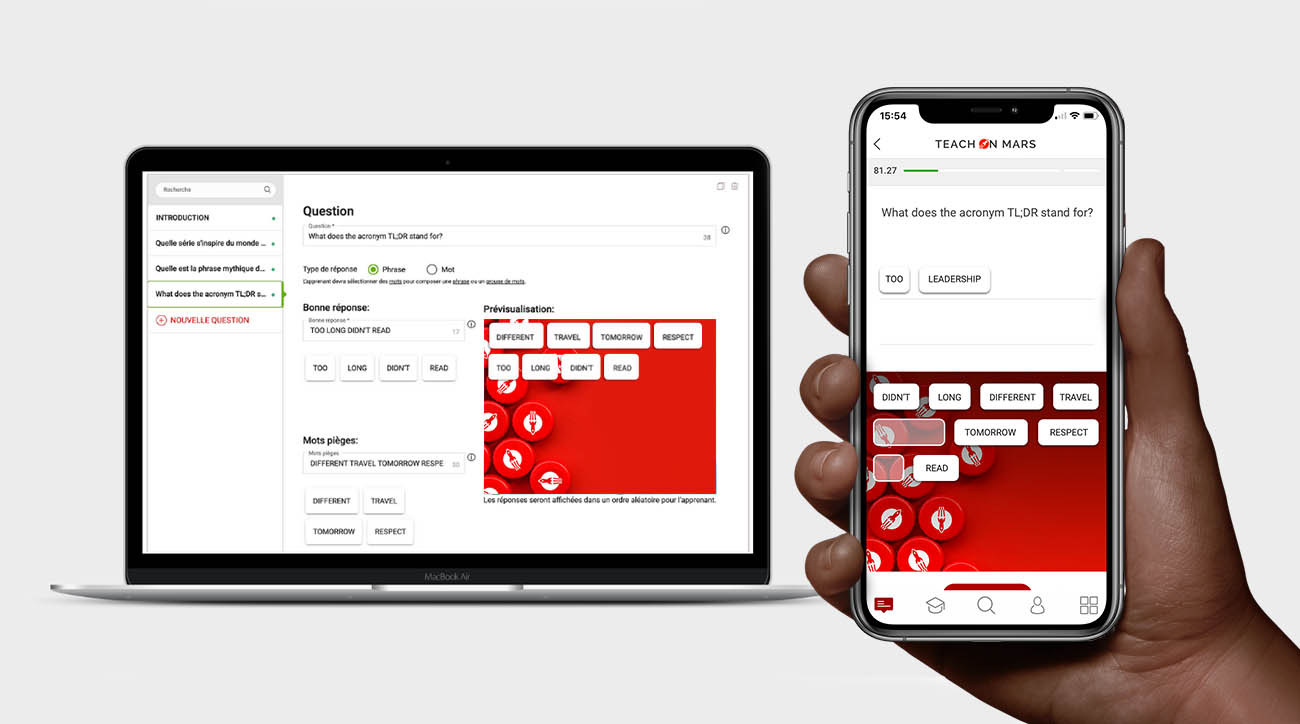 The Quiz Game, accessible on the web application 
A small step for us, a giant leap for your projects! This was the last step for achieving an optimal user experience for all devices: the Quiz Game is now available on the web application. News which is set to put a smile on a lot of faces!
Why not use this effective activity as part of your competitions! Learners can now challenge colleagues directly using their computer. Populations reticent to use their own telephone (BYOD) can now try out an awesome Quiz on the webapp, which is just as fabulous as the mobile application.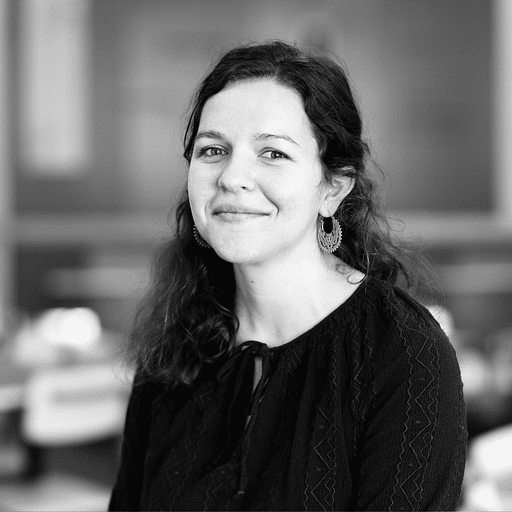 D'abord éditrice de manuels scolaires, professeure et coordinatrice pédagogique à l'Université, Julia a rejoint l'équipe Learning Experience chez Teach on Mars pour apporter ses compétences en pédagogie. La gamification et la différenciation pédagogique sont notamment ses chevaux de bataille.