Designed and built from day one to look, feel and play like the very best mobile apps your learners love, Teach on Mars offers a simple, elegant and smart experience that slots straight into the modern learner's connected, mobile lifestyle. It's social, it's personalised, it's cool… and it will have users coming back to learn a little more and build a better future every day.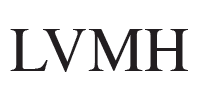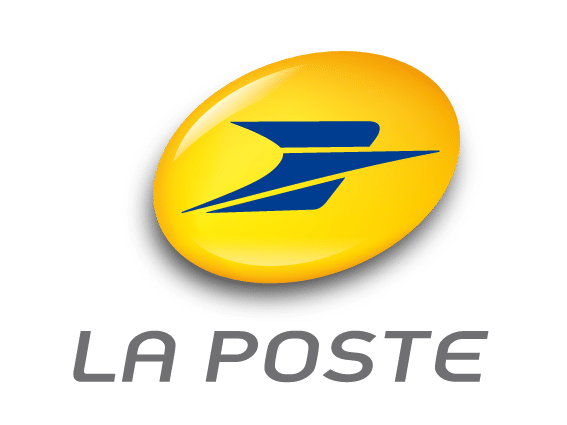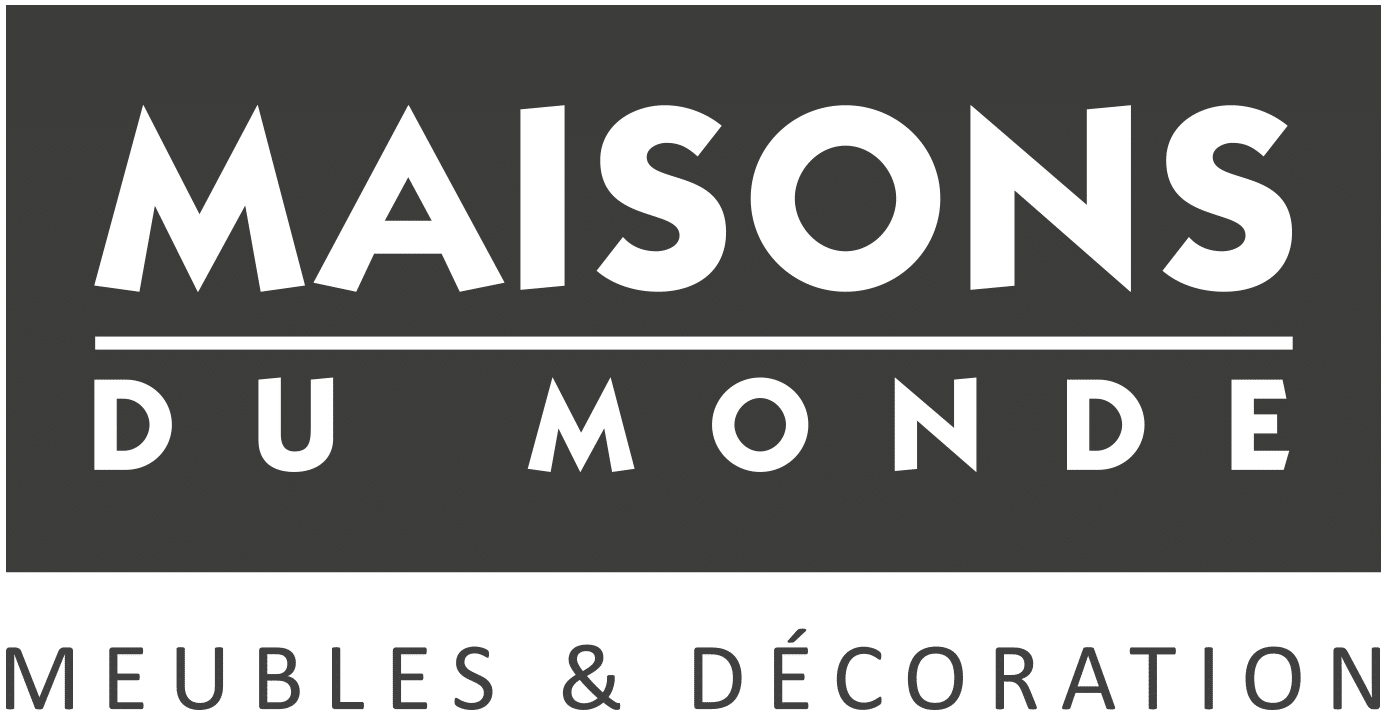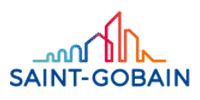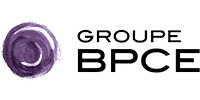 With a Teach on Mars app, immerse your learners in an experience fine-tuned to showcase your brand and reinforce your culture. All backed up by the very latest next-gen learning technologies and design flexibility that sets new standards for app customisation.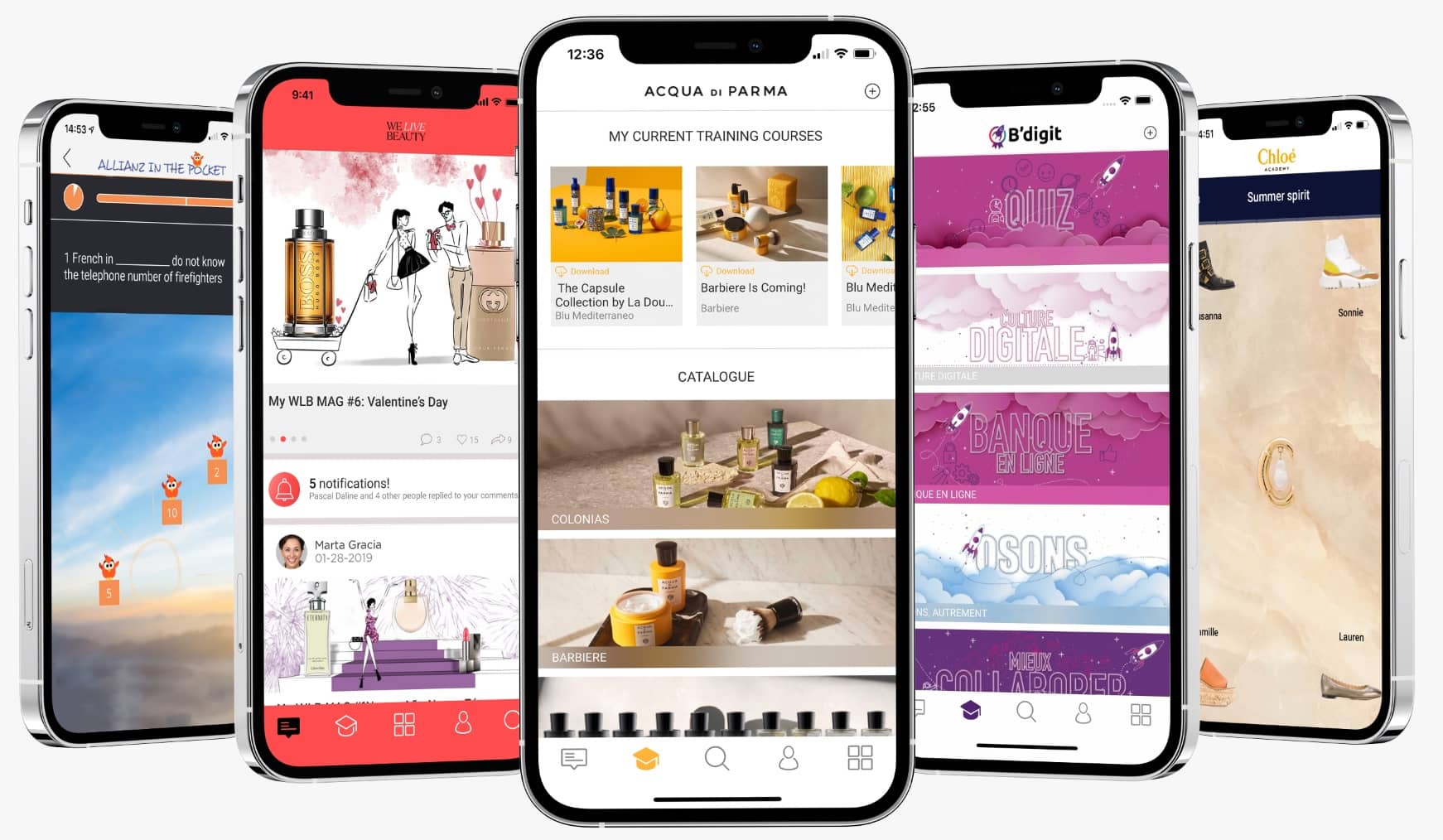 MOBILE-FIRST
Our mobile-native apps are like personal learning assistants that your users can access wherever and whenever they like – online or offline. And if a more traditional digital learning experience is your thing, our 100 % responsive web interface works perfectly on any desktop or tablet environment.
SOCIAL LEARNING
Digital learning is no longer a solitary experience. Teach on Mars will become your community's very own social platform, where learners can mention peers, like, share or comment on content, upload their own images and videos, share documents and access articles and podcasts.
NEW LEARNING
Surprise your users with learning they won't have seen before! Grab their attention with community-centric gamification. Mix new tech with proven live learning techniques in phygital events. And stimulate curiosity by building in virtual reality, interactive video and quest-based training.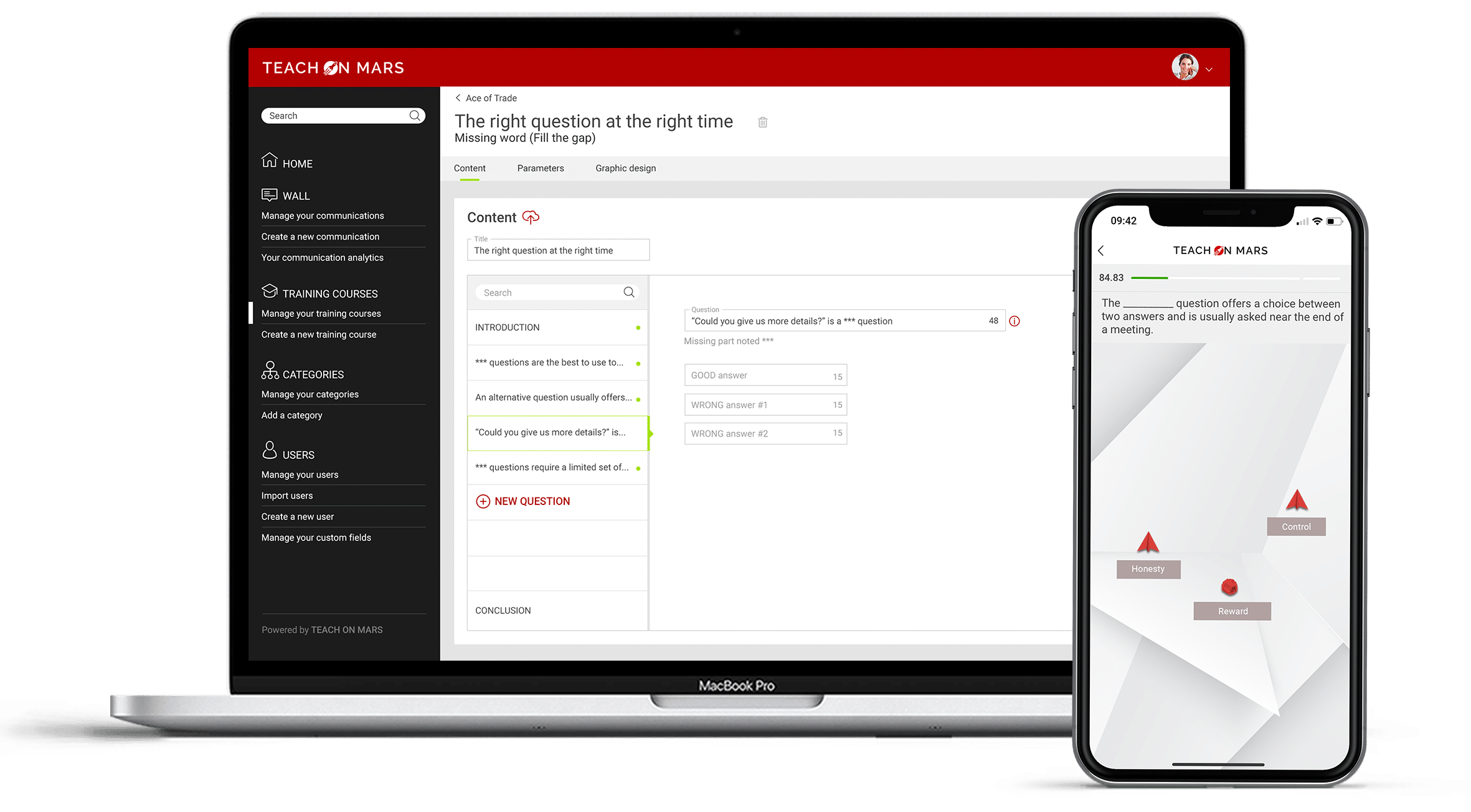 TRAIN – AND RETRAIN – AT THE SPEED OF LIGHT
With our built-in authoring tool, just about anyone can build and update content that is creative and on-point. From a simple knowledge quiz to a full-blown learning path. It's easy to learn, agile to use and lots of fun. To add depth to your training courses, Teach on Mars also has a wide range of high-quality learning resources created by our expert content partners or carefully curated by our instructional design teams.

CONTENT AUTHORING TOOL
Boasting more than 20 fully customisable learning activity formats and full-feature integration of third-party SCORM content, the Teach on Mars LCMS (Learning Content Management System) is more than a match for even the most sophisticated instructional design challenge.
OFF-THE-SHELF CONTENT
The Teach on Mars "Learning Station" is home to top-of-the-line content from some of the industry's leading publishers. Select content on a wide range of themes from our multi-format catalogue and deploy it quickly and seamlessly through your app.
NEW LEARNING ARCHITECTURES
Merge synchronous and asynchronous learning moments into a single, fluid experience. Combine solo reflective learning with the collaborative punch of group events. And enroll your learner populations for multi-format training paths that mix virtual and classroom activities with a simple click.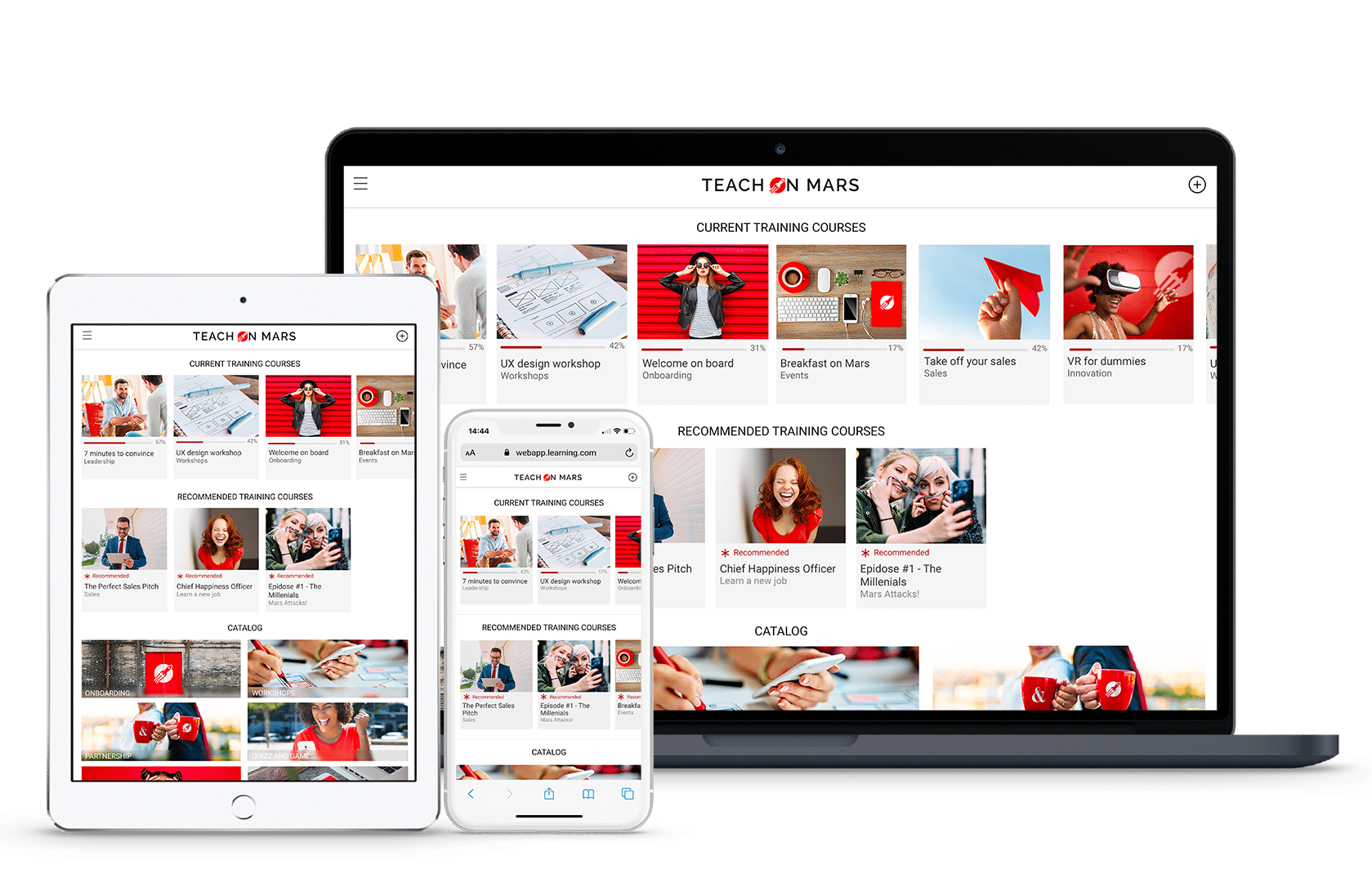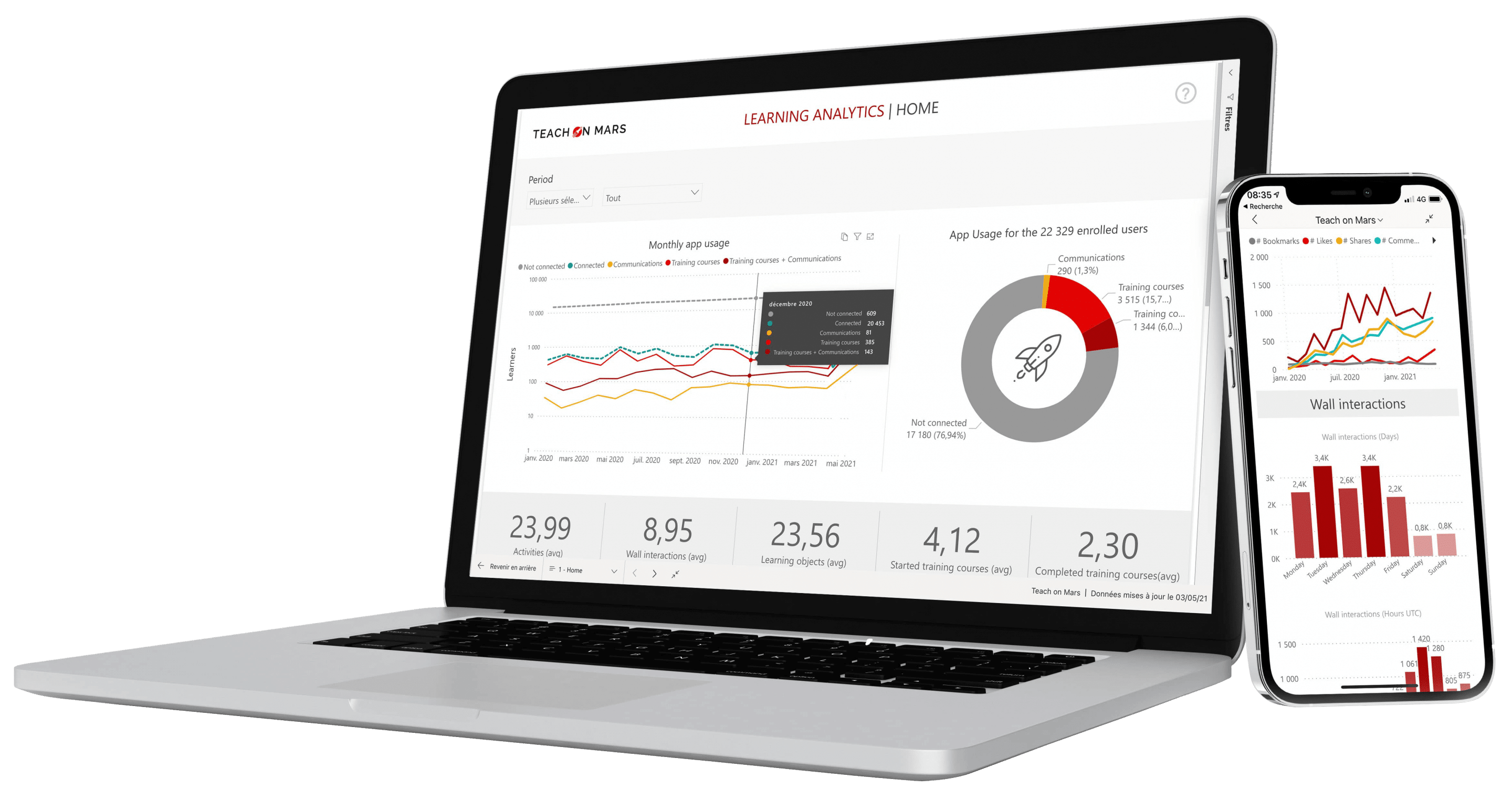 MAKE A DIFFERENCE IN YOUR BUSINESS
For a genuinely effective learning initiative, deployment, take-up and engagement rates are key, and Teach on Mars delivers the best in the industry. We've perfected and proven our methodology over hundreds of successful client projects. Our commitment, consulting expertise and customer service ethic are cornerstones of our brand. Join some of the world's most admired organisations in our client user community, compare your deployment results and best practices to the best in class and build your own next-gen learning culture.
BUSINESS INTELLIGENCE
Define your own KPIs and metrics, craft them into business-relevant dashboards, and measure how the upskilling and engagement of your learner community impacts your results. At last, you can really show the return on your training investment.
ARTIFICIAL INTELLIGENCE
Harness the power of mass personalisation thanks to Curiosity, an exclusive Teach on Mars technology that leverages the latest advances in artificial intelligence. Put adaptive learning, content prescription, dynamic competency models and smart notifications to work for your learning community.
CUSTOMER SUCCESS
Next-gen learning is a journey of change for your organisation, so you need a committed partner to accompany you every step of the way. Teach on Mars' industry-leading Customer Success teams will help you establish your needs, design the most appropriate solution, and deploy it on the ground throughout the world.
BE MASTER OF YOUR OWN TRAINING ECOSYSTEM
Teach on Mars adds a whole new dimension to your existing HRIS or LMS. Connect our app to your organisation's favourite productivity and communication tools and deliver a fully integrated learning experience that works where your users work and consolidates all key learning data.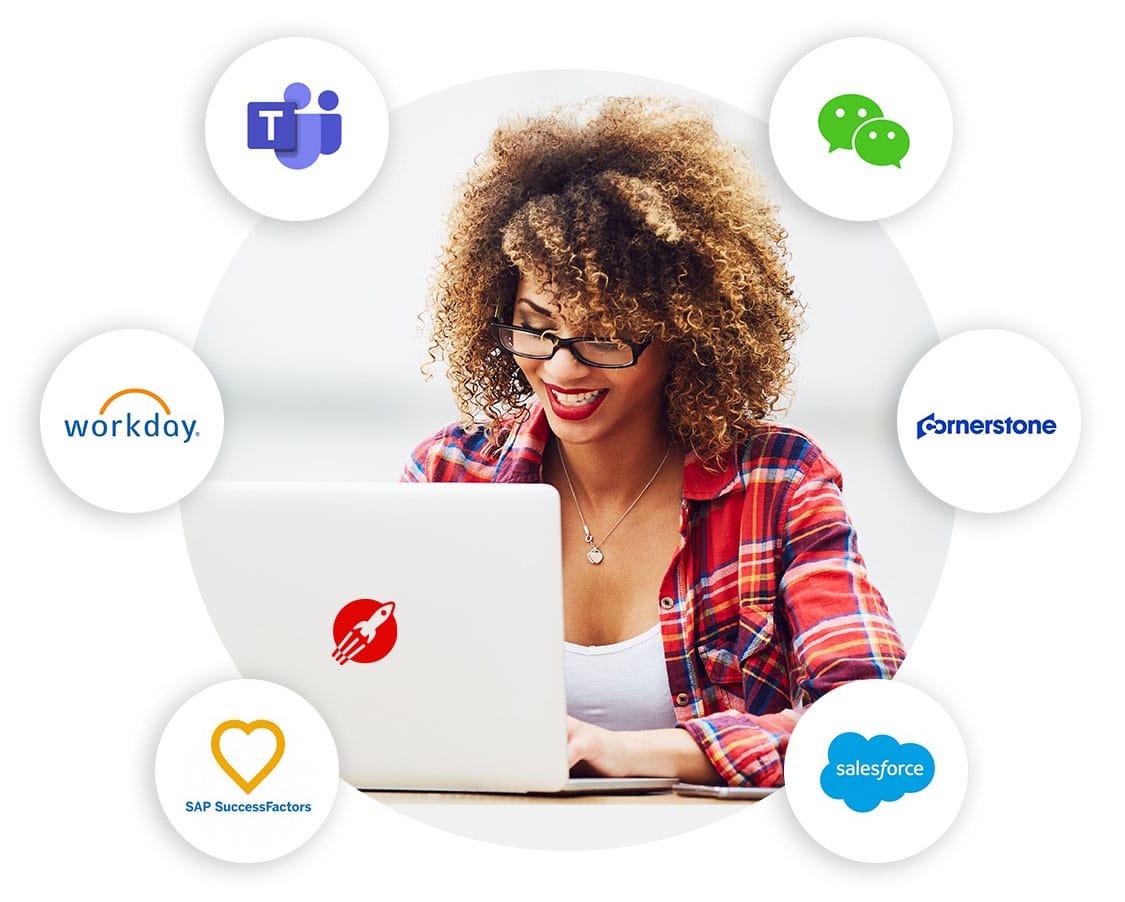 BUILT FOR THE WHOLE PLANET
Teach on Mars technology is used by learners in more than 90 countries every day. It was designed from day one for worldwide simultaneous deployment of learning initiatives in multiple languages, and in full compliance with all confidentiality, data security and GDPR requirements.
CONNECTING TO YOUR BUSINESS
Teach on Mars interfaces directly with all market-leading enterprise information systems, including Workday, SAP Success Factors, CSOD, TalentSoft and Salesforce. And learners can use our apps directly from Microsoft Teams or WeChat Pro.
ADD-ONS
Take Teach on Mars to another level of flexibility and functionality with Teach on Mars' own add-ons (Coaching, Product Catalogue, Manager Dashboard, Live!), as well as those offered by our tech partners. And our powerful, open APIs mean you can also develop your specialist extensions in-house.