WHAT WE'RE ABOUT
Teach on Mars builds a software solution that enables client companies to take their employees' development to the next level by providing them with a genuinely personal learning assistant. Our mobile-native technology harnesses the latest advances in artificial intelligence and collaborative learning to deliver the smartest, most social and most connected learning experience out there.
We have a passion for developing individuals. We build more agile organisations. We promote the spread of a worldwide learning culture. 
Our baseline is also the credo we live by: More learning moments. Better future.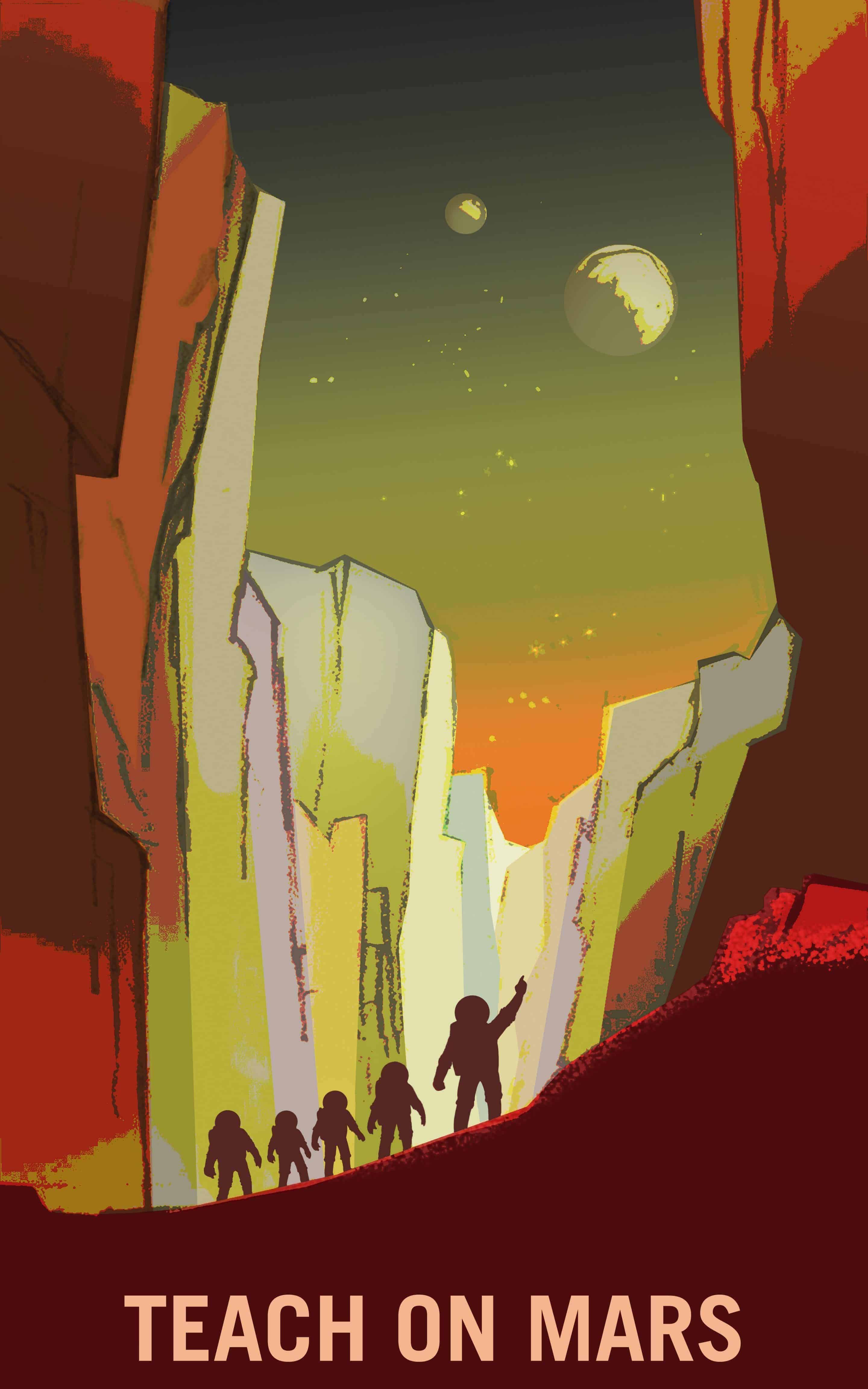 WHERE WE COME FROM
Teach on Mars has been setting the pace at the front of the next-gen EdTech pack since its creation in June 2013. But the game-changing idea behind the company was born a year before that in 2012, in Cape Canaveral, birthplace of space travel and of mankind's dreams of pushing the boundaries and reaching for the stars. That's where co-founder Vincent Desnot first saw a vintage NASA poster with the simple yet stimulating inscription "Teach on Mars".
Part inspiration, part rallying cry, those words struck a chord. That iconic poster has come to symbolise our challenge to every trainer on Planet Earth. Break out of the classroom. Go meet your learners out there – where they want to learn. Then take them on journeys to places they didn't know they could reach. And that includes Mars!
Teach on Mars is more than just a next-gen learning pioneer and leader. We were the first to see that the mobile device was set to become every user's screen of choice – and rewired everything our industry knew about digital learning usage to seize that opportunity.
Today, our award-winning technology is used by hundreds of thousands of learners every day in more than 60 countries.
To learn more, do their jobs better and build a better future.
Teach on Mars Mission Control is in Sophia-Antipolis on the French Riviera. Our planetary network includes key satellites in Paris, London, Milan, Brussels and Casablanca.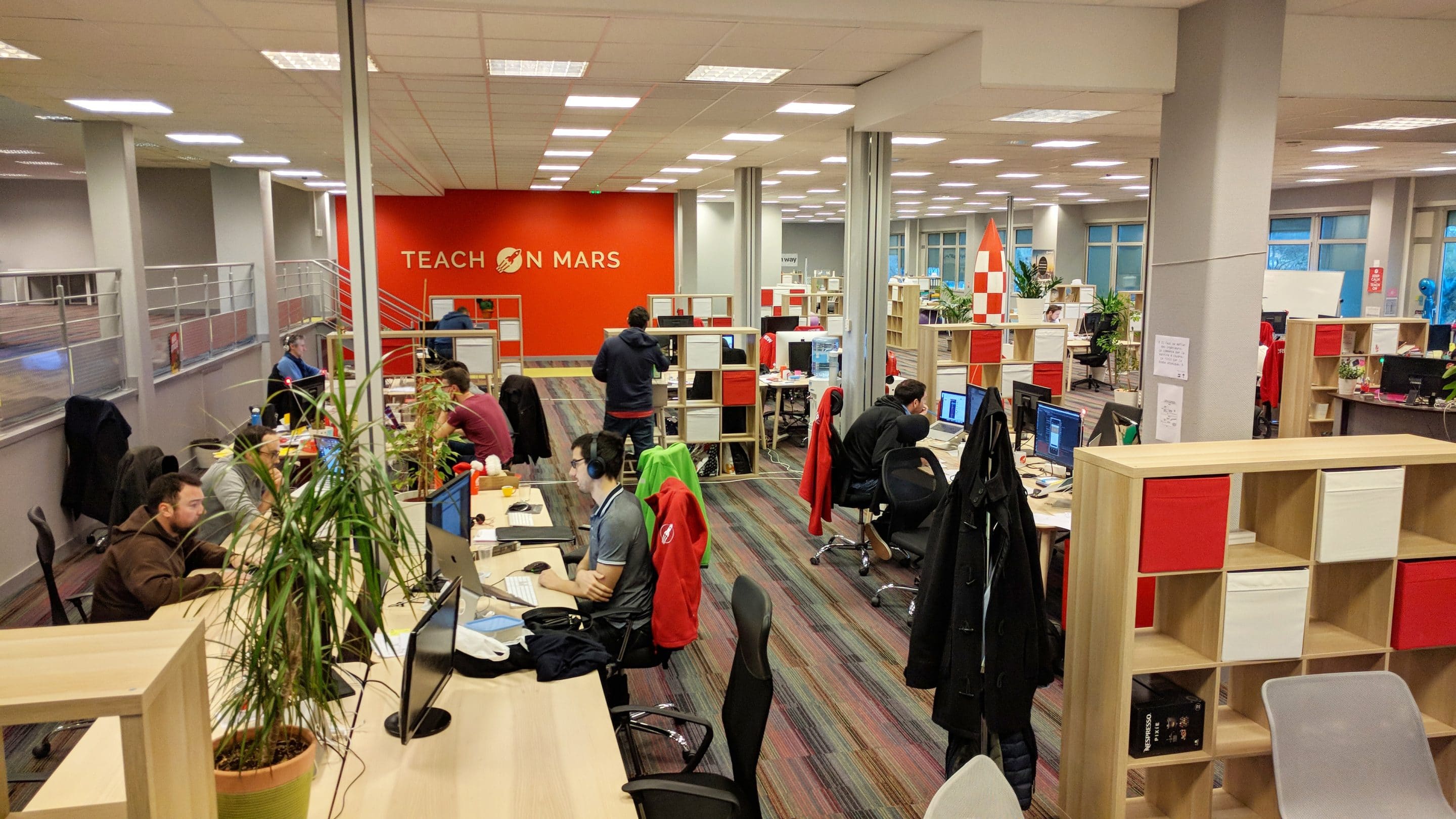 WHAT IT MEANS TO BE A MARTIAN
Join Teach on Mars, and you become part of the first company in Europe to design and build a learning solution from Day One to be 100% mobile first. Industry disruptors and thought leaders, our job is to make sure our clients' mobile learning projects come out better than they ever dared dream they could.
Our technology is key, but so too are our people – because it's their skills, their expertise and their passion that make the difference. The Teach on Mars company culture sets every individual free to be the very best he or she can be, united by simple yet powerful values like teamwork, trust, adventure, excellence and quality of life.
They are rewarded for performance improvements with badges, certificates and much more to fuel their motivation and keep them coming back time and time again for "just one more learning activity".
Our aim is to rekindle the desire of every inhabitant of planet Earth to learn something new every day. We do that by building mobile learning apps with soul that deliver knowledge and connect people. Naturally, we want to make the world a better place, but critically, we understand that to do that, you need to have a personal impact on every individual. We are convinced our technology has the power to do that.
And because Teach on Mars takes its responsibility for the future of our planet seriously, we have created the Teach on Earth foundation and invest 1% of our revenues in projects to educate and build awareness around modern society's sustainable development challenges.
To find out more about the Teach on Mars rocket ride – and why you might like to join us on board – check out our YouTube channel and our Job Board.