FOREWORD
Teach on Mars publishes a new-generation digital training platform for companies. Natively mobile and social, it draws on the latest advances in artificial intelligence to deliver relevant content to users every day, accelerating the development of their skills.
Awarded numerous prizes in France and abroad, the company is the European leader in the mobile learning sector, with offices in Sophia-Antipolis, Paris and London. Since its creation in 2013, Teach on Mars has deployed its solution to more than 200 prestigious international customers, in over 20 languages and across more than 90 countries worldwide. Today, all Teach on Mars employees and a network of 50 international partners are at the service of companies wishing to create their own next-generation training ecosystem. Convinced that modern companies must make a strong commitment to the planet, Teach on Mars devotes 1% of its annual sales to educational projects linked to the UN's sustainable development goals.
OBJECTIVES
The aim of this charter is to present Teach on Mars' guarantees and initiatives in the field of Corporate Social Responsibility.
This charter has been formalized as part of a continuous improvement process for CSR within Teach on Mars. It presents Teach on Mars' actions and commitments in various areas of CSR.
I. INTRODUCTION
Teach on Mars' corporate responsibility is expressed in its relations with all stakeholders, whether customers, suppliers or employees.
All Teach on Mars employees are informed and made aware of the concrete actions to be taken in their daily work to promote these commitments individually and collectively.
II. HUMAN RIGHTS
Teach on Mars declares that it respects international and national standards relating to:
fundamental human rights, in particular the prohibition of the employment of children under the age of 15 and of all forms of servile, forced or compulsory labor;
the health and safety of employees and third parties;
labor, immigration and the prohibition of illegal work;
minority rights and non-discrimination: no distinction between people on the basis of their social or ethnic origin, sex, age, religious beliefs, disability, etc.
freedom of expression
III. BUSINESS ETHICS
Teach on Mars declares that it complies with international and national standards relating to:
embargoes, arms trafficking, drug trafficking and terrorism;
trade, import and export licenses and customs;
economic offences, including corruption, illegal interest-taking, embezzlement, misappropriation of public funds, favoritism, fraud, influence peddling (or equivalent offences under applicable law), fraud, breach of trust, misuse of company assets or credit, counterfeiting, forgery and all related offences;
the fight against money laundering;
competition law;
digital security and confidentiality.
IV. GOVERNANCE
Teach on Mars' governance is based on the principle of transparency: strategy, progress, key figures and decisions are documented and accessible to all employees.
Teach on Mars has set up a governance structure that guarantees a good balance of power between the various stakeholders.
In addition, a CSR committee, made up of employees and members of top management, establishes the company's CSR strategy and coordinates actions with a view to continuous progress.
V. RELATIONS AND WORKING CONDITIONS
Teach on Mars declares that it has put in place processes and tools to ensure that every employee benefits from healthy and satisfactory working conditions.
We aim to prevent all forms of discrimination and promote equal opportunities through our recruitment processes and internal routines.
For example:
Governance bodies, managed by men AND women, on an equitable basis.
Our gender equality report is published every year, and shows almost perfect parity, with a score well above the national average.
Teach on Mars also intends to contribute to the creation of sustainable jobs for its employees.
VI. ENVIRONMENT
Teach on Mars is very sensitive to environmental issues, and declares that it complies with international and national environmental protection standards.
Teach on Mars trains its staff and makes them aware of its strategy and commitments to protect the planet. It also proposes concrete actions to its employees in line with UN world days (waste, digital pollution, reforestation, biodiversity, etc.).
Teach on Mars is a partner of associations working to raise awareness and educate people about sustainable development goals.
VII. COMMUNITY AND LOCAL DEVELOPMENT
Teach on Mars supports numerous initiatives, in particular the Teach on Earth association, created in 2017, which aims to train and raise awareness among as many people as possible about the challenges of the UN's 17 Sustainable Development Goals. This initiative has already created dozens of training modules distributed free of charge via a dedicated app and a web application.
Teach on Mars is a member of the United Nations Global Compact, and makes an annual commitment to respect the ten founding principles grouped under 4 fundamental themes: human rights, working conditions, the environment and anti-corruption.
Teach on Mars was a winner of the Omnes ESG Trophies, and in 2020 received an award for its environmental, social and governance performance from Corinne Lepage, former French Minister for the Environment.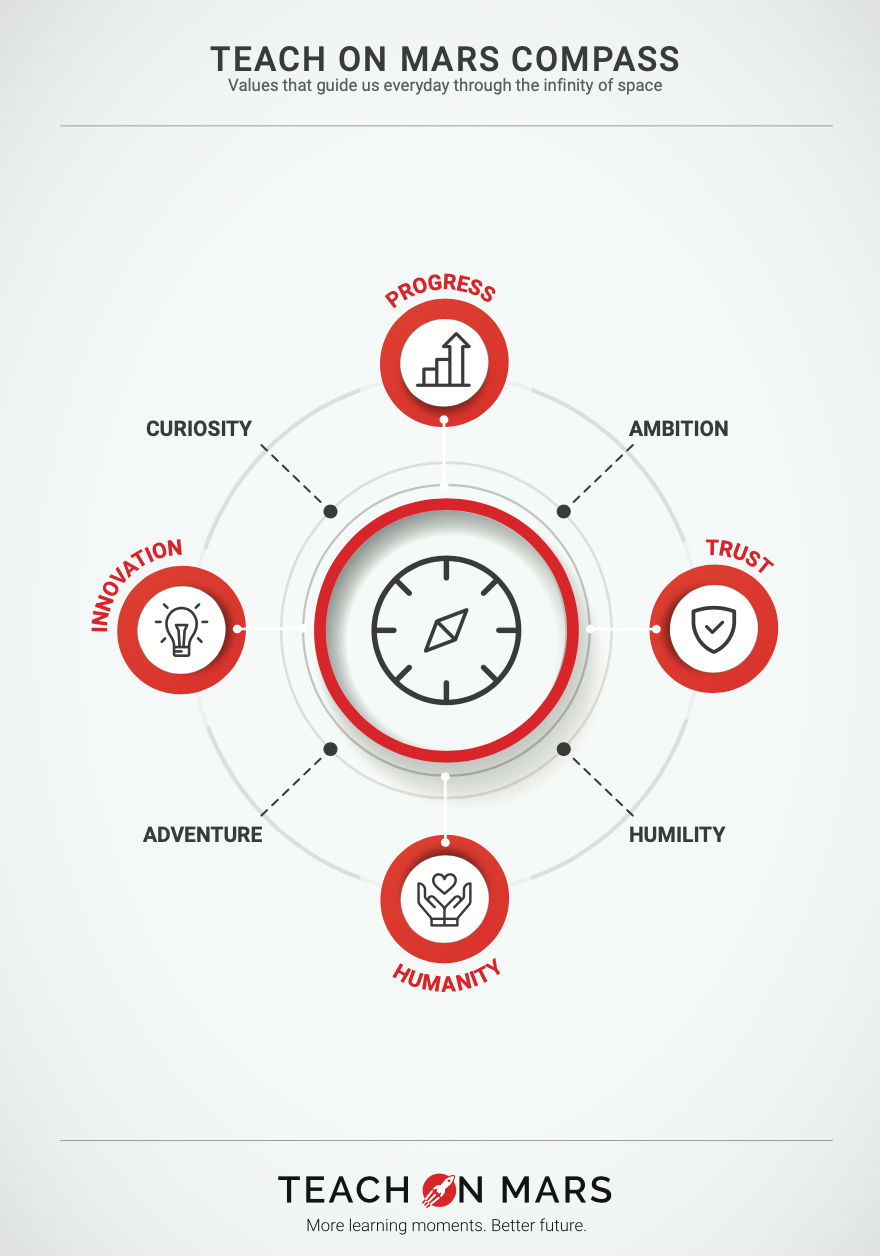 These values (Progress, Trust, Humanity, Innovation, Curiosity, Ambition, Humility, Adventure) define the ethos and culture of Teach on Mars. They guide our actions and help us make decisions in a complex environment. They enable us to define observable behaviors that characterize the way we act in society.
They apply not only to Teach on Mars employees, but also in part to its ecosystem of customers and partners.