Vocational training has continued to evolve over time, but in just a few years, digital technology has totally overhauled our way of learning and acquiring skills. Indeed, new technologies offer learners a training experience with unprecedented fluidity, whether it be on their smartphone, computer, remote or classroom-based.
Mobile learning, which allows you to learn anytime and anywhere, while taking advantage of ultra-customised content thanks to AI, is becoming a vital tool for the training of tomorrow.
From transmitting skills to the training experience
The traditional approach to training, which involved transmitting skills in a classroom-based setting, was overhauled by the advent of IT and the internet. New ways of transmitting knowledge appeared on the scene, including e-learning in the 1990s, followed by MOOCs in the 2000s.
Computer usage has enabled training content to be made available to a large number of individuals, on a single platform. In parallel, learning has become more entertaining and more pedagogical, allowing everyone to progress at their own pace, without the constraints of classroom-based training.
The emergence of mobile learning
Today, smartphones are, without a doubt, the most used screen, including in our professional lives. Mobile phones have set the stage for new working methods outside the office, starting with remote working. While employees are increasingly mobile, the emergence of BYOD ("Bring Your Own Device") encourages the use of one's own IT equipment in a professional context.
In parallel, the phenomenon of ATAWADAC (Any Time, Anywhere, Any Device, Any Content) reflects the need for permanent access to information. Against this background, mobile learning has become a staple: with a smartphone, training is always within arm's reach!
Hybrid training methods
But should we do away with classroom-based training altogether? The answer is no. In fact, the future of training should be based instead on blended learning, combining online learning and classroom-based training. Learners themselves seem to prefer this approach, as the human aspect is of significant importance in the training context. The validation of experience by a coach or a manager, for example, remains vital, even though classroom-based and synchronous training are resource-intensive.
We need to adapt to every situation and every learner profile, while moving towards greater modularity in courses. This is what adaptive learning brings to the table – a pedagogical engineering concept which aims to adapt training content to an individual's skills and specific needs.
By combining various learning methods (classroom-based, e-learning, mobile learning, etc.), you can build a unique course, based on the learner's knowledge, preferences and aims. The result is an incomparable training experience.
The importance of the learning experience
For companies, employee training is of strategic importance. It helps:
Make recruiting and onboarding new hires more profitable.
Meet legal obligations relating to training.
Retain employees, and talent in particular.
Remain agile in terms of professional skills, to cope with a rapidly changing market.
However, to reap the full benefit, it is crucial to adopt a learning company stance committed to an ongoing training initiative. But training is not sufficient: the learning programme must be entertaining, appealing and suited to the professional pace. Failing this, employees may not embrace the project.
The challenge of the learning experience is made more complex as staff grow weary of traditional courses, with their top-down approach. Digital natives use their smartphones each day, including as a professional tool. Mobile learning therefore constitutes a particularly attractive format for younger employees.
The talent war which is raging on the job market is another factor to be taken into consideration. To retain the best talent, companies must offer positive experiences to employees on a number of levels:
Pleasant workspaces and high-quality equipment, contributing to employee wellbeing.
A more participatory management, enabling employees to make themselves heard and to voice their opinion.
Interesting career perspectives. Facilitating access to training becomes an important tool of attraction and one for expressing company values and positioning. The company thus appears as a modern organisation, which cares about its employees.
Finally, learning should be perceived as a search for meaning, enabling individuals to develop both professionally and personally. Offering a better learning experience, also means injecting intelligence and structure into training courses to allow learners to know exactly where they are headed.
What does the training experience of tomorrow look like?
Mobile learning paves the way for seamless training, which adapts perfectly to learners' needs. Accessible, rapid training which is available anytime, just like the "learning in the flow of work" concept, developed by analyst Josh Bersin. In parallel, artificial intelligence (AI) and Learning Experience Platforms (LXP) enable ever better course customisation.
However, to fully achieve its goals, the training of tomorrow must focus on new learning methods, designed to offer an incomparable user experience.
Ultra-customised courses
Through artificial intelligence, it is possible to customise learners' courses. Based on the answers to a quiz, the application provides individual recommendations for relevant courses.
AI can therefore propose content to learners which is adapted to their level of knowledge; all the learner has to do is to customise the learning rhythm by configuring their reminder system. In this way, adaptive learning offers a bespoke experience which closely matches the needs and specificities of each individual.
Entertaining and appealing learning
The training of tomorrow should also be more entertaining and appealing. That's why it employs a number of tools such as gamification, virtual reality and augmented reality. New technologies enable us to design immersive courses, plunging learners into a virtual universe, which resembles their professional environment.
With immersive learning, employees can tackle a number of scenarios liable to come about through their job. A good example of innovative, stimulating and engaging training, which turns learners into the key player of their learning.
Micro learning, meanwhile, is a teaching method which proposes short modules, which generally don't exceed 5 minutes. Each module focuses on a precise concept, corresponding to more comprehensive subject area.
This approach is particularly well suited to mobile learning, which aims to be accessible anytime and anywhere. Of course, speed is also an undeniable advantage, enabling individuals to learn according to their availability. Finally, learners are free to choose the modules they are interested in, for courses which fit their needs.
Collaborative and contributory training
The social dimension of learning is now becoming ever-more important, encouraging cross-cutting exchanges between learners and trainers, as well as between peers. Training is less top-down; hierarchies are flattening out and informal conversations are flourishing.
But the training of tomorrow is also characterised by its contributory functions, with the emergence of collective learning. With social learning, employees are both learners and trainers as they are urged to share knowledge and best practices with one another.
What's more, collaborative learning enables us to strengthen relationships between employees, while fostering team work. This synergy within the group encourages individuals' engagement in the training process, while enhancing the effectiveness of teaching.
Available anywhere and anytime, more entertaining and more immersive, mobile learning is now a fundamental tool for offering learners a premium training experience. An opportunity not to be missed for optimising the skills development of your employees and retaining talented individuals long-term.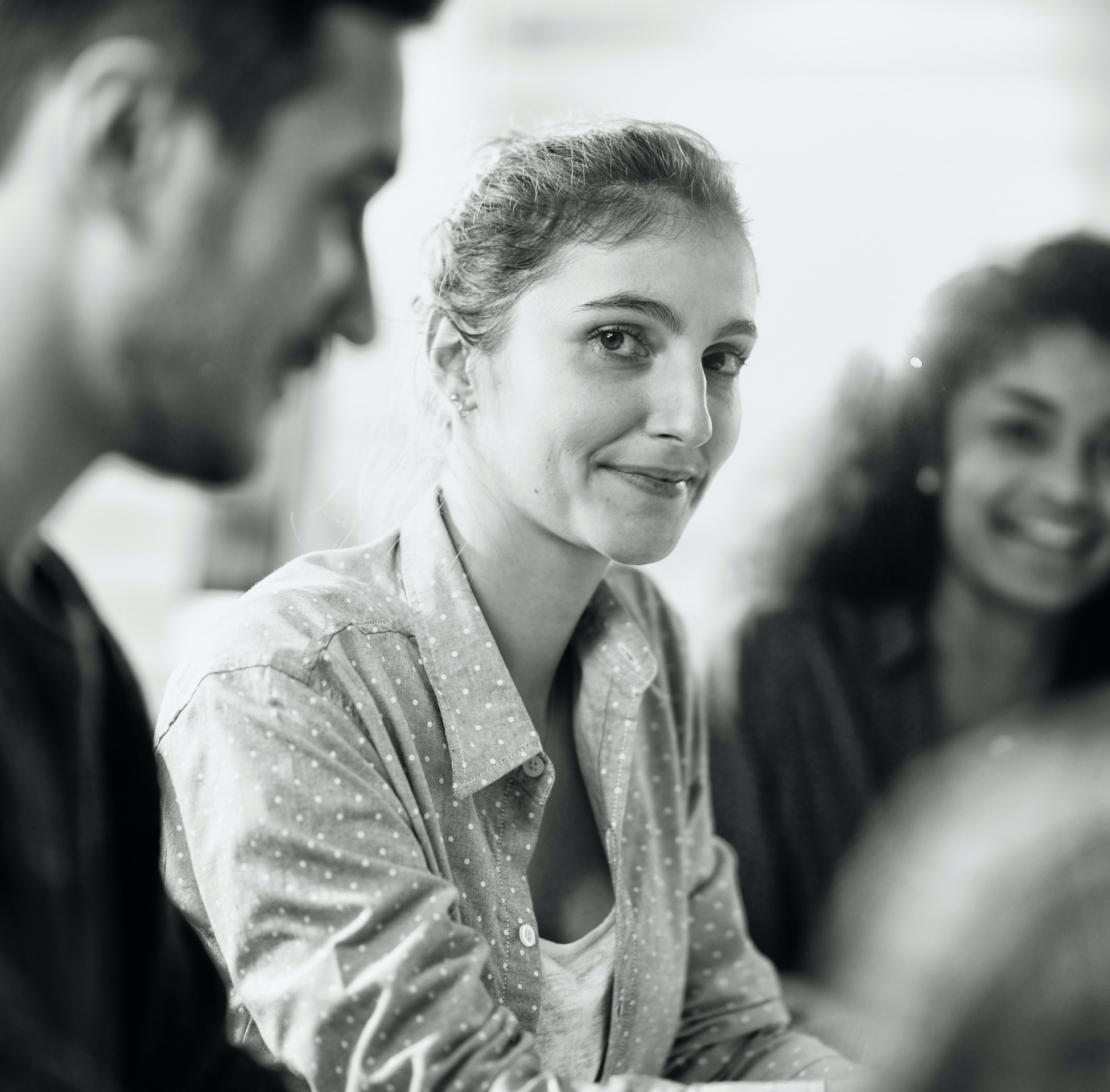 Deborah has navigated 10 years between different tech startups with a focus on education and modern learning. Passionate about new technologies, she uses her communication skills to help Teach on Mars shine within the Digital Learning galaxy.