Because for us, the client experience and user support matter most, today we're giving you a short overview of all the ways you can share and exchange with the Teach on Mars teams.
Narrow your search using the Support form
Need help using your Teach on Mars application and looking for a quick and accurate answer? Create a ticket by filling out the form provided in the Help Center. The fields you fill out enable the Support team to identify your needs and give an answer which offers as much information as possible within a short space of time.
Get easy answers thanks to the Help Center
For a fast answer, nothing beats the Teach on Mars Help Center. Split into 9 categories, it tells you everything there is to know about your mobile learning solution's features. Use the search bar to effortlessly obtain answers to your questions by entering the most relevant key words, for example: "Scorm integration", "image ratios", "Sushi Game", etc.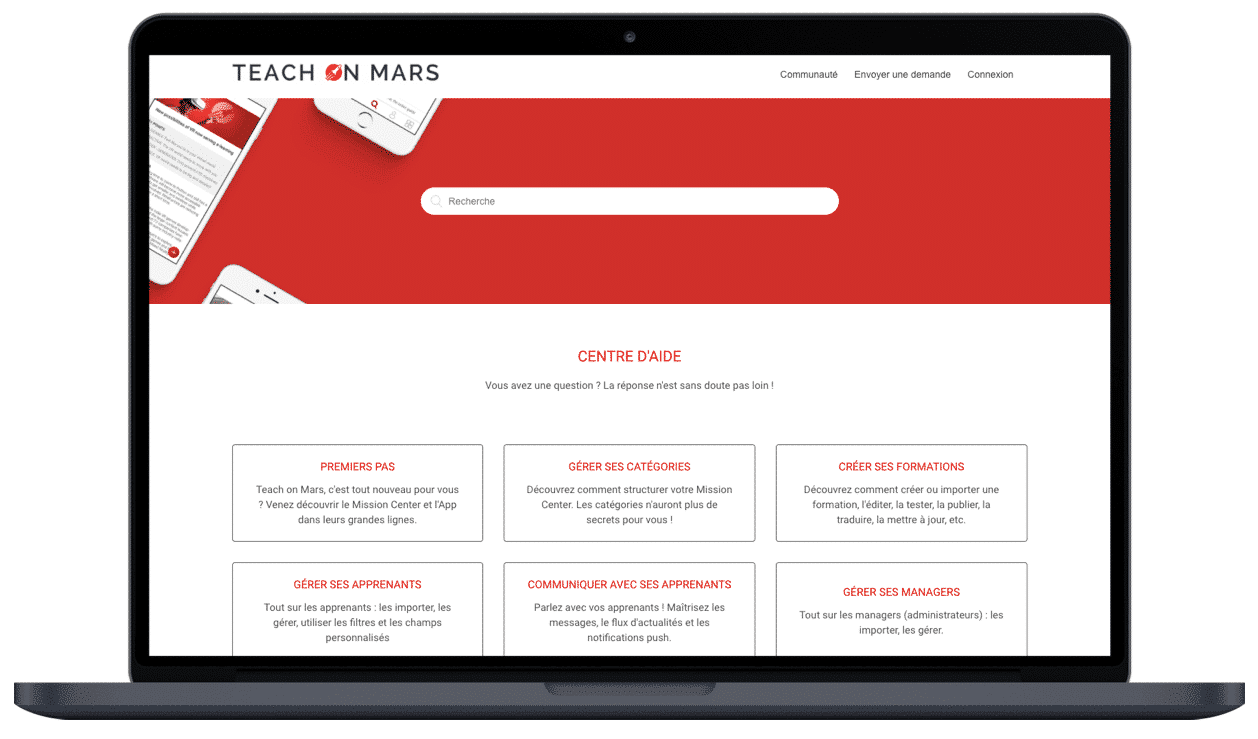 The Help Center is also available via the Teach on Mars mobile app, in the Profile tab by clicking Help.
Share information with the Community
Can't find what you're looking for in the Help Center? No worries, the Community is at hand to help you! Just like a support forum, this space, which can be accessed from the Help Center, lets you ask questions and obtain advice. Teach on Mars Academy consultants and other members of the Teach on Mars community can reply in the comments section and share their best practices with you. Split into 3 sections: Author, Communication and Mission Manager, in the space you can see other users' questions and use existing answers to find what you're looking for.
Optimize the way you use the Mission Center thanks to the "Help" button
Have you ever noticed the small, blue "Help" button to the right of your screen when you're browsing the Mission Center? This section contains all the articles capable of addressing problems encountered when using the Mission Center. Early stages, course creation, learner management, sending communications, etc. All the useful links are at your disposal directly in your application's back office. To top it all off, you can read articles linked to where you are in the Mission Center!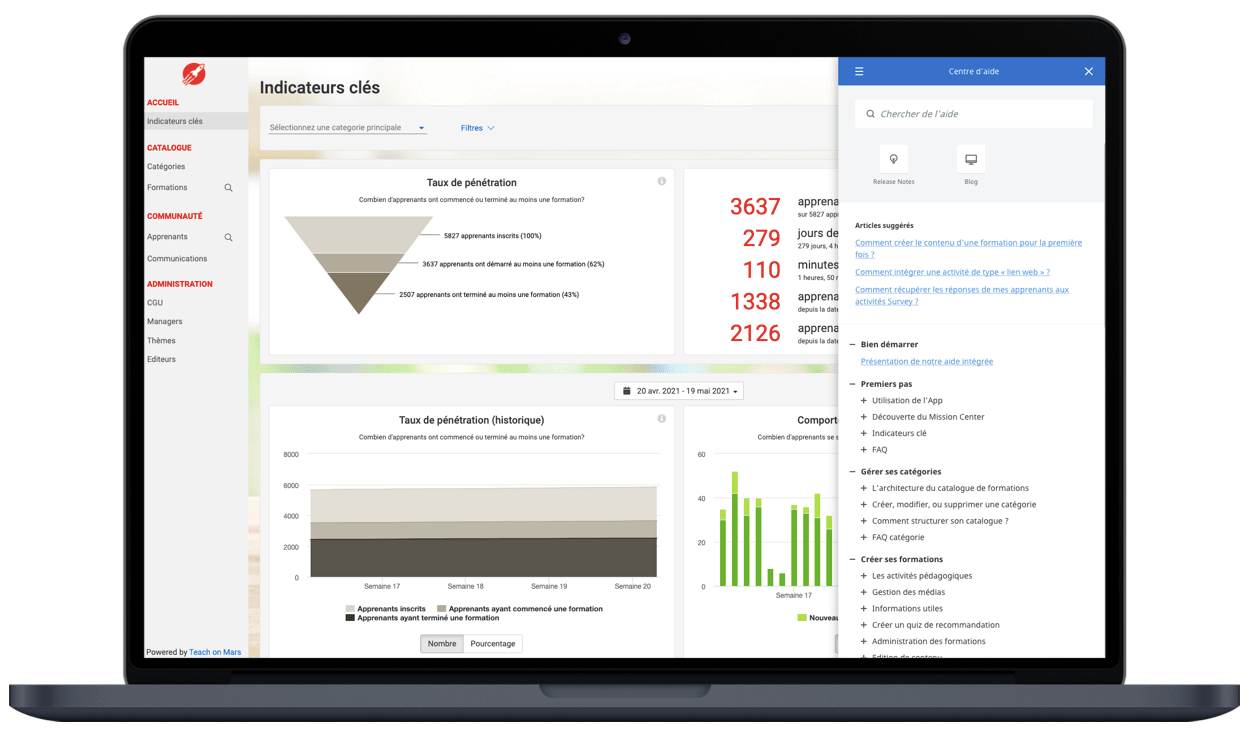 Share your ideas via the feedback portal
Do you have any comments or suggestions to make as a Teach on Mars user? The feedback portal is here for you! Using it couldn't be easier: simply post any suggestions about improvements, activities or features to the feedback portal. Every piece of feedback received is analyzed and categorized by the Feedback Manager and the entire user community can then consult it. A voting system allows users to vote for the ideas they find most interesting. Any feedback which brings clear benefits to the user experience and enhances the solution, is integrated gradually with product updates.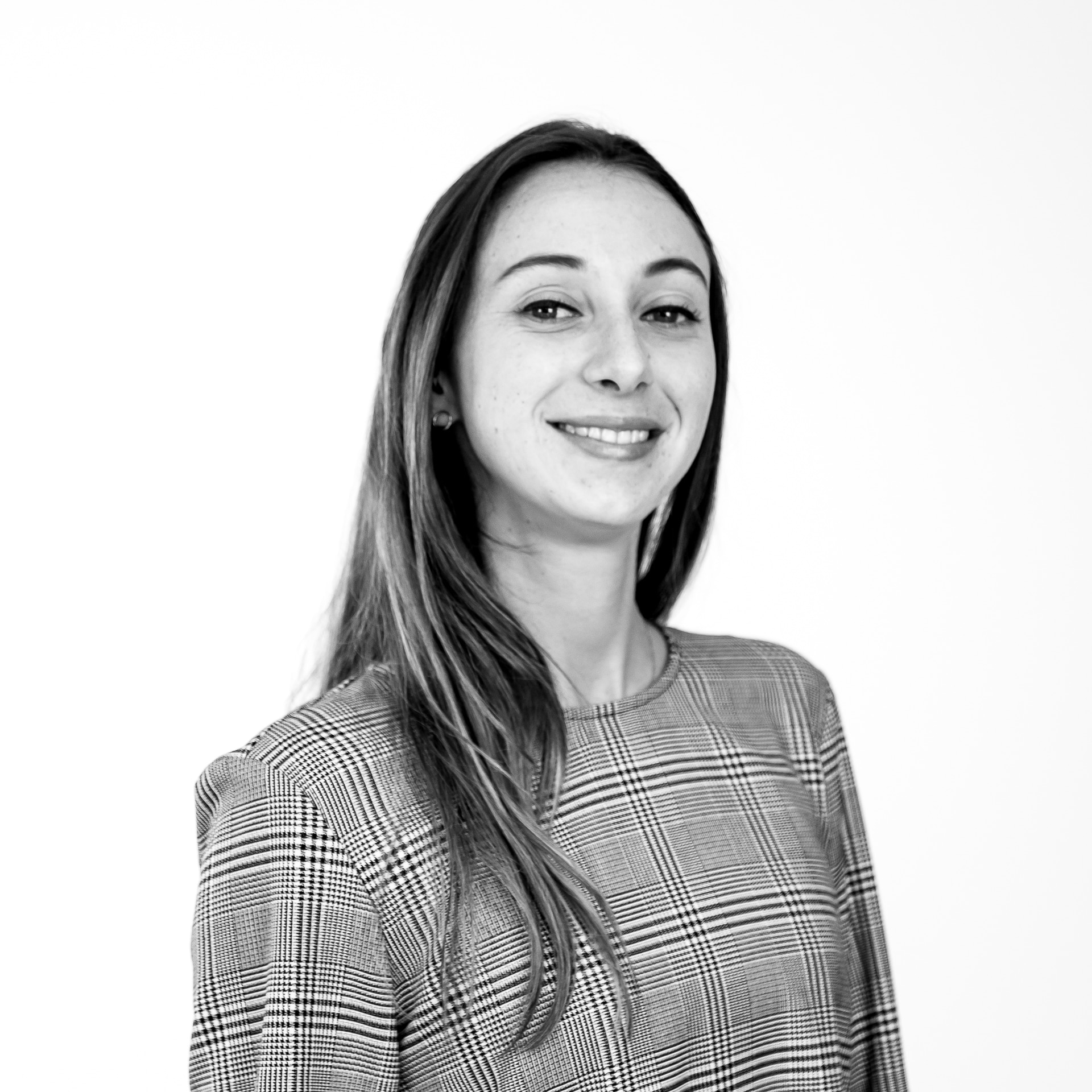 Diplômée d'école de commerce et passionnée par les innovations du numérique, Noémie a enfilé son scaphandre et rejoint l'équipe Teach on Mars au poste de Content Manager. Elle intervient en marketing et événementiel tout en contribuant à Teach on Earth, une initiative sociale et environnementale.