It's back to school time! To mark the occasion Skillsday and Cegos are livening up the Learning Station catalogue, our key-in-hand mobile training offer, with soft skills, managerial and specialist subjects, as well as other new products.
Soft skills – you can never have too many!
Test your adaptability with Cegos!
Recognizing different behavioral profiles, understanding your environment, adjusting your mindset in a given context and/or situation…find out more in the modules, "Success in your new job" and, "Personality styles: deepen your understanding of yourself and others", either in a professional setting or for everyday life.
Awaken your creative potential!
Want to unleash your creative potential but unsure where to begin? Skillsday are launching "Creativity & Innovation" – a 50-minute course to boost creativity. Assert your creativity with techniques, tips and games! Cegos, meanwhile, has launched a 15-minute course entitled, "Creative problem resolving" which, as its name suggests, will provide you with all the keys to learn how to solve problems using original ideas.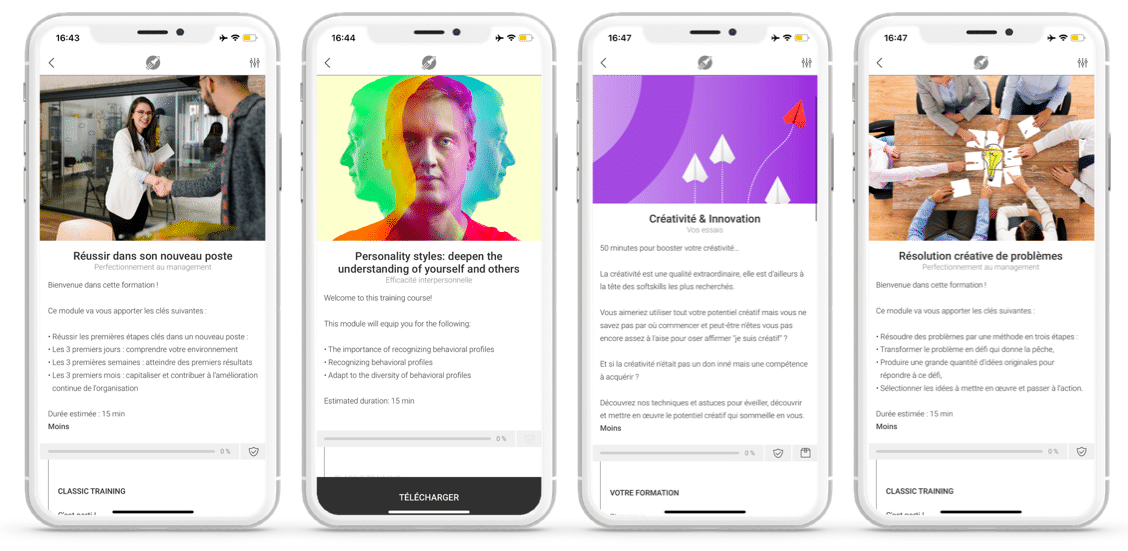 A touch of management but that's not all…
This month, Cegos is showcasing a compendium of 15-minute courses using web activities on transversal management, with the following titles:
The influencing strategy of transversal managers
Ensuring transversal coordination
The keys to communication for transversal managers
Transversal manager leadership
There are also more general management titles:
Digital transformation: facilitating the process
Tools for efficient decision making
Organizing tasks and responsibilities within a project
You'll also find a few specialist courses with trainers in mind, such as, "6 keys for making your digital training a success", "Practicing active listening in training" and the follow-up, "Debating and Handling objections", aimed at sales staff.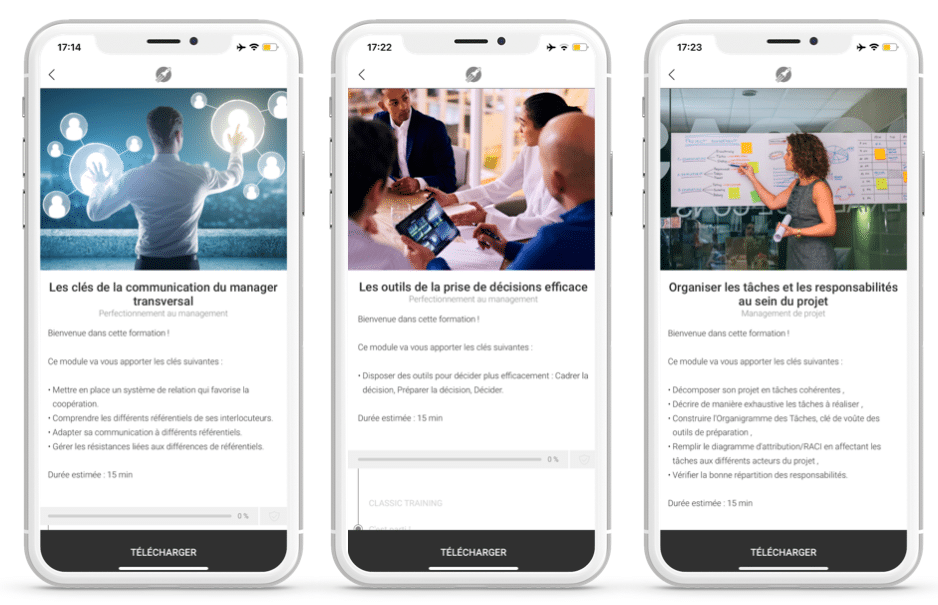 A smattering of CSR with Skillsday
Corporate Social Responsibility is something not to be overlooked as we all know, many publishers who work with Teach on Mars regularly release new titles on the topic. This month, Skillsday is launching the course, "Diversity and inclusion in the workplace", as well as a new version of, "Recruiting without discriminating".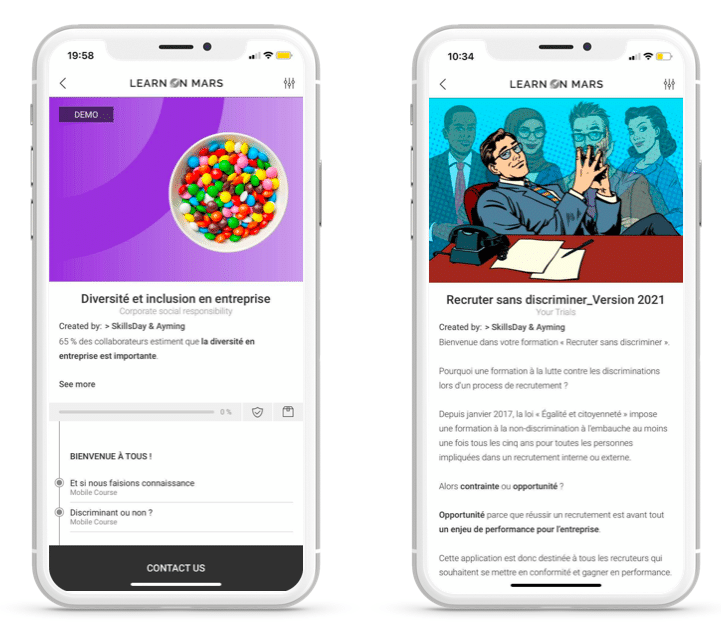 The Skillsday catalogue gets a new look
With a view to offering each learner a better user experience which is simpler and more seamless, Skillsday has been working over the last few weeks on optimizing its off-the-shelf training catalogue. To do so, the sub-categories have been deleted and access has been facilitated through the creation of 10 new categories with well identified sources:
Management & Leadership
Personal Development
Efficiency & Performance
Remote working
Sales
HR, Diversity & QWL
Digital & Innovation
Compliance
Project management
Purchasing
The aim being to find the course you're looking for more easily!
Concurrently, the visual identity of categories and courses has been redesigned to offer a more refined image, one which is more modern and which better reflects the Skillsday identity. Although each of the courses in the catalogue has its very own identity (storytelling, graphic universe), they now all have the "Skillsday Touch" thanks to their own thumbnail.
Find all of these new products and our entire off-the-shelf offer in the Playlist or directly on the Teach on Mars application, which can be downloaded from the App Store and Google Play, along with the entire demo catalogue!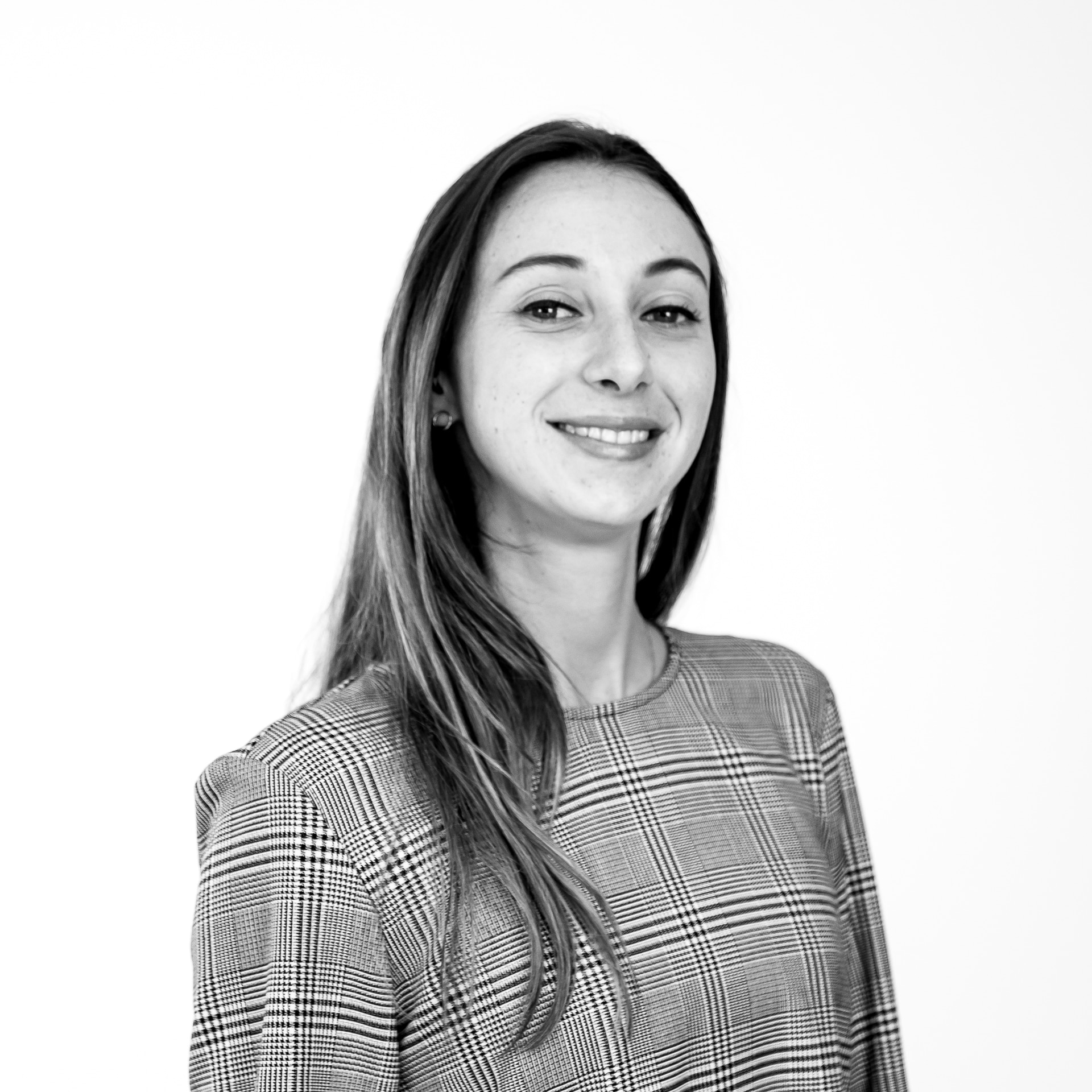 Diplômée d'école de commerce et passionnée par les innovations du numérique, Noémie a enfilé son scaphandre et rejoint l'équipe Teach on Mars au poste de Content Manager. Elle intervient en marketing et événementiel tout en contribuant à Teach on Earth, une initiative sociale et environnementale.