In March, our new communications scheduling tool will touch down in your Teach on Mars solution, along with direct links to Toolboxes and categories; not to mention around thirty new off-the-shelf contents ranging from soft skills to management.
Schedule communications !
Want to organise your work time and schedule communications in advance? Now you can do it right from your Mission Center! Just like with social network management tools, you can schedule your community management hours and plan publications for your learners ahead of time. In short, it saves time and increases productivity!
Using it is child's play. Simply go to the 'Communications' tab in your Mission Center and create a communication as usual. When you have finished, select a day and time to send it. On top of that, you can also select a time zone in order to target very specific learner populations.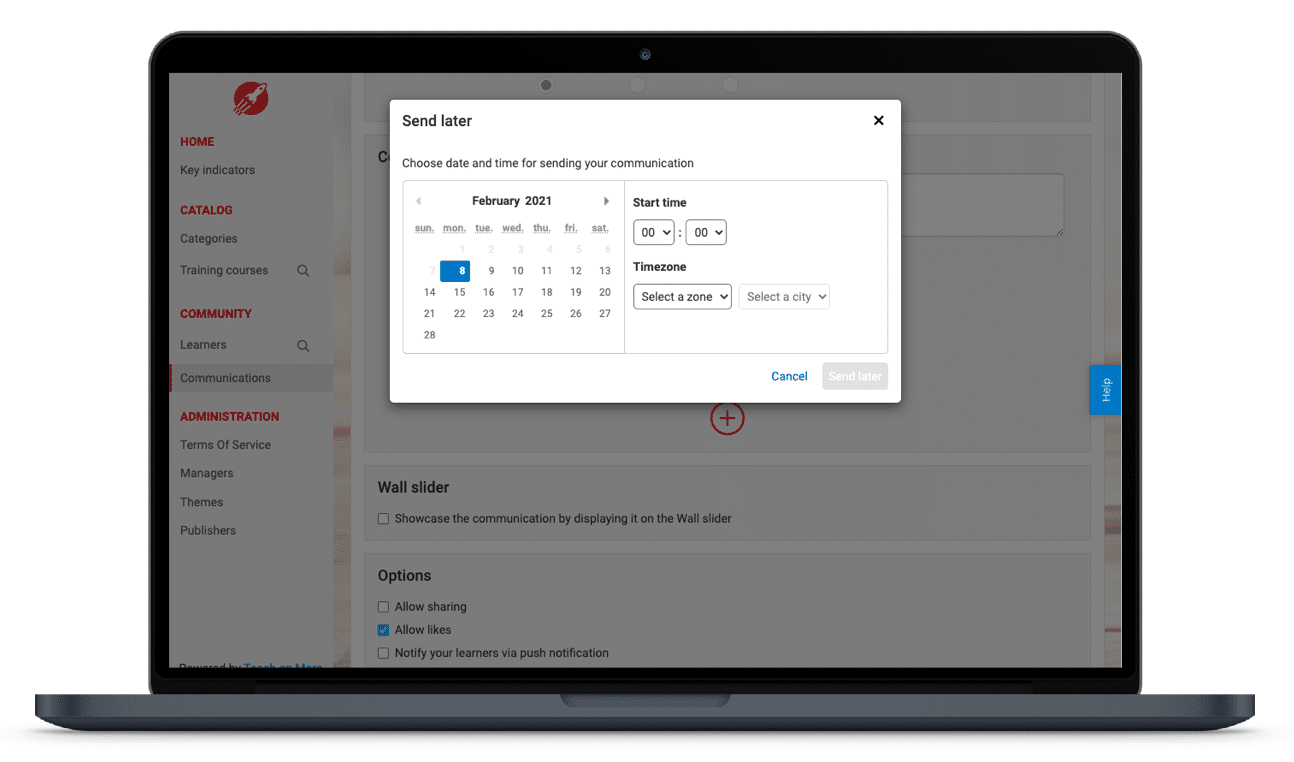 Select the day, time and time zone from the Mission Center
Do you want to create promotional campaigns lasting several weeks around and focused on unique learning content ahead of time? Would you like to plan sending information for events in advance? Do you like welcoming new employees once a month with a welcome message in your training app? All of this is now possible thanks to communications scheduling!
Direct links to categories and Toolboxes
You already had the possibility to create direct links to training courses, educational activities and Wall communications…Now you can create links to your categories and Toolboxes! In this way, you guide learners more easily towards relevant content, at the right moment. Take a look: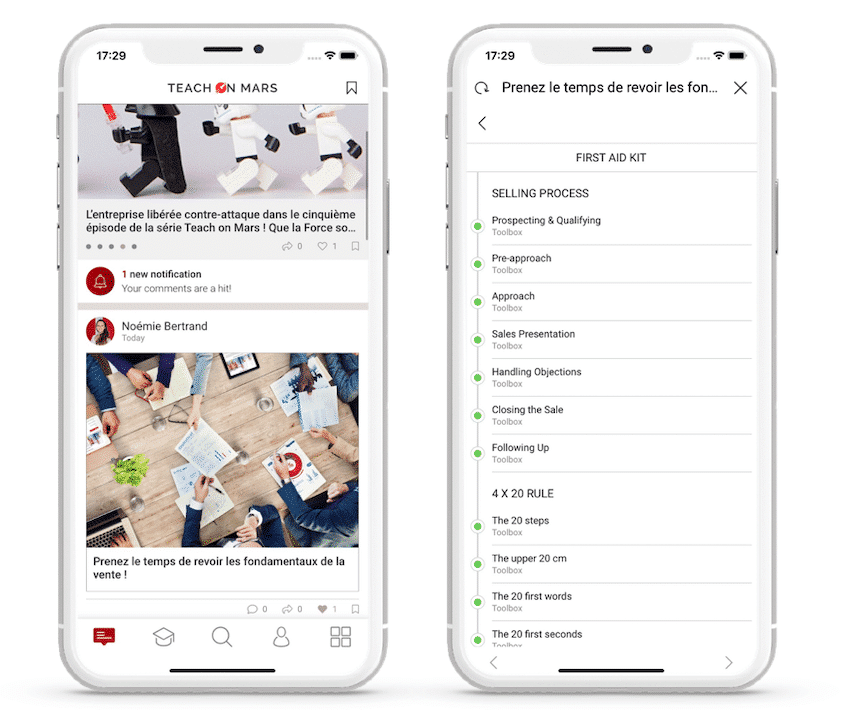 Direct link to a Toolbox from the Wall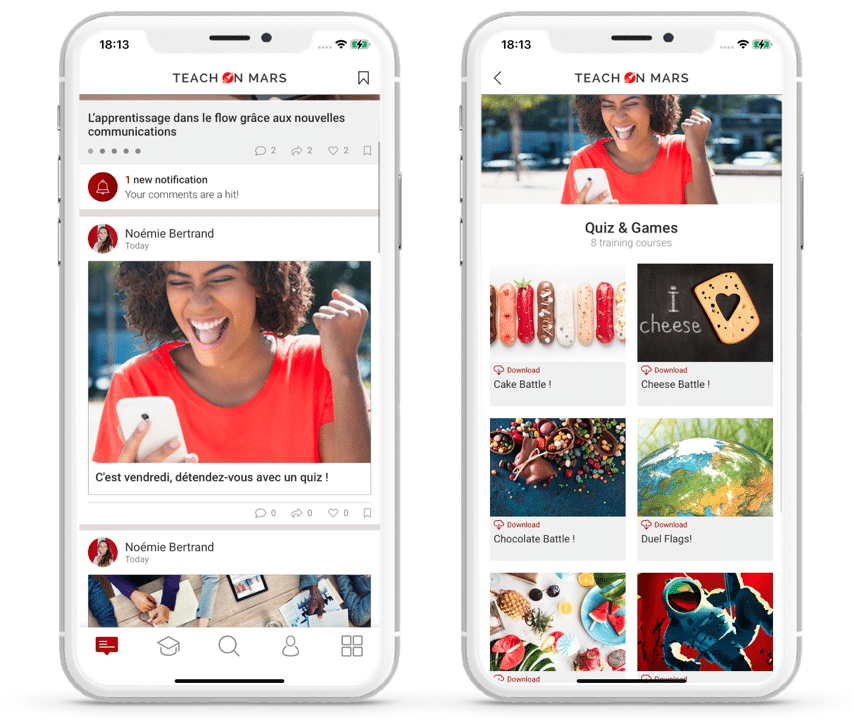 Direct link to a sub-category from the Wall
New features in the Manager add-on
Are you using the add-on Manager? Good news! It has now been translated into all of the application's languages. Still not using it? Take a look at the manager add-on presentation video.
What's new in the Learning Station : international and management!
Kokoroe, the publisher whose aim is to "train tomorrow's skills in a fun and playful way", no longer needs any introduction. At the end of 2020, we announced about twenty of their titles translated from French to English. Today, the entire Kokoroe catalogue integrated into Teach on Mars is available in English, along with 16 new translations. Among these new titles, we find a range of topics on remote professional life, soft-skills, and digital technology, but also topics that make the DNA of this publisher, resolutely committed to diversity and inclusion (gender equality, LGBTQI+, generation Y).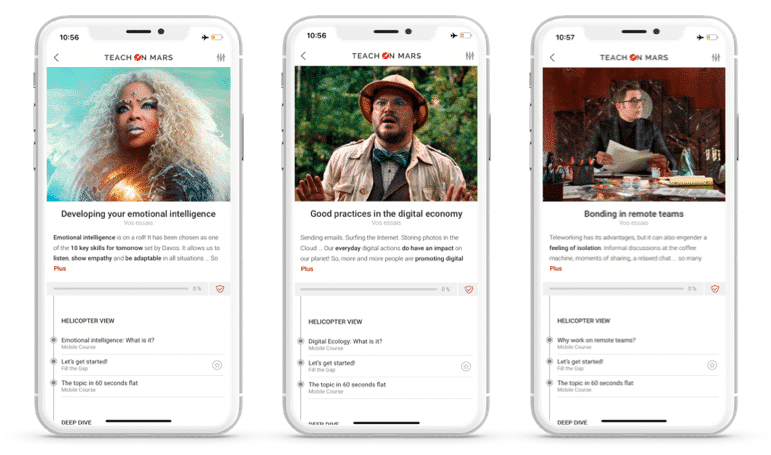 Management training is a good thing, but exploring the most topical issues is even better! This is what EdUp proposes through short and ultra-actionable content to make learning efficient and engaging. This month, EdUp is bringing to the table 11 new titles about managerial trends, with, amongst others:
Running a team briefing
Giving work meaning to employees
Developing leadership skills
Announcing bad news
Saying NO to an employee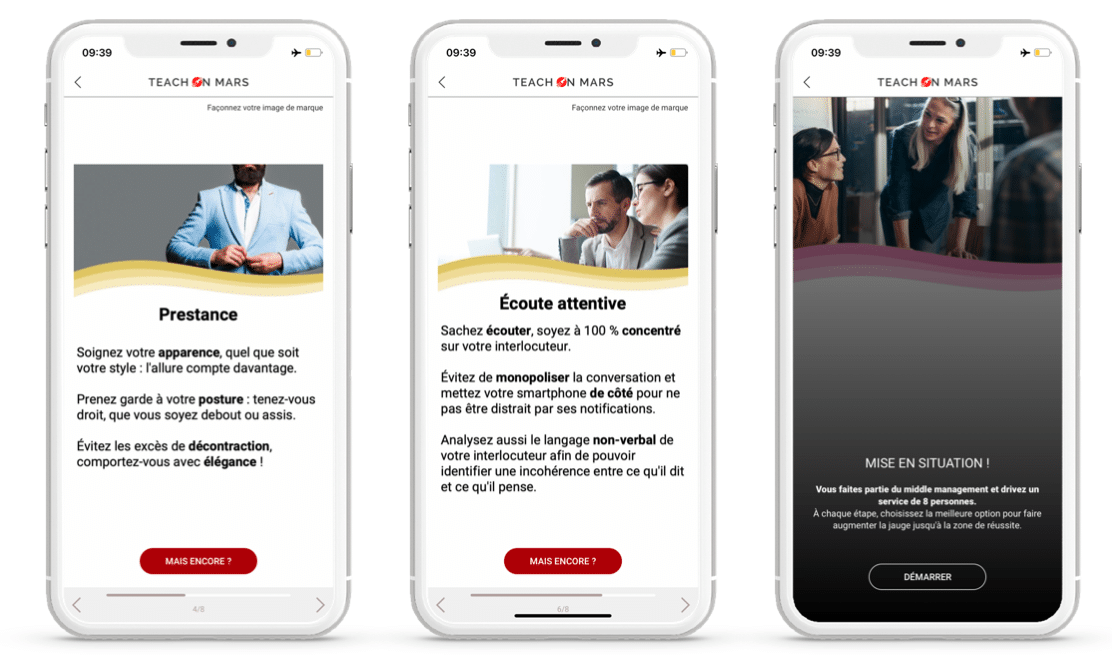 In addition, our publisher specialized in financial culture, Action on Line, will help you to rise to meet your performance management challenges with two new courses, dedicated to business plans and cost analysis for strategic decision-making.
Meanwhile, our partner Skillsday is offering 4 new titles which are available in the Learning Station:
The feedback culture
Managing risk prevention remotely
Sales: preparing and making contact
Sales: discovery
Find all the new features for March in the Learning Station Playlist (available in French and English) on the Teach on Mars application, which can be downloaded from the App Store and Google Play, with the entire demo catalogue just for you!
See you next month to discover the new features for spring 2021!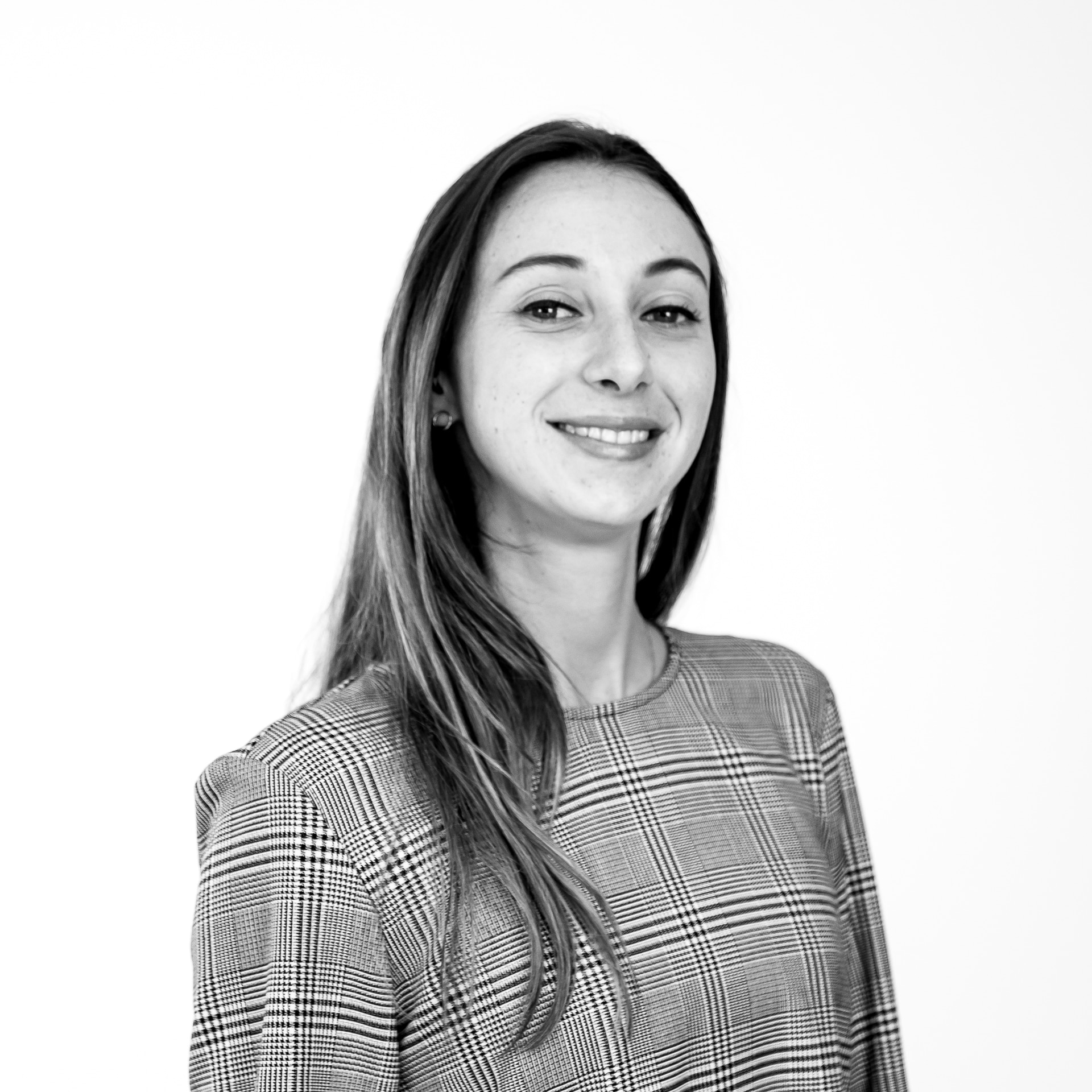 Diplômée d'école de commerce et passionnée par les innovations du numérique, Noémie a enfilé son scaphandre et rejoint l'équipe Teach on Mars au poste de Content Manager. Elle intervient en marketing et événementiel tout en contribuant à Teach on Earth, une initiative sociale et environnementale.