---
THE "IMMERSIVE EXPERIENCE" PRIZE
This prize is awarded to the most successful immersive experience using Teach on Mars technology. 3 criteria are assessed:
Meaning and motivation (context, topics, aims)
Analysis of support content (architecture, graphic and editorial style, interactivity)
Learner experience
The projects submitted were considered by the Teach on Mars jury and three of them were selected after the first round of deliberations.
The Valmont "Spa Treatments Course – Expert Level" project finally won over the professional jury during the final deliberations.
THE PRIZE-WINNER
Valmont
Valmont is a Swiss family-owned firm, specialised in cellular cosmetics. For over 35 years, the brand has proposed a wide range of treatments combining sophistication and anti-ageing effectiveness.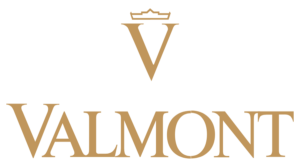 The brand distribution is varied. As well as a retail presence in department stores and perfume shops, the brand is widely available in spas, where its products are used by expert practitioners during treatment protocols addressing anti-age problems.
Valmont & Teach on Mars
Valmont adopted the Teach on Mars solution in 2020. The target learner population covers worldwide beauty consultants and practitioners (exclusive to the brand or multi-brand), as well as headquarters staff and subsidiaries/distributors. In 2022, specific training was developed for spa practitioners.
There are several training aims, including:
Maintaining a high level of commitment to the brand
Standardising practices, behaviour and knowledge
Developing professional/product/service skills
THE WINNING COURSE: BEST PRACTICES
The contexte
In order to offer spa clients high quality and consistent treatments, every stage, every product used and the choreography which goes alongside them, must be strictly standardised. The winning course was launched in 2022 to help spa professionals assimilate new treatment protocols across the entire offer. But how can you teach learners specific skills which are as technical and precise as body care, using a 100% digital solution? The challenge was successfully met by the Valmont training team. Inspired by immersive learning, the course propels learners into the spa universe.
Let's explore the recipe for a successful immersive course.
A training framework which reflects field realities
The training framework corresponds to field realities in every way: the same décor, same restrictions, same pace, same equipment, same apparatus, etc.
There's no inconsistency between the training universe and the spa reality; learners are therefore on familiar ground and can easily picture the scene.
In terms of pace for example, the course follows the specific stages of the institute treatment with a lesson plan built as follows:
Provide recommendations prior to the treatment,
Develop the level of expertise during the treatment,
Transform the hour of treatment into an opportunity to advise and sell.
What's more, the trainers are credible in their roles (posture, clothing, etc.). this in mainly due ti the fact that the practitioner in the video is no other than the course creator, so smoothness and consistency are fully guaranteed!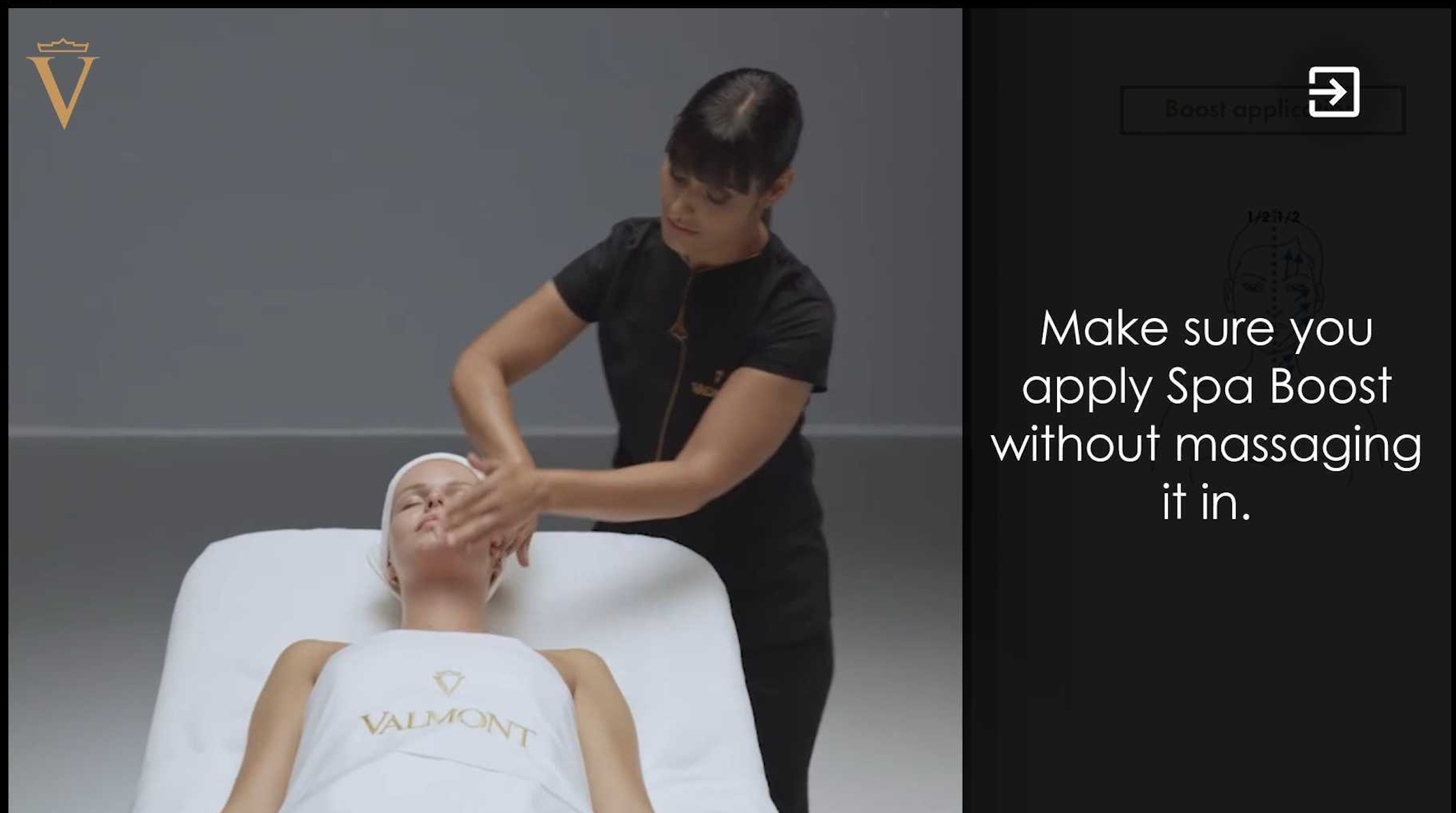 Multi-sensory immersion
"I was fully convinced by the sensory spa experience: the sounds, movements, explanations – the only thing missing was the smell!"
Sophie Malivert – Head of Global Retail Education – Maisons du Monde – Jury member
Learners are propelled into the spa universe, with a sensory mobilisation on several levels:
sight with detailed videos and text insertions – the videos are filmed on-site, to further promote the immersion,
touch with targets to click,
hearing with a piece of music setting the pace of the course and providing a connection to the spa universe.
Details gestures to activate the "mirror neurons"
"We hail Valmont's amazing feat with this immersive experience. Thanks to this project, Valmont manages to adapt content as complex as teaching a gesture for Mobile Learning."
Thibaut Piccioni – Operational Communication Support – AXA – Jury member
The course offers training in the following skills:
pre-treatment basics (equipment preparation, practitioner's clothing),
pre-treatment skin preparation (makeup removal, cleansing),
massage (in several steps),
final touch (application of specific products in several stages).
Each step of the treatment is characterized by precise movements to recall, (as well as their frequency), a sequence of movements and products to apply.
Tp provide learners with the best training, every movement is minutely detailed:
vidéo with gestures carried out by a practitioner on a client,
zoom shots are provided where needed,
diagrams explain each movement (see photo below) to make the explanation more precise,
exercices support gestures requiring further explanation ,(e.g., the quantity of cream to put on the spatula). Exercices are also very immersive, far from a simple multiple choice, they are visual and field-oriented.
Examples de diagrams: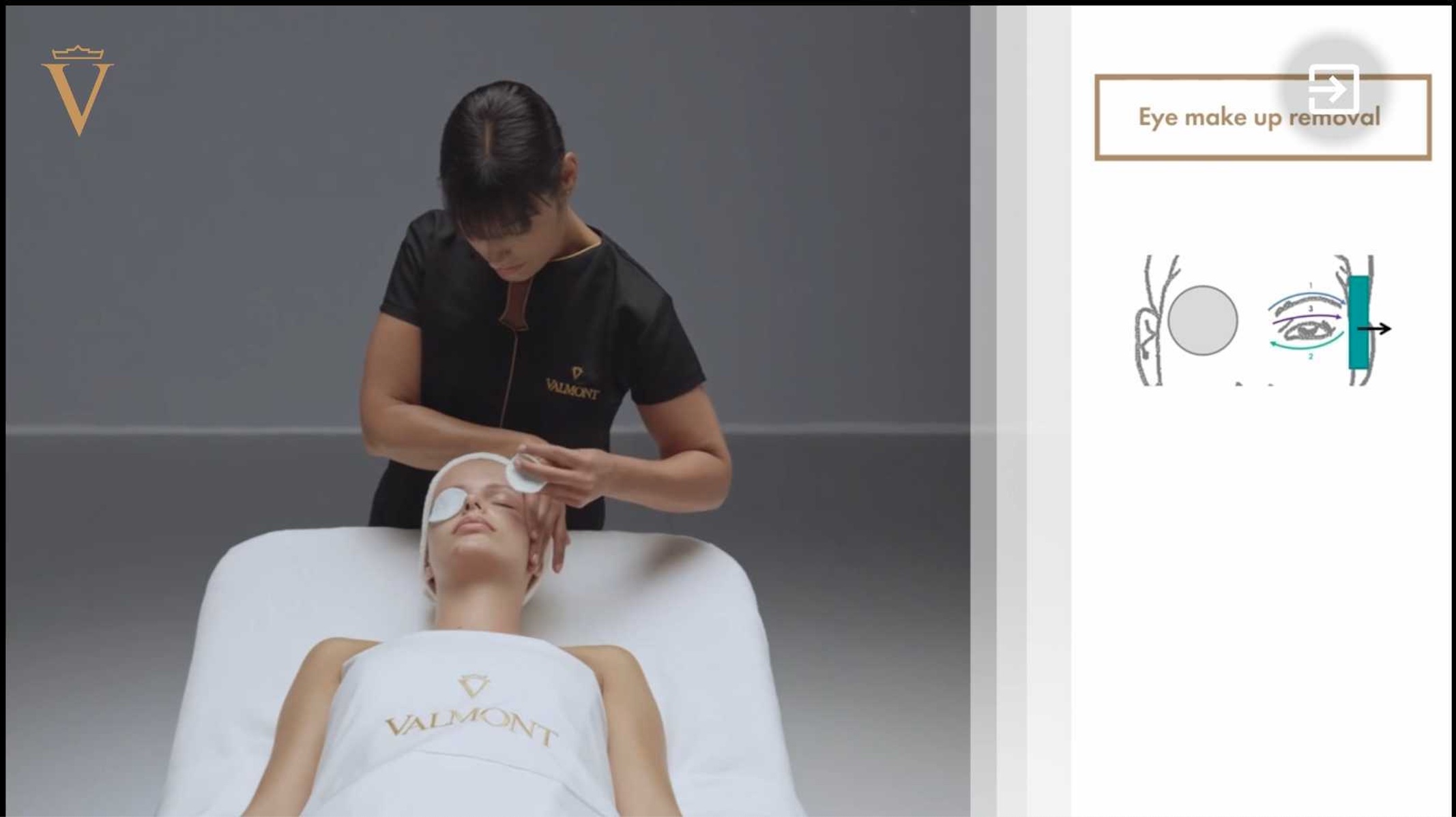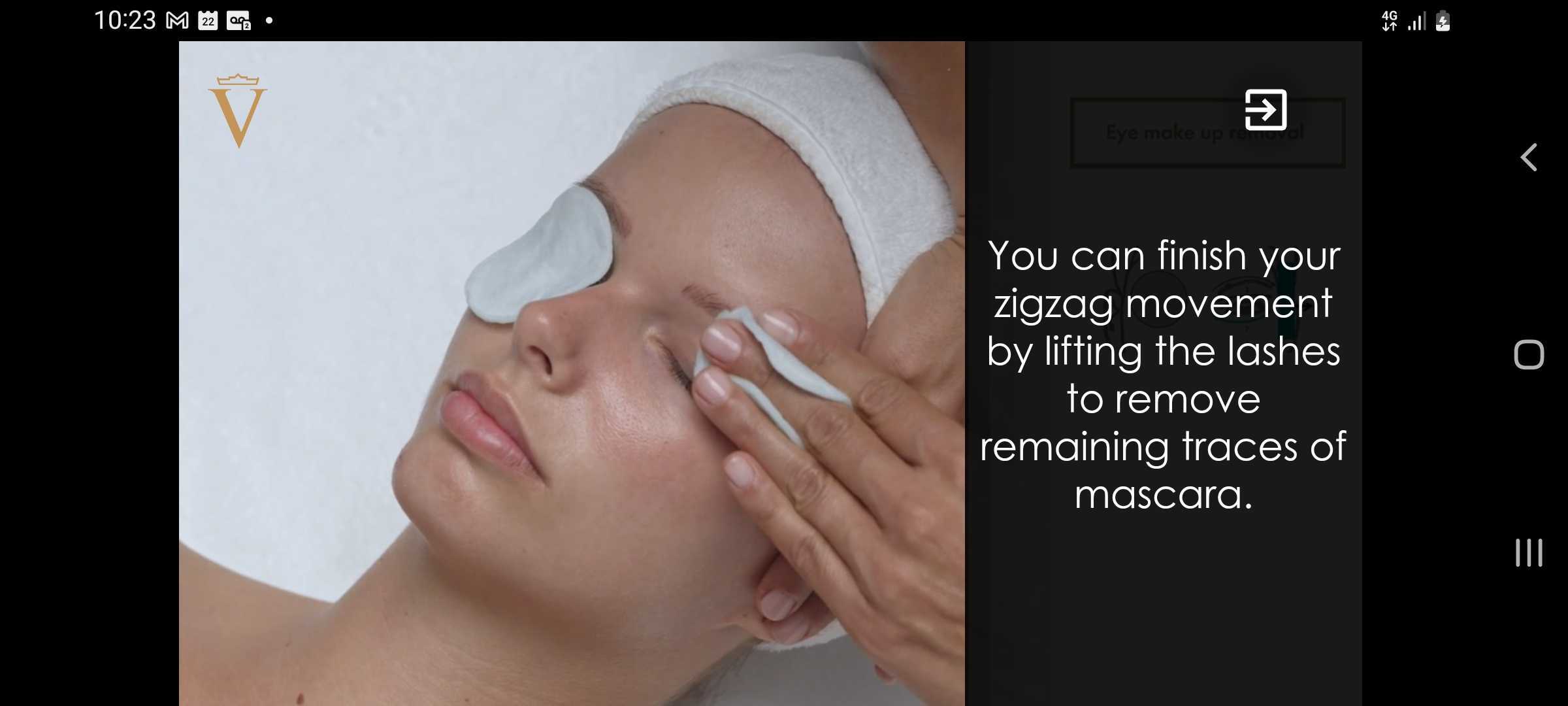 Examples of exercices :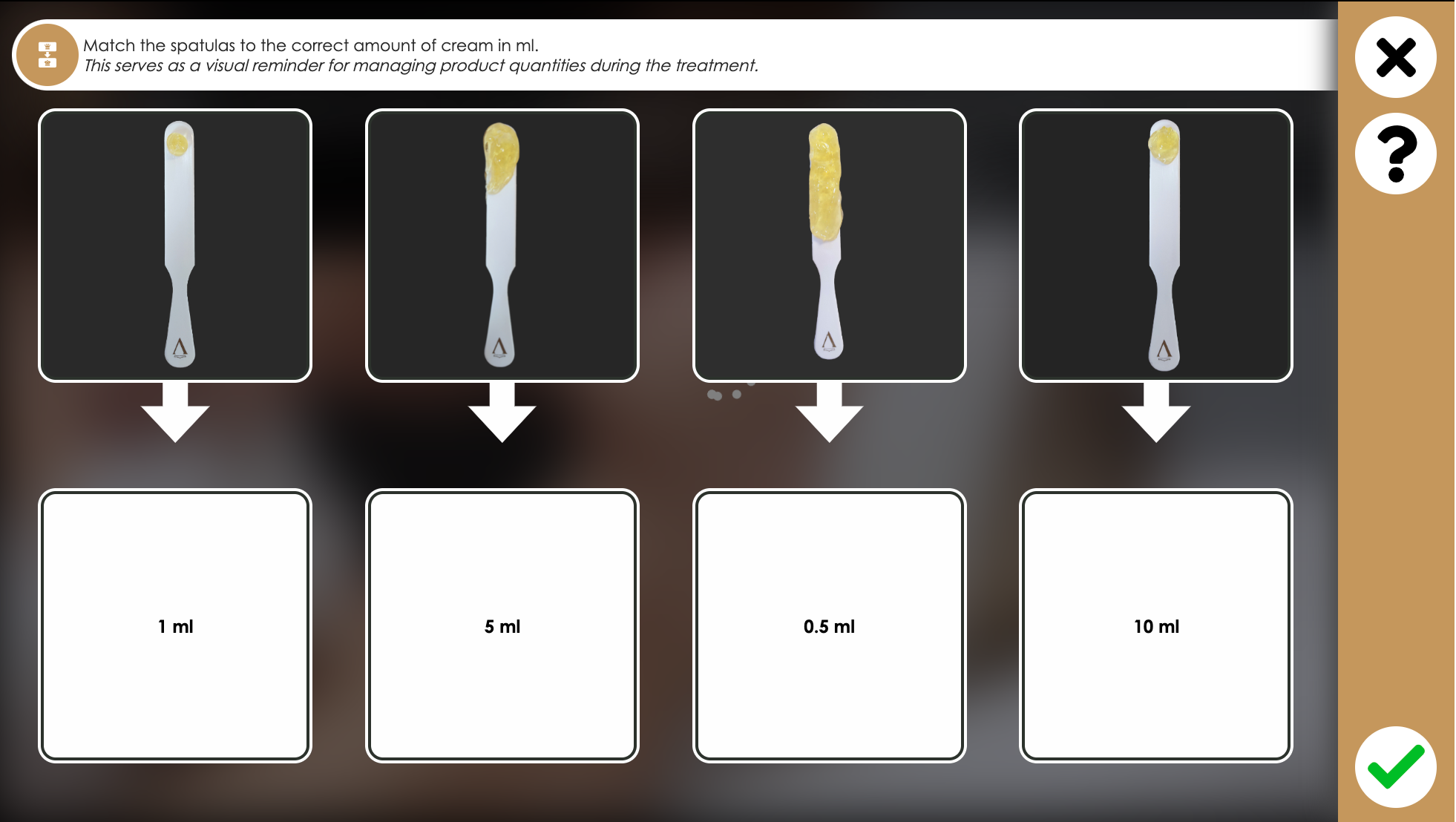 These videos enable the activation of learners' "mirror neurons".
Discover by neurophysiologist Giacomo Rizzola, these neurons are activated when individuals carry out simple actions or when they observe someone else doing them. Necessary for learning, they enable learning through imitation; in this way learners can easily reproduce each gesture of the treatment after viewing.
To create successful training videos, find tips in this article.
THINGS TO KEEP IN MIND ABOUT BEST PRACTICES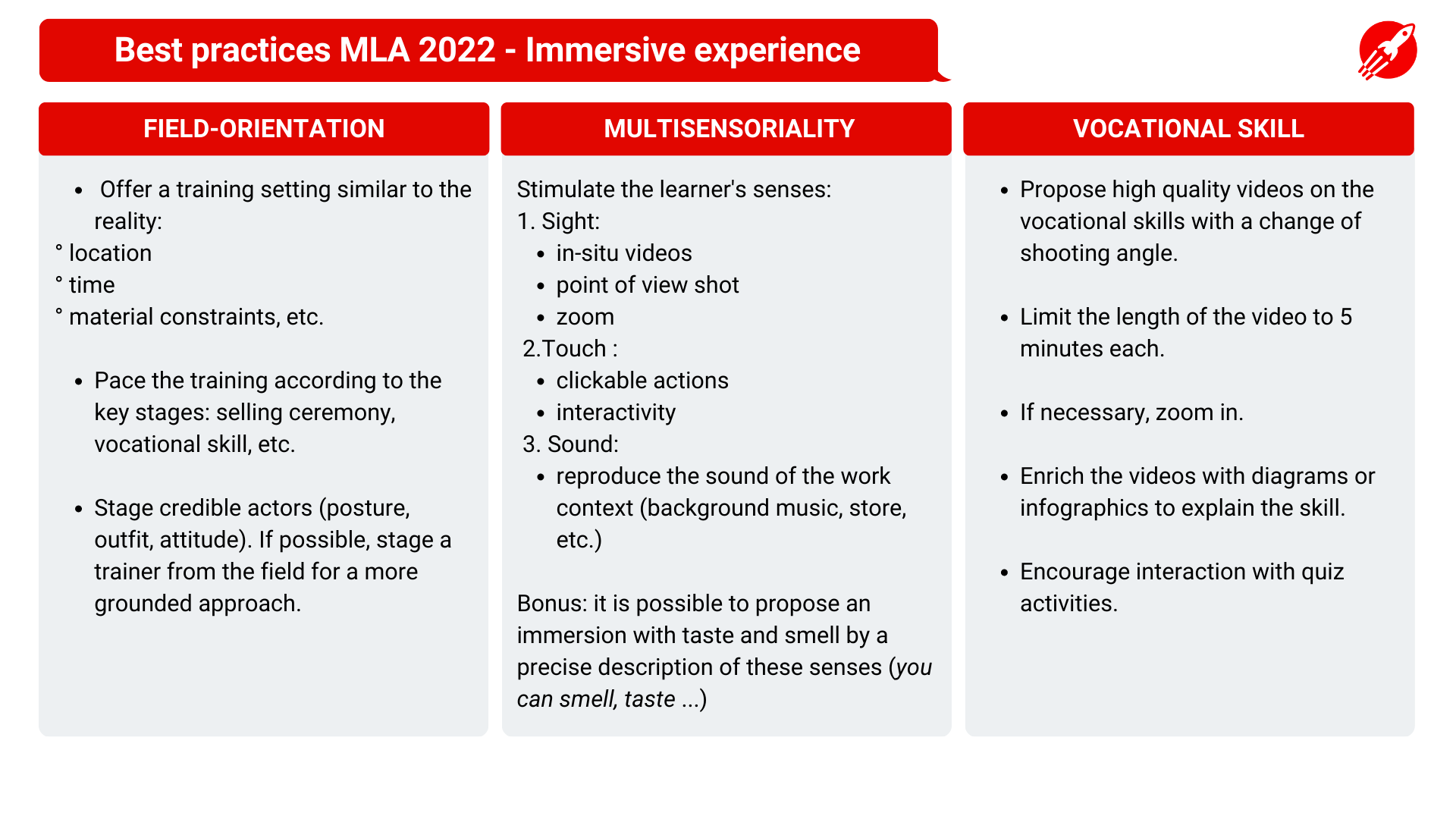 We hope that these best practices will inspire you to immerse your learners!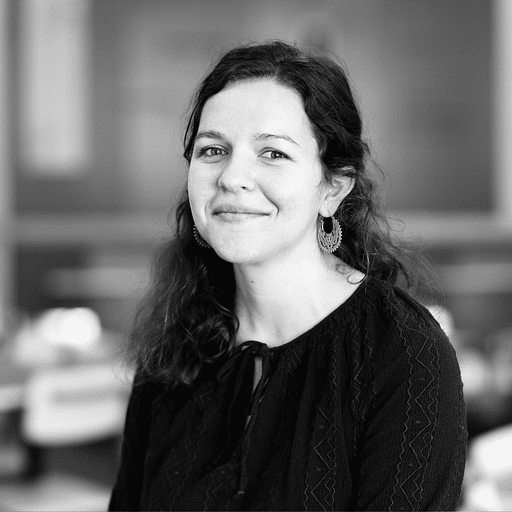 D'abord éditrice de manuels scolaires, professeure et coordinatrice pédagogique à l'Université, Julia a rejoint l'équipe Learning Experience chez Teach on Mars pour apporter ses compétences en pédagogie. La gamification et la différenciation pédagogique sont notamment ses chevaux de bataille.