Roche Diabetes Care France (RDCF), one of three entities of the Roche group, carries out two missions:
1. Marketing an ecosystem of solutions for blood glucose self-monitoring and insulin pump therapy for diabetic patients and the healthcare professionals treating them.
2. Designing services and paper and digital tools to help patients manage their disease as smoothly as possible and to support healthcare professionals caring for them.
Against the background of healthcare market changes (breakthrough technologies, new stakeholders specialized in data and developing telemedicine), RDCF has had to adapt by developing innovative tools and new business models. To support the launch of this new offer, the company has high ambitions: to onboard all of its employees digitally.
Major economic and organizational challenges
Following the success of the Digicheck tool, which was deployed on the Teach on Mars application in 2019 and geared at accustoming employees to the company's new technologies and activities, it is time for new hires to embark on a full, blended learning integration course, Mission 484, addressing the following challenges:
• Year-round onboarding of around fifty employees, both in-house and field representatives in different positions, with varying types of contract and locations, to limit the cost of unsuccessful recruitment processes
• Involving 30 in-house experts in 10 yearly integration sessions, as well as organizing assumptions of duty by a variety of people in the company's different entities.
The program was designed taking into account these challenges and the educational convictions of the RDCF teams.
Blended learning – a stimulating educational stance
Based on the 70-20-10 model, Mission 484 uses alternating synchronous training methods (classroom or distance learning) and asynchronous training methods (independent working) with professional discovery. The program is split into 3 training periods:
• 4 days company discovery
• 8 weeks learning the trade
• 4 months to become independent
The program must enable new hires to quickly absorb the company's values and activities, while rapidly engaging with their professional environment. Learning is designed to be chronological and gradual, and assessments take place throughout the course to check skill development and learner autonomy.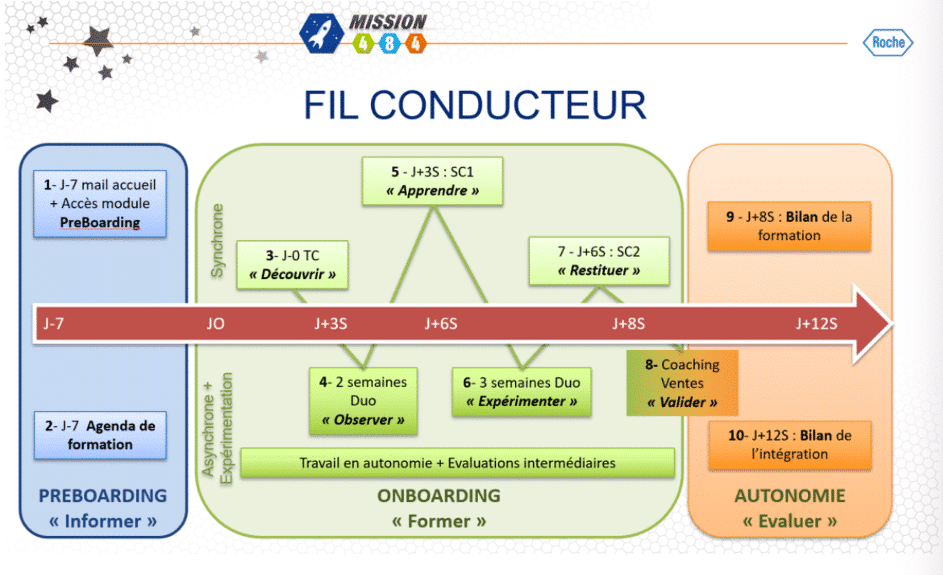 A well-tailored program
To cover all the target groups, 3 courses are offered:
• A "support" course
• A "functioning Business" course
• A course for service providers
Each course is built on 3 strong organizational pillars in order to ensure the scheme's success.
1. The first pillar is an annual training calendar, to organize the involvement of the 30 experts at the right moment for each session and to enable the program to run smoothly.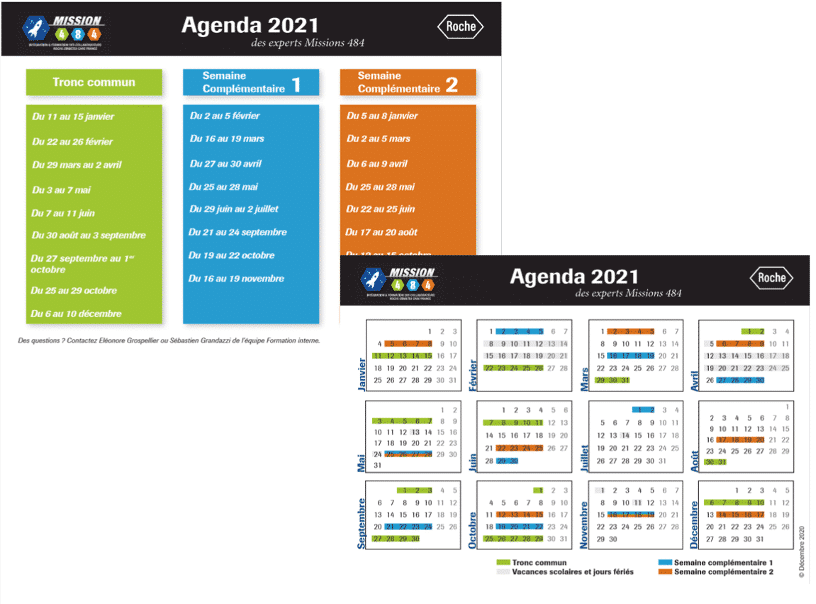 2. The second pillar is the "Mission RDCF" application, developed with the Teach on Mars solution, which serves as the scheme's back bone. It can be used to make content and expert contributions available, as well as assessments, which take place both before and after synchronous sessions.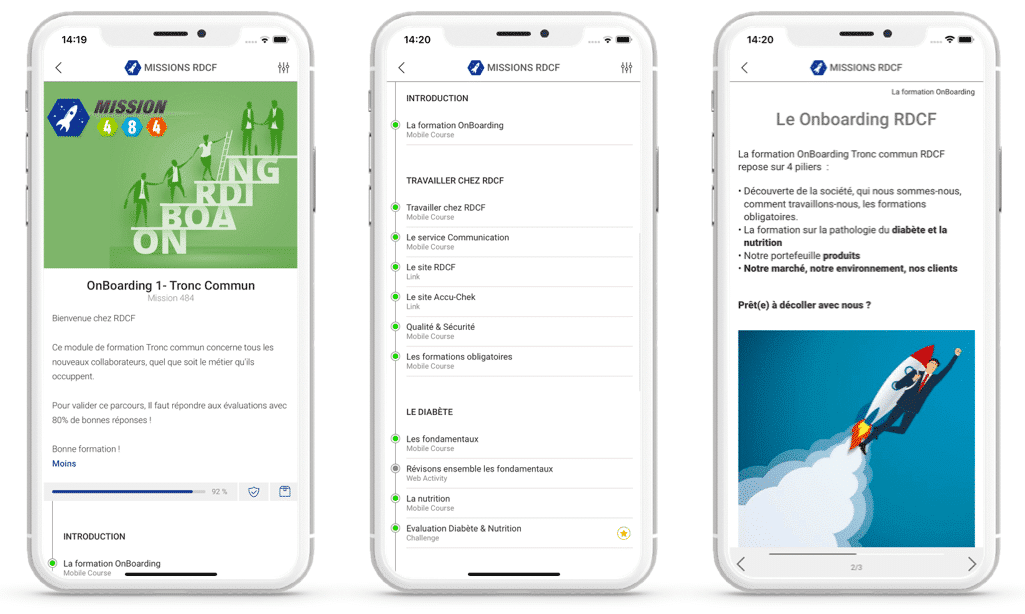 The Mission RDCF application 
3. The third pillar is ongoing and progressive support from day one, by the training team and direct management, until total autonomy is achieved and confirmation in the position after 4 months.
Alternating generic and specific sequences
• The integration course is based on alternating asynchronous and synchronous modules and work immersion
• The Preboarding and common core modules concern the entire staff, regardless of position or role
• The SC1 and SC2 modules are intended for operational teams, who work directly with customers
Blended modules, as well as on-the-job immersion sessions, supplement these courses aimed at various groups and allowing employees to shift gradually from a role of observation to one of participation.
Methods appropriate to each educational objective
To make the program as engaging as possible, the modules were all designed to make best use of each educational method:
• Synchronous classroom sessions: mainly group and interactive sessions, to work on informal situations, role plays and restitution.
• A remote asynchronous support: mainly individual, with descendant but also gamified and entertaining activities to promote engagement, or assessments.
• On-the-job, face-to-face immersion sessions, in which new-hires are supported and simultaneously assessed by the manager.
An agile and scalable scheme
The first lockdown put the scheme's agility to the test, as classroom sessions had to be adapted to maintain course quality. Synchronous teaching became 100% remote thanks to GoogleMeet and sessions were streamlined to concentrate on sharing, hard facts and the human aspect.
The Missions RDCF application thus evolved to supplement synchronous sessions and to provide a successful learner experience despite the context. A number of modules were digitized on the application to limit the number of synchronous sessions, digital certifications were introduced to measure learners' progress and managers gained access to the application so that everyone could view team statistics.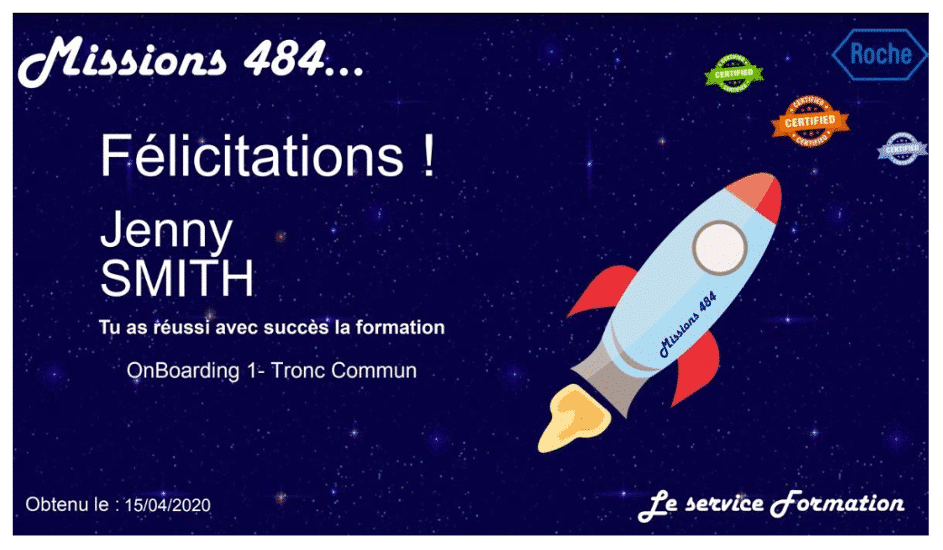 Certification: "Mission 484: Onboarding 1 Common core"
The specific context even helped us to see that some workshops could be 100% digitized without losing any of the impact or meaning.
A well-received program at all levels
The scheme's greatest accomplishment is having met 100% of integration needs since the program was implemented at the start of 2020, with a participant satisfaction rate which exceeds expectations: 100% of participants recommend the course and 90% consider it to be their best ever training experience.
But there was also in-house recognition, for the experts and managers involved, who praise the quality of the program, and externally, thanks to the points scored in the Top employer rankings, and the improvement of the employer brand, a factor which helps to attract the best talent.
Best practices for a successful blended project
Build them flexibly: the RDCF application served as the backbone for the scheme and was a central theme throughout the course. Planning also played an important role in the scheme's success. The various modules were then designed in order to evolve and adapt to constraints. Some became 100% digital and asynchronous during lockdown, while others remained synchronous with digital tools.
Involve all stakeholders: implementing a blended program in which experts and managers have an important role, means involving them from the start of course building and assisting them in their roles (hosting, digitizing, etc.), as well as offering them recognition. It is crucial to co-construct the scheme, which requires a great deal of communication and coordination between all stakeholders.
This article was co-written by Sébastien Grandazzi & Éléonore Grospellier from the Roche Diabetes Care France team and Tiphaine Duchet & Antoine Pezet from Teach on Mars.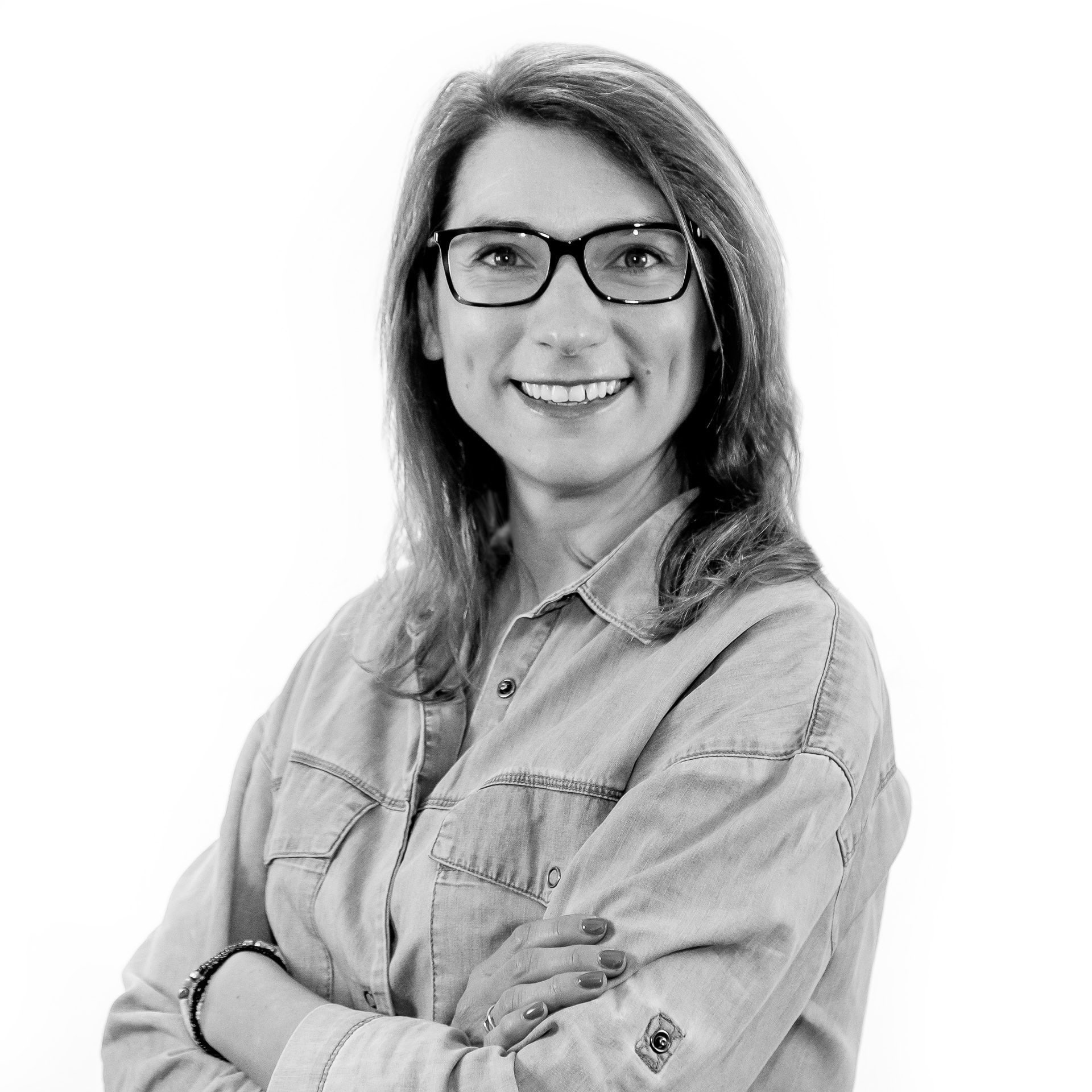 Tiphaine joined the crew of Teach on Mars after 13 years in multi-modal training strategy consulting. She was trainer, educational engineer, head of an e-learning center, consultant and support for major projects, director of a digital division … she now shares with pleasure and expertise, her rich experience of digital learning.