1) Why did you choose Teach on Mars for your digital learning programme?
In 2018, Phosforea started thinking about how to make its cybersecurity training campaigns more effective, as this is an area where genuine engagement from employees is vital. The concept of mobile learning emerged as one of the keys to enhancing the training offer. This mode of learning is part of a more general mix, consisting of e-learning and face-to-face modules as well as communication components (displays, etc.), enabling a diversification of the channels used to raise awareness.
"Mobile learning is strategic for us. We want to anticipate the trend in the market, with adoption of the mobile format still at a relatively early stage," explains Laëtitia Maynard, Operations Director. The team was looking for a supplier who could develop the infrastructure (a mobile learning app), but was keen to stay in control of content as a major element of our added value. "We also needed a French partner or one hosting data in France to reassure our customers who are mainly large industrial, insurance, banking and healthcare companies," adds Laëtitia.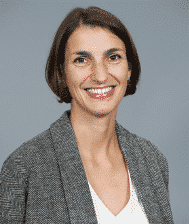 The Phosforea application mainly targets chief information security officers (or CISOs) in large SMEs and CAC 40 companies who need to educate their employees on the threats posed by cyber malware. "The aim is to allow companies to leverage their human capital and to protect themselves against cyberattacks where digital risks are present (editor's note: viruses, phishing, etc.). The mobile medium is a great way of popularising cybersecurity because individuals don't necessarily feel affected by it and tend to think of it as an issue for technicians. But every employee in a company is a link in its security chain. If an employee reacts to a threat in the wrong way, it can have serious consequences. So it's a critical issue for companies," explains Laëtitia.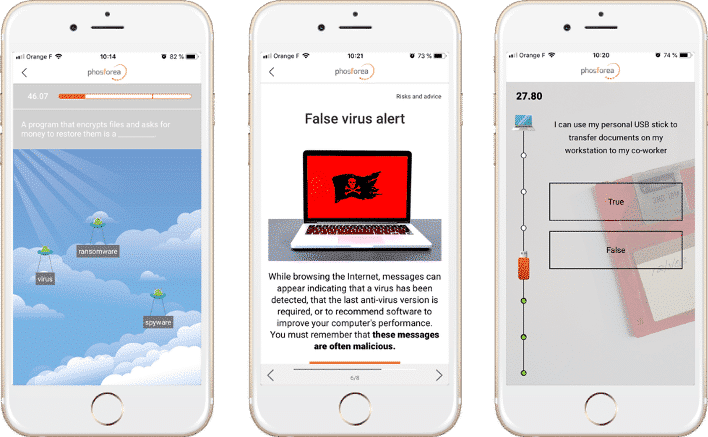 2) How did your deployment go? What user feedback have you had?
Phosforea is the first player on the market to offer an educational app on cybersecurity. The project was launched in late 2018 and deployment was started in the spring of 2019. "Teach on Mars allowed us to work fast, to achieve a shorter time to market, and therefore to stay ahead of the competition. The speed of our deployment meant that we have now established a leadership position in cybersecurity training. We worked really hard on the creation of content. The Teach on Mars team warned us that it would require considerable educational engineering work to devise content specifically for a mobile learning format, and not to simply transpose our existing e-learning content. We felt really well supported in that area," says Laëtitia.
Phosforea currently offers a dozen themes, divided into two awareness levels. The first 5 mobile learning modules each include 3 to 4 activities with a total duration of 5 minutes, and are devoted to exploring and understanding cybersecurity best practices (exploring cyberspace, using messaging systems, transporting data, using roaming solutions and safe surfing). A second series of 5 modules will be deployed in 2020.
3) What was the most exciting part about bringing the project to fruition?
The launch of the app was very fast, with less than 4 months between placing the order and deployment at the end of April 2019. "Project management and support from the Teach on Mars teams were both well thought-out. The methodology and tracking tool worked superbly well and allowed for real efficiency. This resulted in rapid implementation and execution, with real convergence achieved in terms of pacing and turnaround times between our two organisations. Both teams were responsive and flexible, allowing for excellent agility," explains Laëtitia.
The Phosforea team particularly appreciated the overall simplicity of the tool, the features of the dashboard, the ease of integrating content in a new language and versioning performance.
4) What are the next steps for your project?
While Laëtitia considers her project to still be in its launch stage, she's not short of ambitious ideas for 2020. These include:
accelerating launches with new industrial customers
continuing deployment on a global scale (launch of the application in China is underway for one of our customers)
developing more content on cybersecurity topics (data localisation, clean desk, password, social engineering and workstation management are just some of the new topics in the pipeline)
in order to ultimately ensure that the company continues to be a leading provider of cybersecurity training!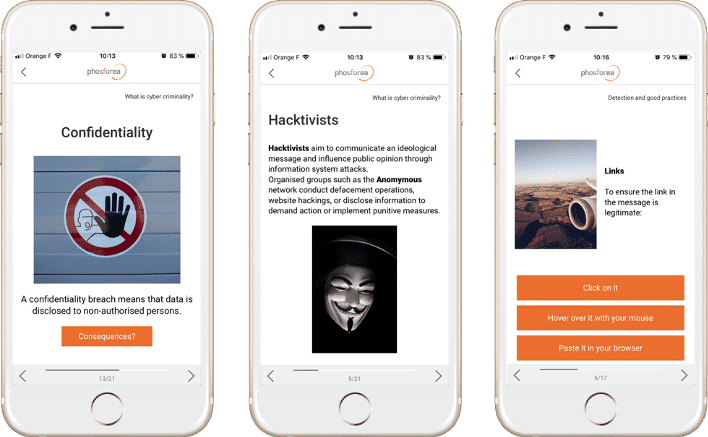 5) What advice would you give to a project manager starting out on a programme?
Laëtitia's advice for a successful mobile learning project:
make sure the team has a project manager dedicated to the mobile learning project in order to coordinate learning engineers and graphic designers
plan for:

any obstacles to the mobile format so you can promote the mobile channel as an effective training channel
learning engineering and message design work for a target that will be learning in a mobile format

include your end users from the start of the project: "we involved our final target in the project design and did a beta test with certain customers"
set up a communication campaign to promote the application and educate customers.
6) Describe your project in three key words
The app is "simple, intuitive and engaging" according to Laëtitia. "The approach is innovative and effective, with gamified and entertaining content," explains Paco Cervantes, Project Manager at Phosforea. Gamification is one of the keys to success in facilitating learner engagement and allows users to respond appropriately when faced with cybersecurity threats.
Watch the video of Laëtitia Maynard and Paco Cervantes explaining the details of their mobile app.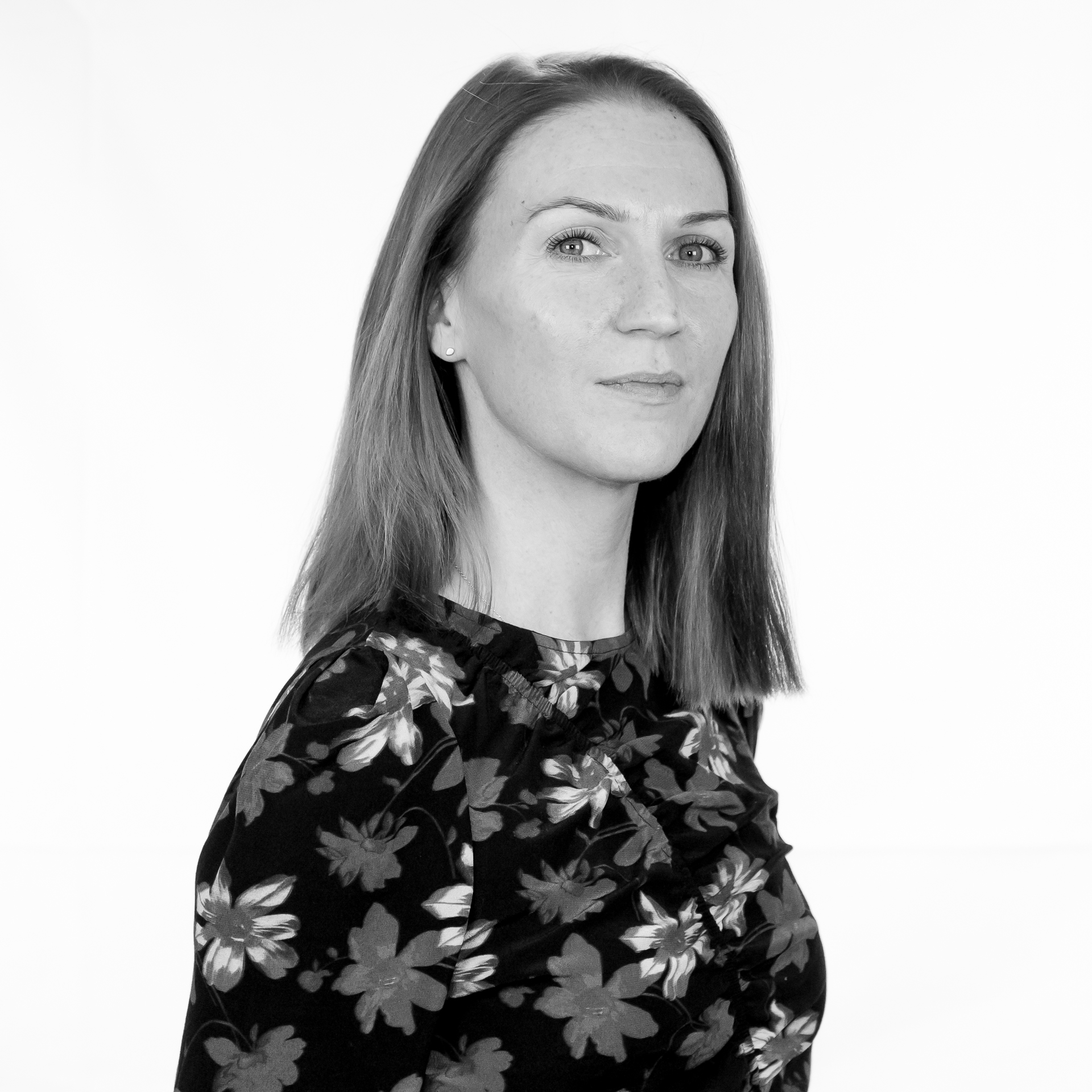 Cornélia a enfilé sa tenue de cosmonaute en 2017. Après 5 années au service des clients de Teach on Mars en tant que Customer Success Manager, Cornélia prend une nouvelle trajectoire en pilotant les projets de communication & marketing, ses premiers amours, toujours avec l'ambition d'explorer la galaxie !