On 8 March 2018, at the first edition of the Teach on Mars Partner Forum, Denis Faure, Director General of the Crédit Agricole Group corporate university (IFCAM) and Vincent Desnot, Teach on Mars CEO, announced the official launch of the first mobile learning FabLab, created and run in partnership by Teach on Mars and IFCAM.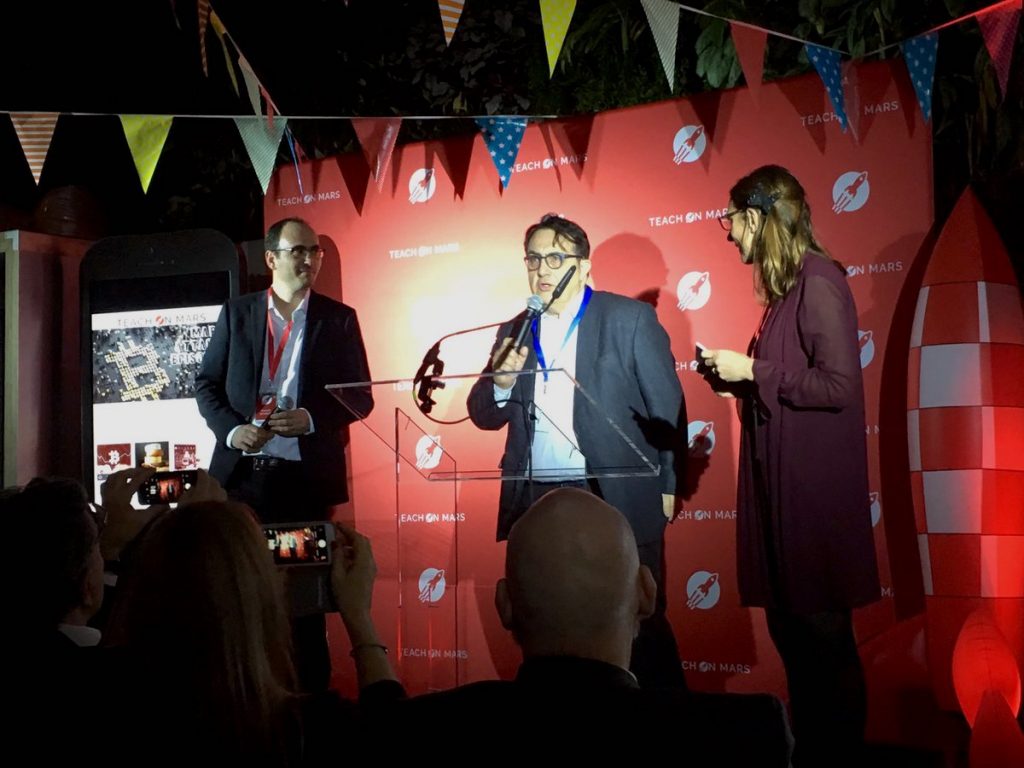 Denis Faure, Vincent Desnot and Tiphaine Duchet at the first edition of the Teach on Mars Partner Forum on 8 March 2018
A forum for exchanging ideas and sharing experiences
The FabLab will be run by expert Teach on Mars mobile learning consultants and regularly offer themed workshops and introductions to innovative technologies (e.g.: augmented reality and blended learning, integration of virtual reality, recommendation algorithms, etc.). The aim is to support learning managers and instructional designers as they expand their skill sets and build their projects in an open, convivial environment.
The FabLab is right in the centre of Paris on Rue la Boétie (Miromesnil metro station) on the Paris campus of IFCAM, but sessions can also be held in Montrouge. It's open throughout the day on Fridays to pre-registered users who have passed the "FabLab" certification test in the Teach on Mars app, downloadable from Google Play and the App Store, and available from 14 March 2018.
A workshop entitled "Writing my first mobile learning programme" is held each morning, and "Understanding the Mission Center" takes place each afternoon. Participants can also access the co-working space.
To take part in the one of our upcoming FabLab sessions, complete the registration form here.
What they said in the press…
Le Village by CA, 09/03/2018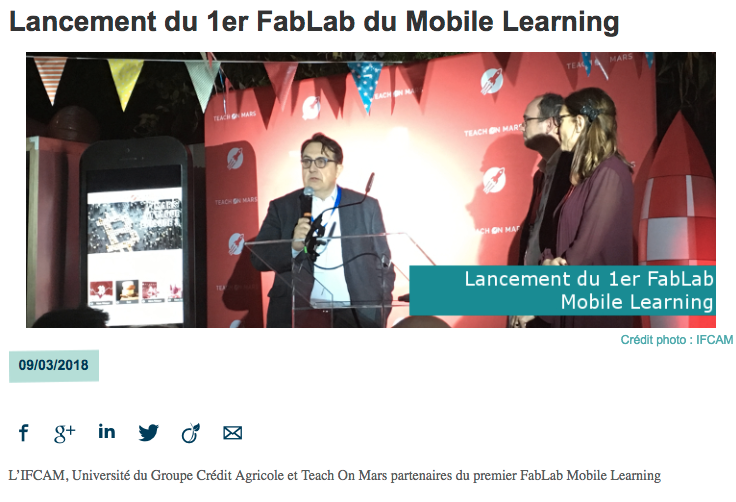 Tribuca, 09/03/2018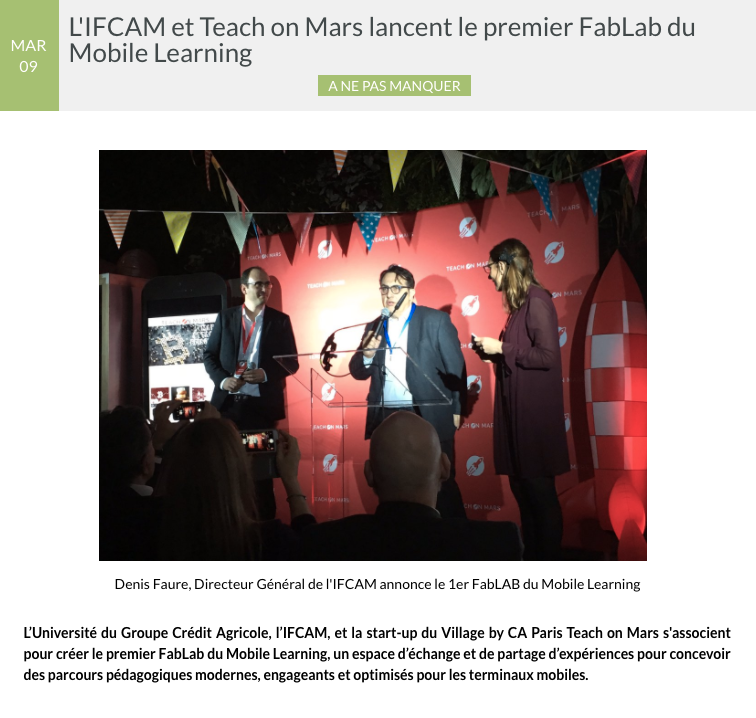 Elearning Letter, 15/03/18

And on social media…
Une grande et belle synergie entre un #GrandGroupe @IFCAM et la #startup @TeachonMarsfr pour former les collaborateurs sur mobile! #mobilelearning #formation #FabLab ???
➡https://t.co/lILRDoQf3E pic.twitter.com/pXonlct63m

— LeVillagebyCA Paris (@VillageCAParis) March 9, 2018
"A great synergy between a corporate group like @IFCAM and the #startup company @TeachonMars to train employees with mobile learning!"
? @IFCAM & @TeachonMarsfr inaugurent le 1er #FabLab #MobileLearning ! Un espace de co-working, d'échanges et de partages ouvert au Groupe @Credit_Agricole et à toutes autres entreprises et partenaires ➡️ https://t.co/eAhq5EiT5m #TOMPF18 pic.twitter.com/5dVtIxMY44

— IFCAM (@IFCAM) March 9, 2018
"@IFCAM & @TeachonMarsfr are opening the 1st #MobileLearning #FabLab! A coworking, exchange and shared space open to @Credit_Agricole Group and to all the partner companies"
Annonce de la création du premier #FABLAB par @TeachonMarsfr et @IFCAM dédié au #MobileLearning pour "partager les idées" et "utiliser le mobile comme support central des réflexions" #TOMFP18

— Sémaphores (@Semaphores_) March 8, 2018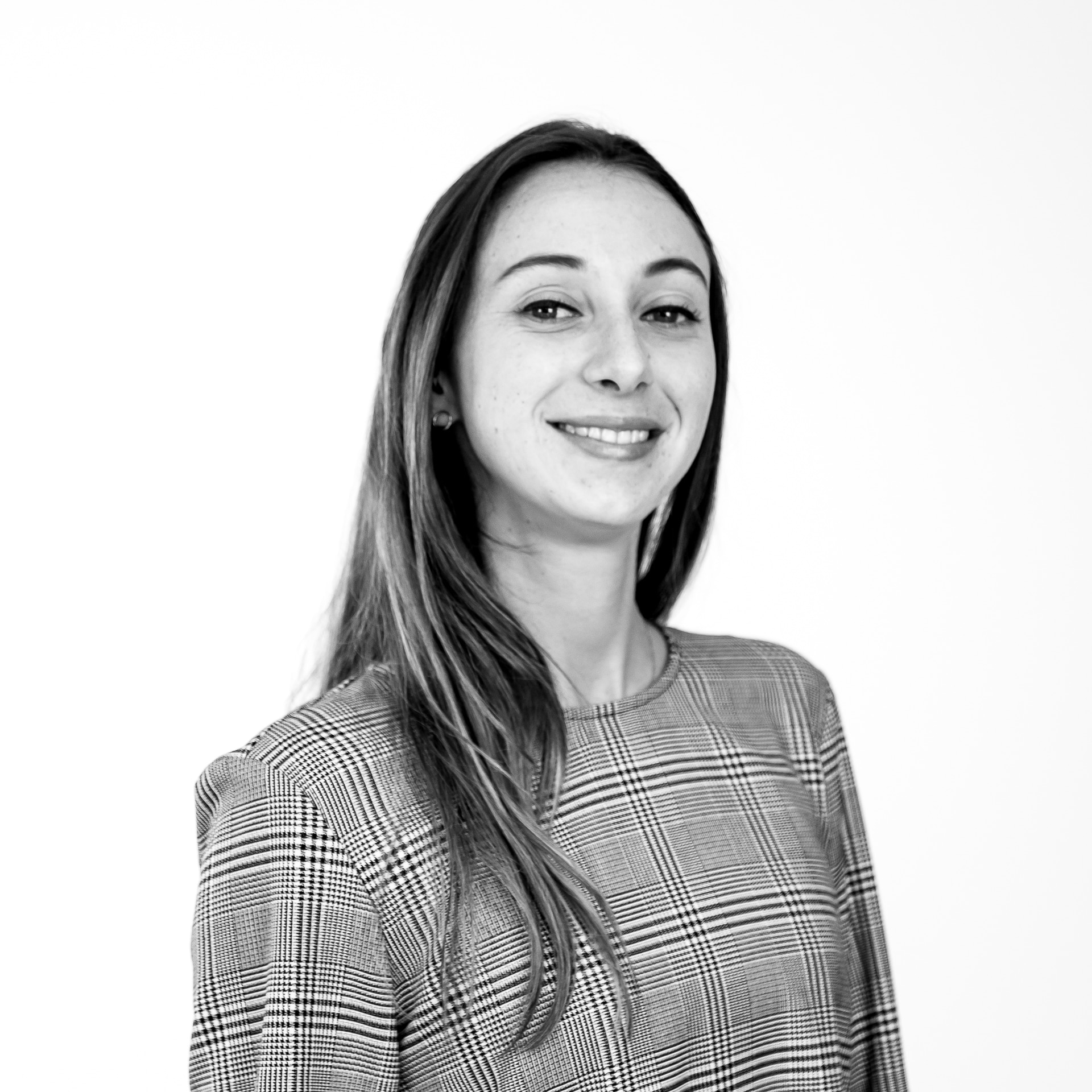 Diplômée d'école de commerce et passionnée par les innovations du numérique, Noémie a enfilé son scaphandre et rejoint l'équipe Teach on Mars au poste de Content Manager. Elle intervient en marketing et événementiel tout en contribuant à Teach on Earth, une initiative sociale et environnementale.