It's the single biggest Hi-Tech event of the year, and it's held in Las Vegas – just two reasons why the Consumer Electronics Show 2018 was an obvious destination for Teach on Mars. Almost a quarter of the 3900 companies exhibiting are start-ups, and Teach on Mars came through a stringent selection process to win its place among them – the chance to line up alongside more than 900 innovative and fearless young ventures from all sectors and industries, all of them sharing a single, simple burning desire: change the world.
So with 6 intrepid Martians at the controls, the red-and-white rocket made its maiden transatlantic voyage to land in the CES Eureka Park. The mission was clear: share the Teach on Mars vision of the future of learning. More than 100 000 visitors were expected over the four days, and at times it seemed like most of them were at the Teach on Mars booth, meaning that for the team it was a virtually non-stop cycle of Pitch – Demo – Impress – Inspire – Repeat.
The rare times there were a few moments to spare, the team took in some of the bleeding-edge innovation on display. High-tech heavy-hitters rubbed shoulders with dynamic newcomers just like Teach on Mars over two separate sites and more than two-and-a-half million square feet of display space. Well-toned calves and comfortable shoes were a must for anyone serious about covering all that ground.
Google was a big hit throughout the week with its interactive audience-participation tech-gift distributors, which were everywhere, both inside the show venue and out on the Las Vegas streets.
Samsung too delivered a veritable assault on the senses. Bigger, better, flatter screens with more and more breath-taking picture quality were to be expected. It was altogether more surprising to see that everything – literally everything – is now connected, from telephones to vacuum cleaners to fridge-freezers. Will the future find everyone living in Samsung cities?
Well, not if Intel has anything to say about it. There wasn't a single processor or computer to be seen in its "CES universe". Instead, visitors could enjoy a totally immersive virtual stroll through a 5G connected city or discuss the finer points of a fully connected, fully driverless luxury saloon car that, the Intel staffers promised, had the capability to set off through the streets of Las Vegas right there and then in complete autonomy, if only current legislation allowed.
Polaroid took the prize for visitor participation in its ultra-fun gamified space: there were long queues for a host activities including personalised photo booth, 3D drawing and the chance to paint a real-live model (not paint a picture, but actually paint the model himself ….).
Elsewhere, Teach on Mars clients were out in force, with impressive presences from Tomtom, the La Poste group and Total among others.
Finally, there was an obligatory stop at the NASA booth, where thanks to a VR headset it was possible to journey through space to – yes, you guessed it – Mars itself!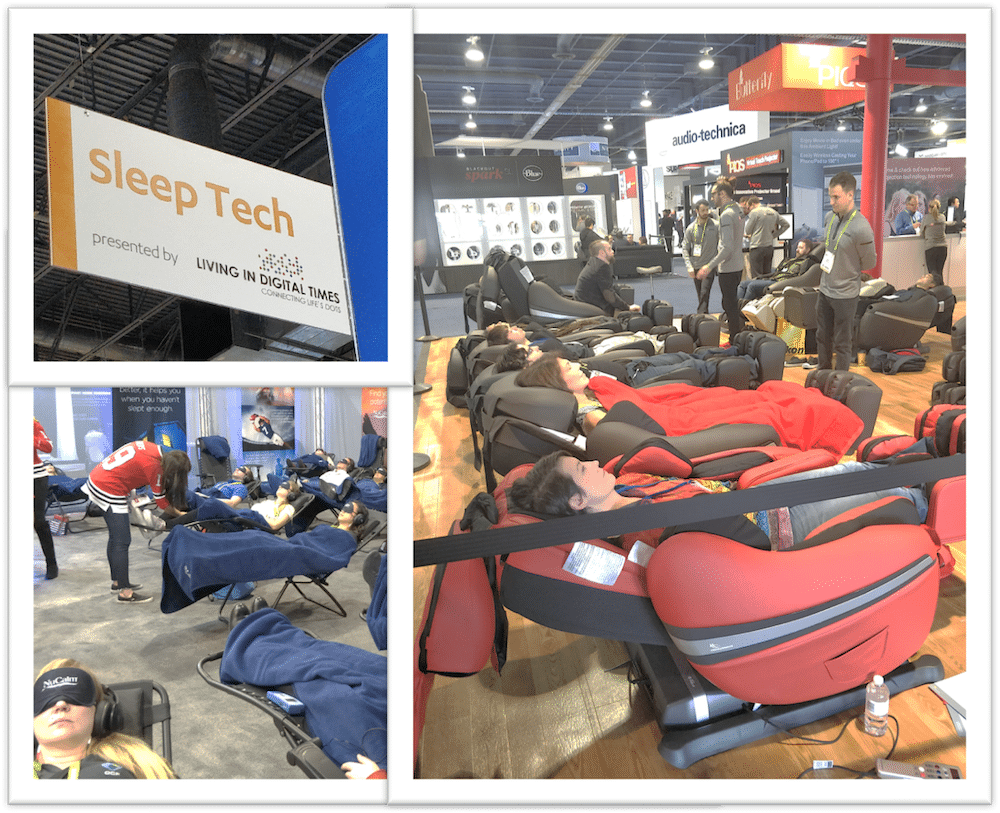 Sleep tech was one of this year's hottest trends
Away from the household-name brands, smaller specialised companies showcased 2018's hottest tech trends. Top of the list was connected wellness – with some booths offering on-the-spot decompression sessions using massage chairs, relaxation masks and VR glasses. If you didn't have time for that, you could always try your hand against the latest generation of unnervingly precise and scarily competitive AI robots, who can now defeat human opponents in games as diverse as table tennis and Scrabble.
Back with Teach on Mars, the week was an unqualified success. Dozens of contacts, including potential future clients and partners to fuel ongoing international development. In terms of visibility and reputation-building the Teach on Mars team impressed visitors, journalists and investors alike. They also made a big impact in the burgeoning French Tech community, being selected as one of just 13 French start-ups to pitch to a panel of investors at a French Village showcase event. There was even time for a pre-dawn appearance live on French TV. What a week!
So long, Vegas – something tells me Teach on Mars will be back!
Marielle joined the Teach on Mars team after 6 years in the communication and workplace learning sectors. As an expert instructional designer and workshop facilitator, she's in charge of guiding Teach on Mars clients along the journey of taking their learning mobile… and making it fly.