Keen adopters of innovation in vocational and continuing education, Asfored – Edinovo have long been convinced by the benefits of blended learning, and this year they inaugurate their own mobile learning portal, developed using Teach on Mars technology.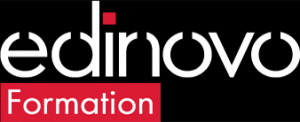 Asfored is a key player in applied training for the publishing, press and communications professions. Today, Edinovo, their branch specialising in continuing education – whose track record as a certified training body stretches back to 1972 – stands out with its ambition to foster a modern, dynamic learning ethos.
The brand new platform provides educational resources for all professionals in the sectors targeted, as well as specific training designed for Asfored's customers.
To get the ball rolling and help prospective learners to get their bearings, the platform offers a self-evaluation RNCP feature (RNCP standing for Répertoire National des Certifications Professionnelles – a national repository of professional certifications), allowing future multimedia publishing and production managers to self-assess in relation to the training offer.
The purpose of these questionnaires is to determine the initial level of knowledge of the candidates and to pinpoint the most relevant learning pathways to help them qualify.
Another EDITORIAL category gives users access to discover a set of 5 course modules:
Graphic design and production in 7 steps
Understanding prepress
Understanding the digital book
Understanding metadata
Finding your way in print publishing
These courses each represent around 3 hours of training divided into 7 modules featuring videos, lessons, quizes and practice exercises. Each module begins with an introduction and an initial Profiling session to help situate the participant's prior knowledge and tailor the content to best match his or her needs. At the end of the course, in addition to the final validation questionnaire, the pathway includes a series of summary sheets to review the key steps of the module, and finally a satisfaction survey so that participants can express their immediate ideas on the strengths and weaknesses of content, on both qualitative and quantitative criteria. Asfored's lessons learnt process will feed into regular updates to keep the learning material dynamic and ever-relevant for their target audience.
Perhaps the most impressive and comprehensive content available on this platform – a programme entitled the Université du Livre (Bookseller's Mobile Campus) – was developed for the prestigious FNAC retail brand bookseller. Course design was conducted in collaboration with eminent subject-matter experts and the catalogue currently features 4 training pathways:
Children's literature
Young adult literature
Fantasy literature
Crime literature: the detective novel
Taking this last category as a case in point, the training course addresses  mystery, suspense and spy novels, thrillers and detective novels, fantasy, female detective, historical or esoteric thrillers, not forgetting Asian and Scandinavian crime genres. Each style gets its own in-depth treatment: the origins, the bestsellers, the essential features and ingredients of the genre, etc. The learning content is amply documented with archive images, trailers, audio recordings, excerpt readings, and visuals of theatrical or cinematographic adaptations.
These mobile training courses inspire users to read or reread the classic works from these categories of fiction and to discover the latest works and trends. More to the point, and more importantly from the bookseller's standpoint, they equip professionals with the key facts and concepts they need to be able to talk about these genres with authority. Supported by learning techniques employing devices such as discovery maps, fill-the-gap activities, speed and agility games, all the content covered is underpinned by a range of cognitive learning approaches including exposition, gamification, evaluation, and memorisation. The thoroughness of the design makes this offer a gold mine for passionate booksellers who want to refresh or develop their knowledge.
4 questions to Aida Diab, Managing Director of Asfored:
Why did you opt for mobile learning?
M-Learning offers great flexibility and scalability to adapt to the needs of our learners. The customisation of the learning path makes this form of learning more effective because it enables each individual learner to take control of his learning and gives him more flexibility in the way he organises the time he has to spend on training.
What feedback are you getting from users of the Mobile Learning app? 
In fact, to date, total satisfaction from users and companies! So we are definitely intending to continue in this direction and develop other mobile courses to complement the current offer.
What do you think is the main benefit of mobile learning?
The main benefit is the way that it boosts collaborative and participatory learning potential. This is vital because in many ways the strength of companies lies in their ability to make employees work together to optimise creativity, innovation and collective intelligence.
Tell us a little about your projects for new M-Learning courses in the pipeline
Around thirty training modules are planned for this year covering all aspects of publishing. As of the beginning of the academic year in September, we will be introducing them into our blended-learning programmes.
For more information, visit the Asfored – Edinovo website
Marielle has been travelling in the Teach on Mars rocket ship for 6 years. After having contributed her skills in pedagogical engineering and training facilitation to guide clients towards success, she is now Product Owner, in charge of designing the new features of the solution.