It's been one year since Add-on Coaching joined the feature-scape of the Teach on Mars solution, and in just one year it has already witnessed a number of improvements. Some of these have been simple adjustments to optimise the user experience (or that of the coach, administrator or learner). In other cases, important functional components have been added, which directly respond to client's needs, and in particular, to the feedback from our beta-testers. So come and discover or rediscover Add-on Coaching.
The purpose of Add-on Coaching
When it was released, the vocation of Add-on Coaching was clear: to enable managers and trainers to monitor their teams closely, using a one-to-one conversational tool. More than a simple chat, Add-on Coaching also allowed users to evaluate skills using a frame of reference provided in the Mission Center. What's the score today?
Add-on Coaching has retained its vocation and basic function: coaching! One-to-one thus remains the preferred means and allows the coach to have a personalised approach, which is tailored to their learner.
Coaching through content recommendation
Through conversation, the coach has, above all, gained the opportunity to recommend catalogue courses to their learner. In this way, they can guide the learner in their training pathway and track their progress. Learners meanwhile, receive a notification and can click directly on the recommendation link to start learning, without getting lost among the catalogue categories.
To respond to feedback from our beta-testers, it is now possible to configure the list of courses which are recommendable by the coach.
There are two possible scenarios: either the courses correspond to those allocated to the coach's account on the Mission Center, or they correspond to those the learner can access.
– In the first scenario, you can allow 'premium' access to a course for which the learner did not previously have access.
– In the second scenario, the coach doesn't need to worry about which course to recommend or not, as they can see all visible courses that their learner sees: the coach can then provide training priorities, for example, to guide the learner.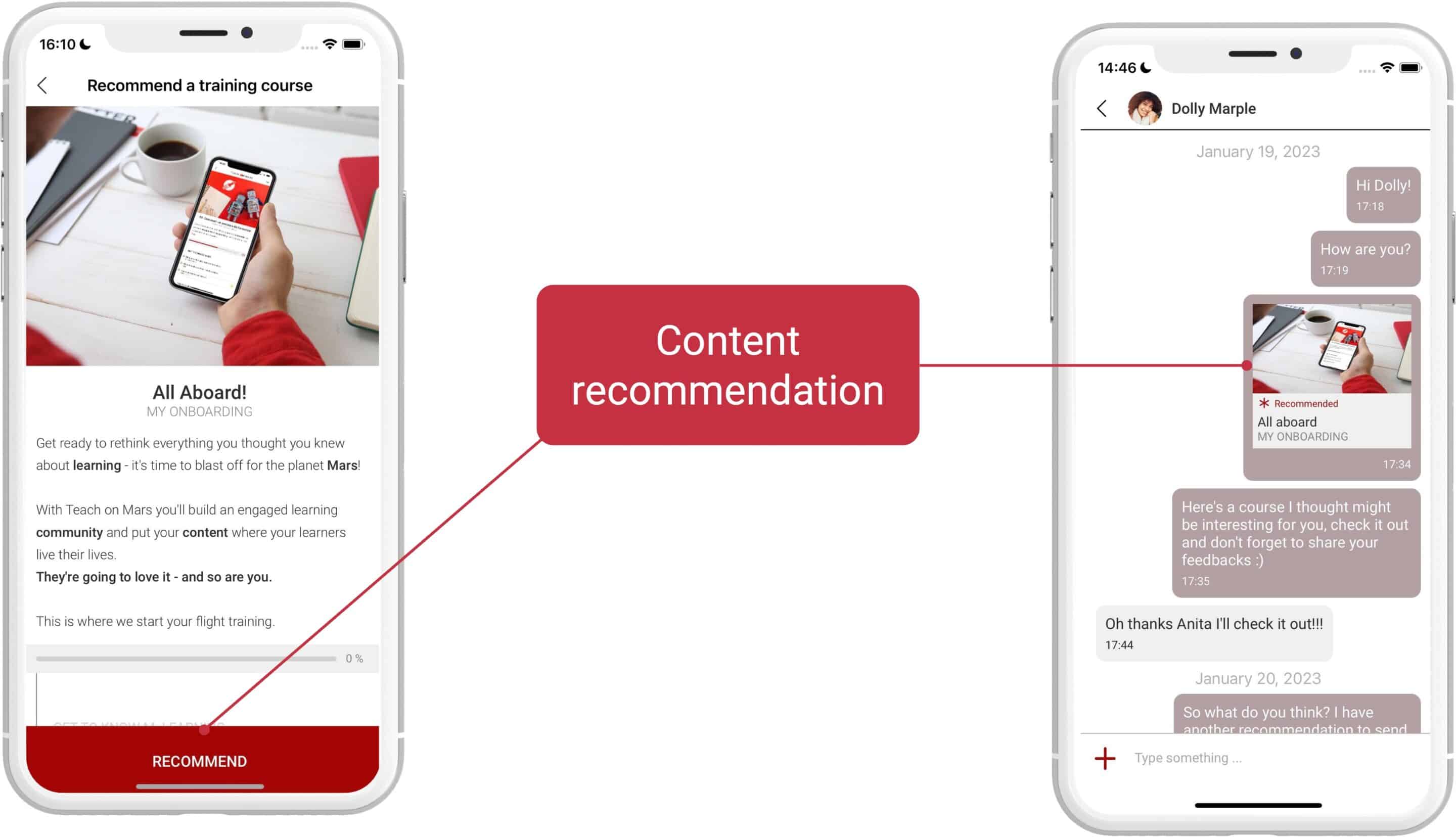 Assessing performance to enhance skills
The coach can still evaluate one or several skills directly in the Add-on Coaching. The skills frame of reference must already have been configured in the Mission Center. It can be continuously updated, depending on the seasonal nature of the evaluations or new skills acquisition priorities for the company.
If the coach has to make an overall assessment of their team, they can now choose to assign a "N/A" level if some skills cannot be verified at the time of the evaluation.
The coach can also now generate and share an evaluation report of past skills. It couldn't be easier: after choosing the option, they can select specific dates (e.g.: the year 2022) and generate a PDF list of evaluated skills. This document can be sent directly to the learner via the Add-on Coaching chat and can serve as a basis for discussion during annual interviews for example. The summary can also be very useful for preparing future assessments.

Improving the experience of the coach, learner and administrator
The Add-on Coaching user experience has been one of our areas of focus since its release. So that the tool meets our clients' needs, its use must, above all else, be simple and smooth and frustration must be minimal or inexistent.
The ability to delete sent messages was activated with this in mind. As well as responding to feedback from our beta tester users, we wanted to remove any significant risk of frustration which would, ultimately, negatively influence the tool's use.
In the Mission Center, it is now possible to automate the creation of managers and, as a result, that of coaches. This has streamlined the administration of roles for accessing Add-on Coaching and has thus offered time savings to our clients.
What's more, the way coaching sessions are exported was reviewed to make it both clearer and more comprehensive. The coaching sessions page will soon be supplemented by a series of filters (name, user status, customised fields) to enable smoother navigation.
Finally, an 'Add-on Coaching' dashboard is set to be released with new embedded statistics.
Continued improvement…continues!
As you have seen, Add-on Coaching has witnessed a number of improvements during its first year of existence. Of course, this is only the start and further developments will continue to make it a must-have feature for tracking and ensuring the performance and wellbeing of your teams.
If you'd like to find out more about add-on Coaching, please contact your Customer Success Manager or Key Account Manager for a demo.
Marielle has been travelling in the Teach on Mars rocket ship for 6 years. After having contributed her skills in pedagogical engineering and training facilitation to guide clients towards success, she is now Product Owner, in charge of designing the new features of the solution.