The learning show, "the event which revamps and rewrites the rules of training", was held in Rennes, France from 19-20 October.
The Teach on Mars team was there, along with 800 of their colleagues from the world of training, edtech, neuroscience and human resources. Did you miss it? Allow us to take you on a journey into the future!
We have summarised all the central issues about Metaverse challenges in training.
The Metaverse & its challenges: immersion yes but at what price?
XR & TRAINING was one of the event's main themes.
It came as no surprise that virtual reality and the Metaverse were at the heart of the agenda, specifically, why and how to use them in a training context? What tools and means should be implemented? What are the limitations of these uses?
If these terms are unfamiliar to you, take a look at our digital learning glossary before reading the article.
We were lucky enough to attend the Metaverse talk given by the brilliant Adélaïde Barbier, a comedian and facilitator, who works as a political commentator on the show, Backseat.
The aim was to analyse the virtual world's pedagogical challenges and potential limitations (technological, environmental, etc.).
Participants included:
In the pro-Metaverse team – Rony Germon, Managing Director of KWARK ACADEMY, a 100% online school on METAKWARK, an open educational Metaverse.
And up against them – Claire Noyer (Pick & Learn), an educational engineer driven by the principles of public education and by the concept of sobriety, & Sylvain Révéreault, Technical Manager at Zenika (IT consulting firm), co-author of the book, Green IT.
The Metaverse, a short definition
The Metaverse is a virtual world with three attributes:
immersive – users feel immersed in the universe.
persistent – continues to exist and to change even when the user is no longer connected.
interconnected – a network of interconnected universes.
NB: the Metaverse is not necessarily linked to the use of a virtual reality headset.
In the educational Metaverse, the idea is to create an extended learner experience (several hours), the headset is not recommended because the maximum duration of continuous use advised is 45 minutes, (beyond this time, negative effects appear: headaches, nausea, attention loss, etc.).
The pedagogical contributions of the Metaverse
According to Rony Germon (Kwark), the Metaverse is an interesting tool for online schools or any form of distance learning. Rather than proposing one video conference after another, the Metaverse allows you to create a global experience for learners, who remain in the same universe all day long – a universe which reproduces a campus architecture.
Just like in the "real" world, participants have the possibility to move around between rooms, to get together in small groups, to interact with peers, to collaborate using dedicated tools, etc.
Metakwark hopes to overcome the three following difficulties distance learning can lead to:
reduced concentration
problematic collaboration
a feeling of isolation and solitude.
By creating a feeling of virtual presence, the Metaverse helps to limit the in-person/remote divide. Here are a few comments from METAKWARK users following a session in the network, "we met up this morning", "we were together earlier". The notion of virtual presence is very strong.
Embodied by their avatar, participants move around the universe, which also contributes to a sense of spatial presence. This avoids the "passive" aspect of video conferences; learners must be active: move around a room for group work, return to the main room for reviews, etc.
Interactions seek to reproduce what happens in the real world by creating a feeling of presence of others. During conversations, the closer we get to the speaker, the more their voice is amplified. This also allows room for informality; once a training session is over, participants and instructors can continue their discussions, unlike with a video call which ends with everyone disconnecting.
The Metaverse is also an interesting tool for hosting sessions with many participants or participants who are very widespread geographically, such as team seminars.
However, the Metaverse is struggling to convince sector experts, let's explore common fears and obstacles.
The deterrents and limitations of the Metaverse
On Wednesday 9 November, Meta by Facebook announced that despite the billions of euros it had invested over several months, it was letting go of almost 11,000 employees, that is to say, 13% of its workforce. The Metaverse also has difficulty being persuasive in the training sector, where the Metaverse's propositions have yet to convince experts.
The digital divide
Fears expressed include the digital divide and access to IT hardware. The digital barometer 2021 evidenced a lack of IT hardware in French homes, with only 61% of people being sufficiently equipped. The elderly and least qualified have hardware rates of almost 30 points less than younger people and graduates.
In contrast, smartphone ownership is on the rise; the proportion of people owning one has continued to increase to reach 84% (+7 points compared with 2019).
Many Metaverses still struggle to develop as part of this transformation, given that they're only accessible using a computer (the case of Kwark), constituting a considerable barrier to entry.
Environmental issues
Another point raised by participants in the debate was the environmental factor. Especially given that this year, the Learning Show placed an onus on environmental transformation and the "necessary transformation of training schemes to provide an example of essential energy sobriety".
Greenhouse gas emissions from digital technology are rising by 6% per year (Shift Project 2021) and according to ADEME, digital technology consumes 10% of the world's electricity (15% in 2025). Just as in all other sectors, the training sector must move towards energy sobriety; while the metaverse seems to be swimming against the tide.
While data consumption is reduced in some cases, one session in MétaKwark is thought to consume 10 time less data than a classic video conference (source: MetaKwark), fear surrounds the equipment it requires, with tonnes of metals and rare earth materials being extracted to produce servers, computers and virtual reality headsets.
This leads us to a key question: why should we resort to the metaverse for training? Does it address a need that cannot be satisfied by other means?
On this particular issue, the pro-metaverse camp is still struggling to provide an answer…
A summary infographic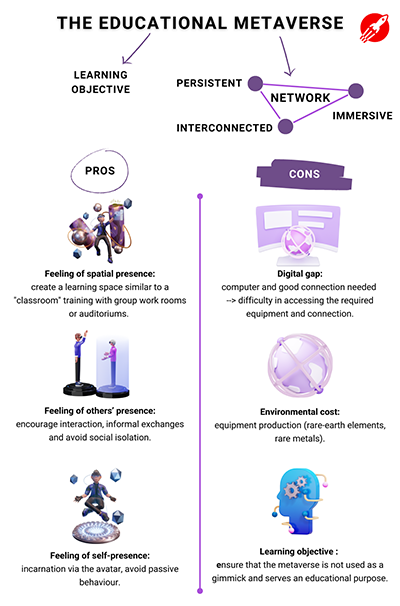 The future of the educational metaverse is still unclear; while the benefits of a virtual campus seem evident (avoiding isolation, facilitating informal exchanges, etc.), how about other uses? Can this network really be incorporated into learners' daily lives and offer real added value?
At a time of energy sobriety and the transition towards mobile everything, the metaverse has yet to prove itself!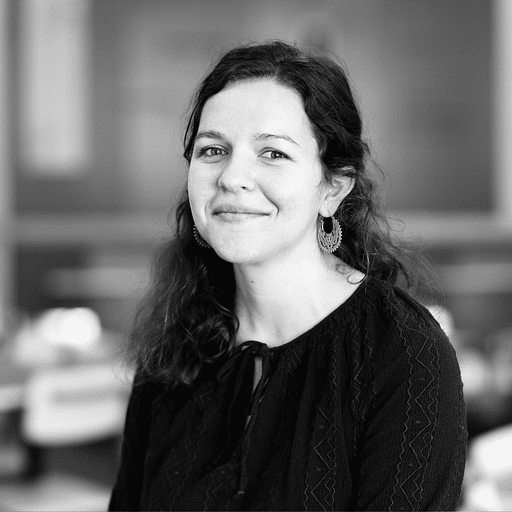 D'abord éditrice de manuels scolaires, professeure et coordinatrice pédagogique à l'Université, Julia a rejoint l'équipe Learning Experience chez Teach on Mars pour apporter ses compétences en pédagogie. La gamification et la différenciation pédagogique sont notamment ses chevaux de bataille.