Many of Teach on Mars' clients also use Cornerstone OnDemand (CSOD) to develop staff skills. Good news! You can now synchronize Cornerstone onDemand with Teach on Mars. The integration has many benefits for learners and managers alike.
Transparent synchronization and better monitoring
Apart from expanding the CSOD catalogue with Teach on Mars' fun, engaging and mobile-first content, the CSOD – Teach on Mars integration provides 3 significant benefits:
For managers/administrators, performance management becomes far easier because monitoring of the training system is done from a single platform: all the training statistics are transferred to CSOD.
For learners, we prioritize ease of use: if learners are used to connecting to Cornerstone, they can now find all the courses from the Teach on Mars catalogue in CSOD. If they're used to connecting via Teach on Mars, their data is automatically transferred to CSOD.
Finally, within CSOD, seeing as Teach on Mars training content is "converted" into Online Content, it can be used in CSOD tools including Playlist, Curriculum, Learning Assignement, Certification, etc.
The Teach on Mars training catalogue in Cornerstone
Thanks to the Cornerstone x Teach on Mars integration, learners will find all their Teach on Mars courses in their Cornerstone environment (presented as Cornerstone Online Content).
From the Cornerstone app, the link will automatically direct learners to the Teach on Mars application (mobile or web) to do their training.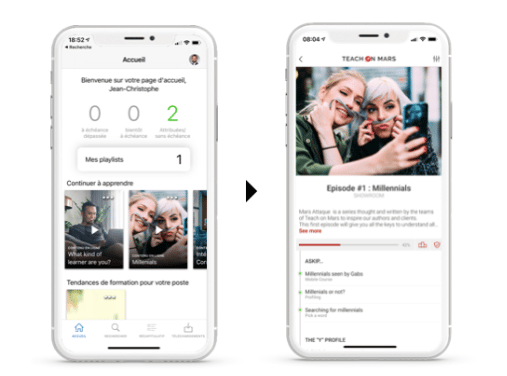 Transparent access to Teach on Mars courses from the Cornerstone application
Technically speaking, the synchronisation is made possible thanks to APIs developed by Teach on Mars according to Cornerstone specifications. Daily synchronisation enables you to update in Cornerstone any training content which is added, modified or archived in Teach on Mars.
A significant amount of information is synchronised for each piece of content: course name, description, key words, miniature (thumbnail), default language, as well as translations of these elements into every language in which the course is offered.
This gateway is an opportunity for learners, who are passionate about their CSOD environment, to gain easy access to Teach on Mars content and to expand their training catalogue, in particular with the wealth of content in our Learning Station offered by CEGOS, Skillsday, etc.
Statistics transfer to facilitate system performance monitoring
Apart from synchronising the training catalogue, the Cornerstone – Teach on Mars integration enables the synchronisation of statistical data, to allow managers to monitor system performance more easily.
In this way, managers can use the Cornerstone Reporting 2.0 tab to consult and manage all the statistical data regarding learners' progression, completion rates and time spent training using Teach on Mars content. This data is transferred in real time at the end of each activity.
Learners, meanwhile, can check their completion rate and time spent training on the Cornerstone User Transcript page.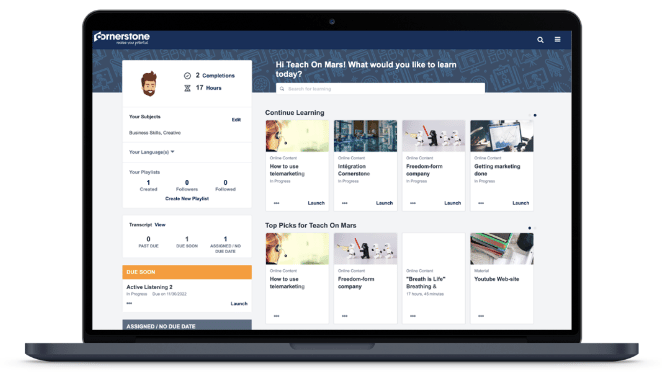 Teach on Mars content statistics are displayed on the Cornerstone platform
Transparent synchronisation of learners thanks to a Single Sign-On (SSO)
It's goodbye to multiple user names and passwords: the Cornerstone – Teach on Mars integration allows learners to access Teach on Mars content without the need to connect several times. Simply connecting to Cornerstone is enough. Learners save time and gain direct access to an array of fun training content, designed for mobile use, and with better engagement rates.
With this full integration, Cornerstone and Teach on Mars are enabling their clients to offer learners an expanded training offer, while ensuring streamlined management for trainers and L&D managers.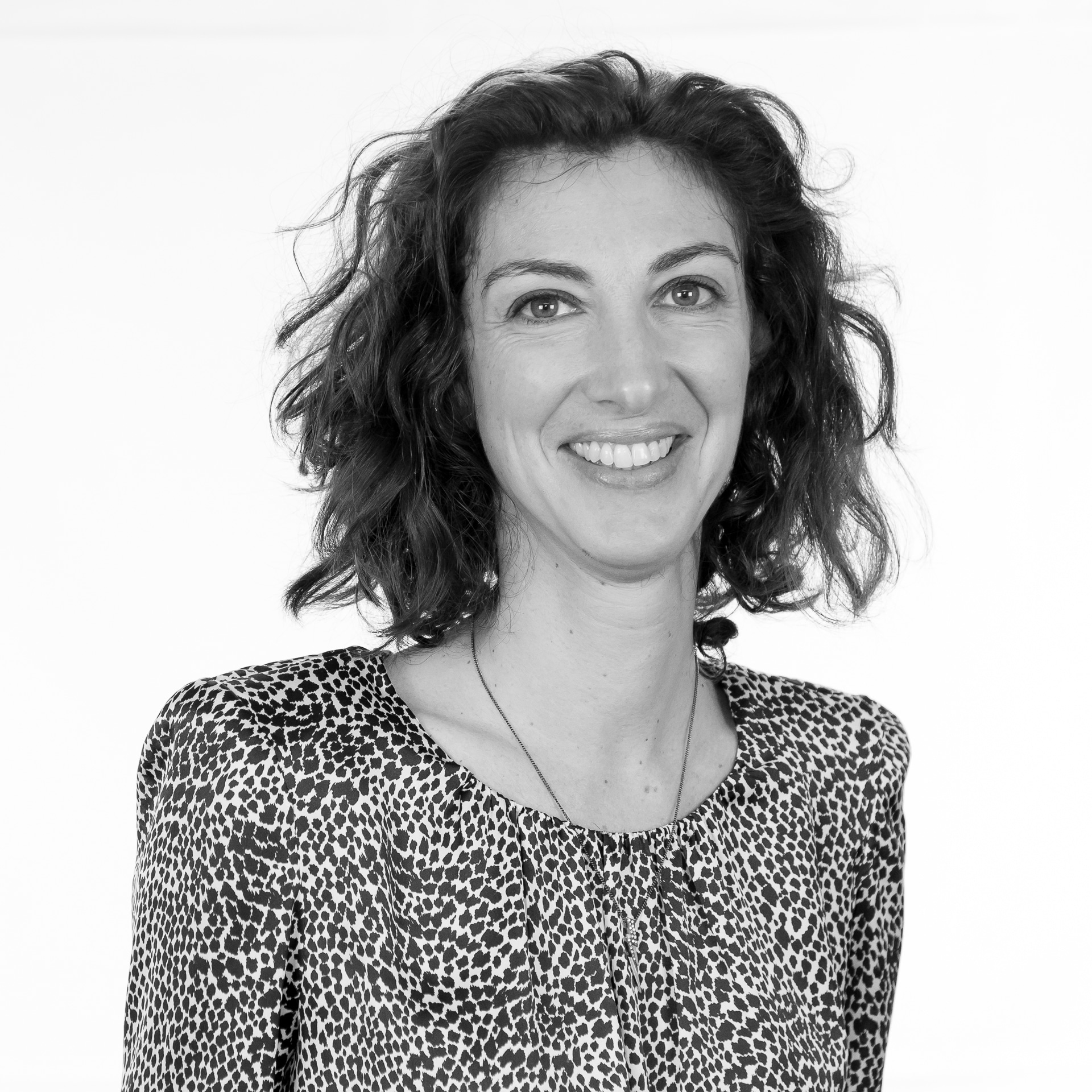 Delphine accompagne depuis plus de 20 les organisations dans leurs grands projets de transformation. Après une première expérience de 7 ans dans le conseil sur des dispositifs d'accompagnement au changement (mise en place de nouveaux modèles d'organisation, accompagnement des collaborateurs dans le cadre de fusions, évolution de pratiques managériales/RH…), elle a intégré le groupe Crossknowledge en 2005 et déployé une offre de services novatrice pour assurer le succès des projets de digital learning dans les grands groupes. Elle a rejoint ensuite Teach on Mars en 2018, et en est le COO depuis 2021. Elle pilote actuellement le développement du portefeuille de clients existants ainsi que les activités de notoriété de la marque.