The charity Mécénat Chirurgie Cardiaque enables children with heart defects from underprivileged countries to have surgery in France when technical or financial resources in their countries of origin are lacking. More than 3500 children have been treated since it was founded in 1996.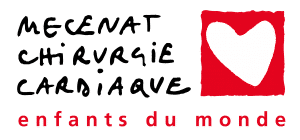 Why did you choose Teach on Mars for your digital learning programme?
The charity created a mobile learning app known as "Le 5/5 de la Cardiopédiatrie", or 5/5 in Paediatric Cardiology to train more doctors, including those who aren't able to travel to France but are the first doctors in contact with the children. They are identified in their countries by volunteer doctors who are often general practitioners but very rarely paediatric cardiologists! "5/5" is the French equivalent of "receiving you loud and clear" and is a training course aimed at French-speaking general practitioners, cardiologists and paediatricians in developing countries so that they can train in paediatric cardiology for better care of underprivileged children with heart disease around the world. Mobile learning is a new educational approach for these doctors who can now train where and when they want, at their own pace, and with or without an internet connection! Another advantage of the programme is that it allows children to be diagnosed in remote areas so they don't have to make long and expensive trips to city hospitals.
Learning via the app takes the form of short 5-minute videos for a highly visual approach allowing gradual assimilation of knowledge. The combination of videos and digital diagrams allows better learner interaction and understanding. There are 22 lessons in total: general issues (clinical examination and diagnosis), cardiac echocardiography and the main disorders which cover 80% of the different types of heart disease in children. The lessons are delivered by renowned French paediatric cardiologists, including Professor Francine LECA, founder of the charity. The diverse range of teachers allows for a variety of consultation styles for better engagement of learner doctors. This highly comprehensive course also includes a module on "preparing children with heart disease for air travel", with practical advice intended to improve the patient's journey before and after the operation.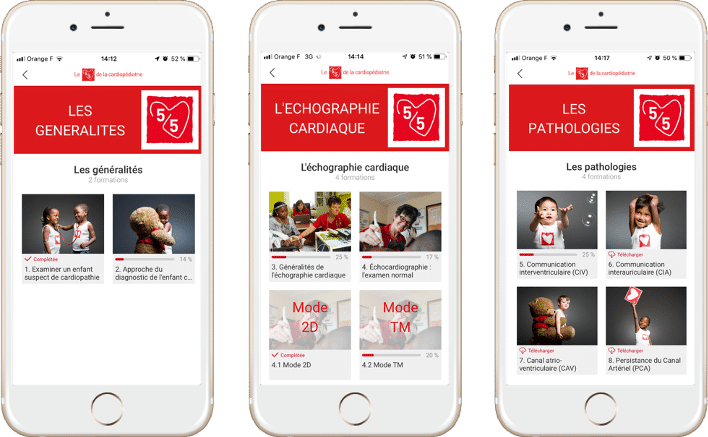 "The approach to diagnosing a child with heart disease presented by Professor Francine LECA, which combines different types of activities (Mobile Course, Flash Game, Challenge, Toolbox, etc.), simplifies learning without gimmicks and allows us to share knowledge and specific cases. If something is well conceived it will be expressed clearly!" explains Orso Chetochine, Director of Mécénat Chirurgie Cardiaque.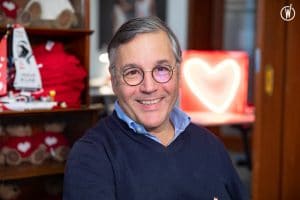 How did you roll out the system? What user feedback have you had?
"In order to ensure a high deployment rate (89%), we relied on "ambassadors" who are our coordinating doctors in the countries. So three months before the official launch of the project, we delivered face-to-face training to these coordinators to introduce them to the app pilot, and get their feedback, criticisms and suggestions. These ambassadors were each tasked with choosing 10 new target doctors to support the rollout of the programme. By doing this they are recognised… and grateful," explains Orso Chetochine.
The rollout was therefore a two-stage process. A pilot phase was meticulously orchestrated, including:
the face-to-face presentation to ambassadors with the handout of high-quality brochures as a way of providing concrete materials for a virtual course
a one-minute teaser video of the "5/5 Training"
a tutorial to resolve any download and connectivity problems
a dedicated page on the charity's corporate website to legitimise ambassadors and the training
a satisfaction questionnaire to engage each user in improving the programme for the scientific community
bimonthly posting of two new training courses to generate interest and keep users focused.
This first step was followed by a wider rollout: to date 16 ambassador doctors and more than 180 doctors are registered on the app. This figure is going up each day as demand continues to be high. The time each learner spends on training is significant, with an average duration of 12 hours. The training is currently deployed in 18 countries: Algeria, Benin, Burkina Faso, Burundi, Cameroon, Congo-Brazzaville, Ivory Coast, Djibouti, Guinea, Haiti, Mali, Morocco, Niger, Democratic Republic of Congo, Central African Republic, Rwanda, Senegal and Togo.
Qualitative feedback on use of the app is unanimous and praises its intuitiveness, simplicity, ease of use and usefulness as well as the quality of the content. In terms of quantitative feedback from users:
100% of learners said they would recommend the training programme to their colleagues
97,4% of learners said they've applied this new knowledge in their daily professional practice
100% of learners said they've improved their knowledge
"Continuous learning has always been a dream of ours, given our working conditions as general practitioners in remote environments. We don't have cardiology specialists and have to care for heart disease patients with limited resources. This training is therefore a real opportunity for me," explains doctor Patient Mukola, a general practitioner in North Kivu, a landlocked region in the eastern part of the Democratic Republic of Congo.
To sum up, "the accessibility and adaptability of the Teach on Mars solution proved to be significant assets, contributing to the success of the project (…). There's no doubt that this training will be beneficial for the health of children," enthuses Orso Chetochine.
Tell us about a key symbolic moment in the project!
Many French doctors told us: "You can't use a phone to train people in medicine!" Many people in France said: "But they don't have internet or 4G in Africa!" And Vivatech start-ups told us: "You can't offer it for free, you have to sell it to doctors." But when we presented the app to our African coordinating doctors, they said: "Thank you. Thank you for the doctors. And thank you for the children," explains Orso.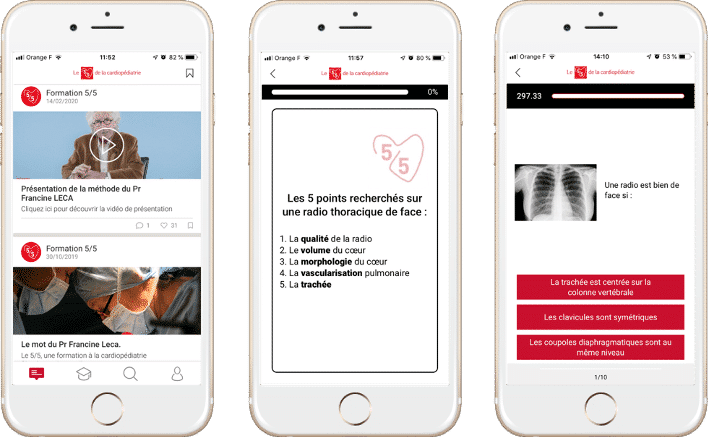 What are the next steps for your project?
The charity wants to step up the application rollout, with ambitious targets for the next few years:
2020 : 12 coordinating doctors x 10 training courses = 120 trained doctors
2021 : 20 coordinating doctors x 10 training courses = 200 trained doctors
2024 : 1000 trained doctors
Mécénat Chirurgie Cardiaque plans to have 22 training courses online by October 2020, compared to the 15 courses available currently (July 2020).
What advice would you give to a project manager starting up their own programme?
Orso's advice for a successful mobile learning project:
organise a pilot phase followed by more widespread deployment, using coordinators/ambassadors to leverage the effectiveness of the launch
set up a communication system to support promotion of the application
encourage users to return to the app by releasing two course modules every fortnight with push communications.
Finally, 3 key words to describe your project
Digital health
Patient pathway
Training everywhere
To sum up, "the training's working well and the app has been unanimously welcomed by doctors in the most remote locations. We're not yet teaching on Mars, but we're taking learning into the farthest reaches of Africa. The platform is starting to save children with heart disease," says Orso.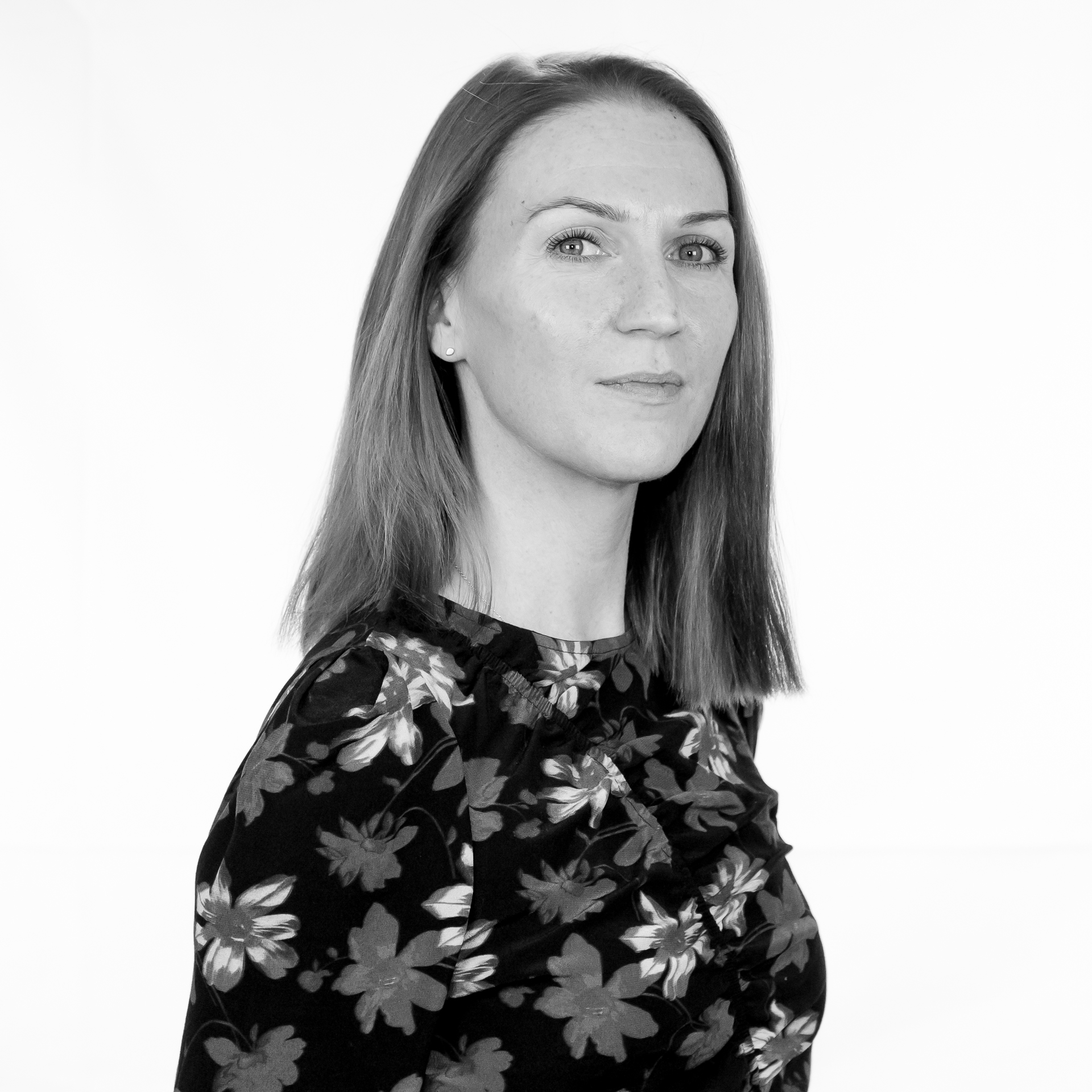 Cornélia a enfilé sa tenue de cosmonaute en 2017. Après 5 années au service des clients de Teach on Mars en tant que Customer Success Manager, Cornélia prend une nouvelle trajectoire en pilotant les projets de communication & marketing, ses premiers amours, toujours avec l'ambition d'explorer la galaxie !