Late 2019 sees the release of Callisto, one of the most significant steps forward for the Teach on Mars solution since its creation. Callisto has been built to reinforce the human dimension of mobile-led learning, placing the individual at the heart of the learning experience. So you'll find proprietary social functionality built into our solution for the first time, with learners now able to interact with each other, share their experience and air their opinions from within the app.

Climb aboard for a light-speed tour round the galaxy of new features in Callisto!
Rich new interaction and user-generated content
In Callisto, the Wall becomes a Social Wall, giving and brand new voice to your learners. They can now comment on publications, react to each others' comments and even add links that display in thumbnail format.
And to keep everything in check, learners can also flag inappropriate comments for moderation via the Mission Center by the system administrator.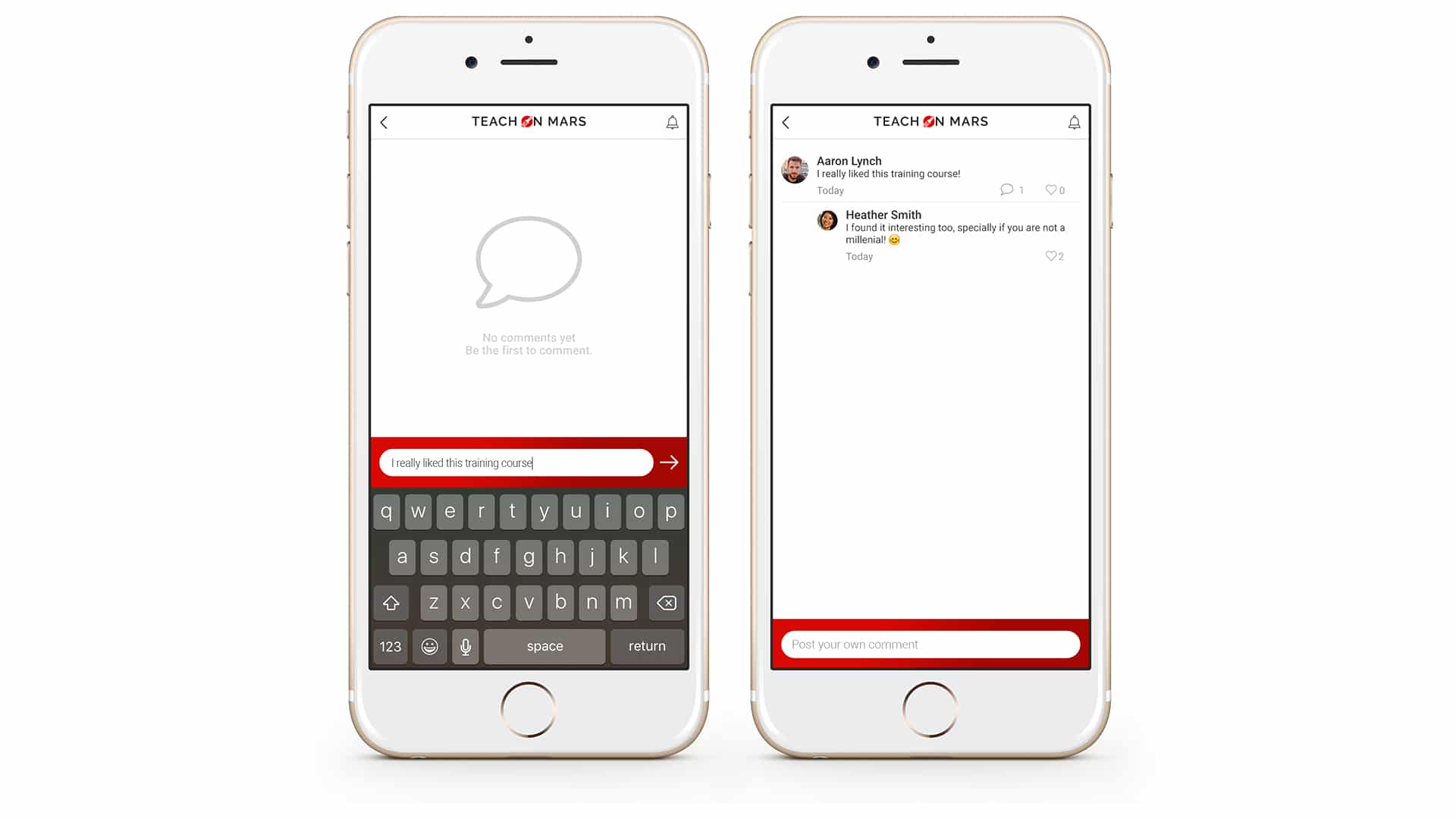 Very soon (Q1 2020), learners will also be able to add their own images, gifs and videos to their comments. And just like they can on Facebook- or LinkedIn, they can now mention other learners, who'll receive that all-important instant Push notification that they've been namechecked.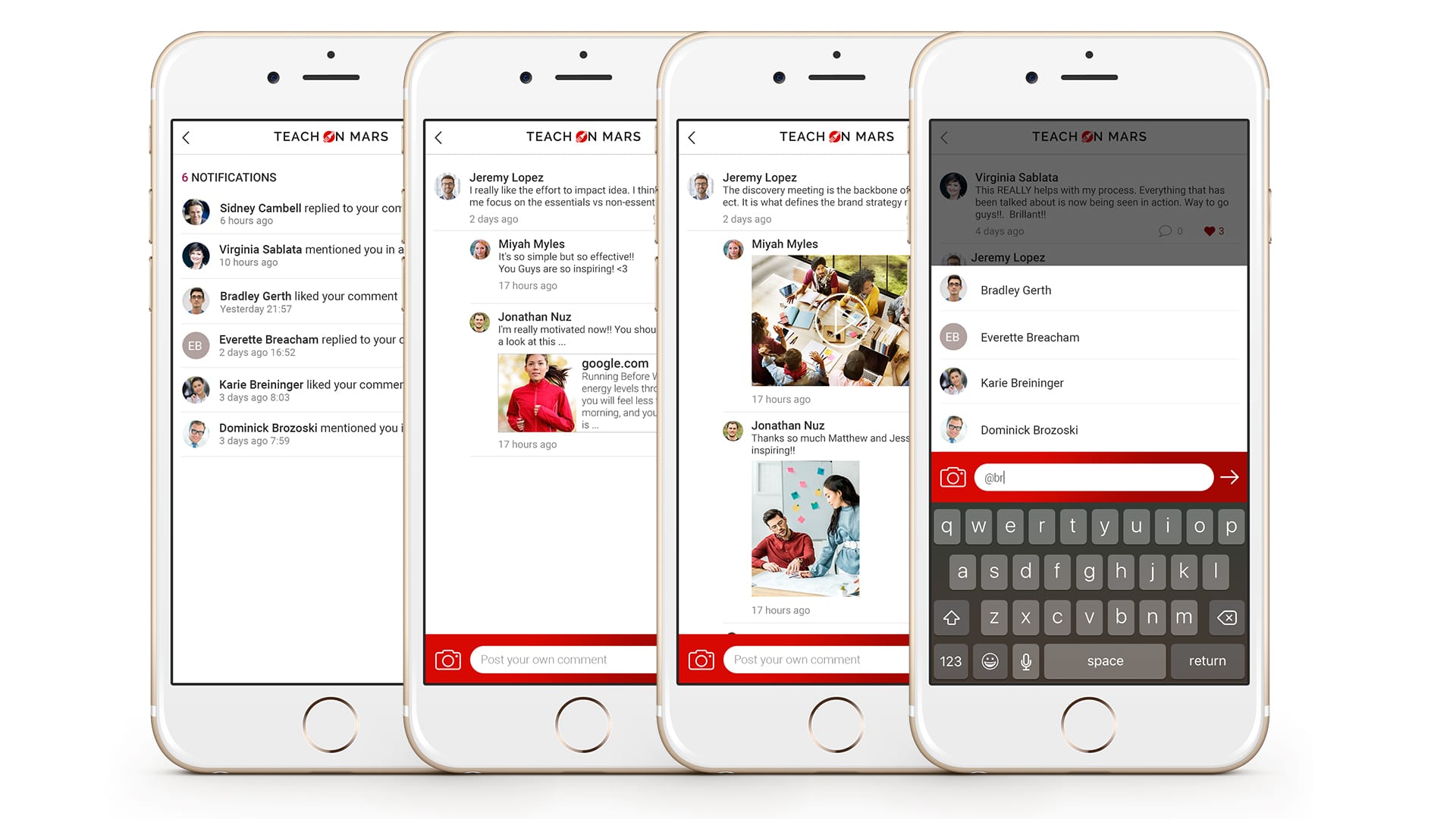 Learning Recommendations
Callisto unveils a brand new multiple-choice quiz activity that will use a learner's answers to steer him to exactly the right combination of learning activities to perfect his skillset.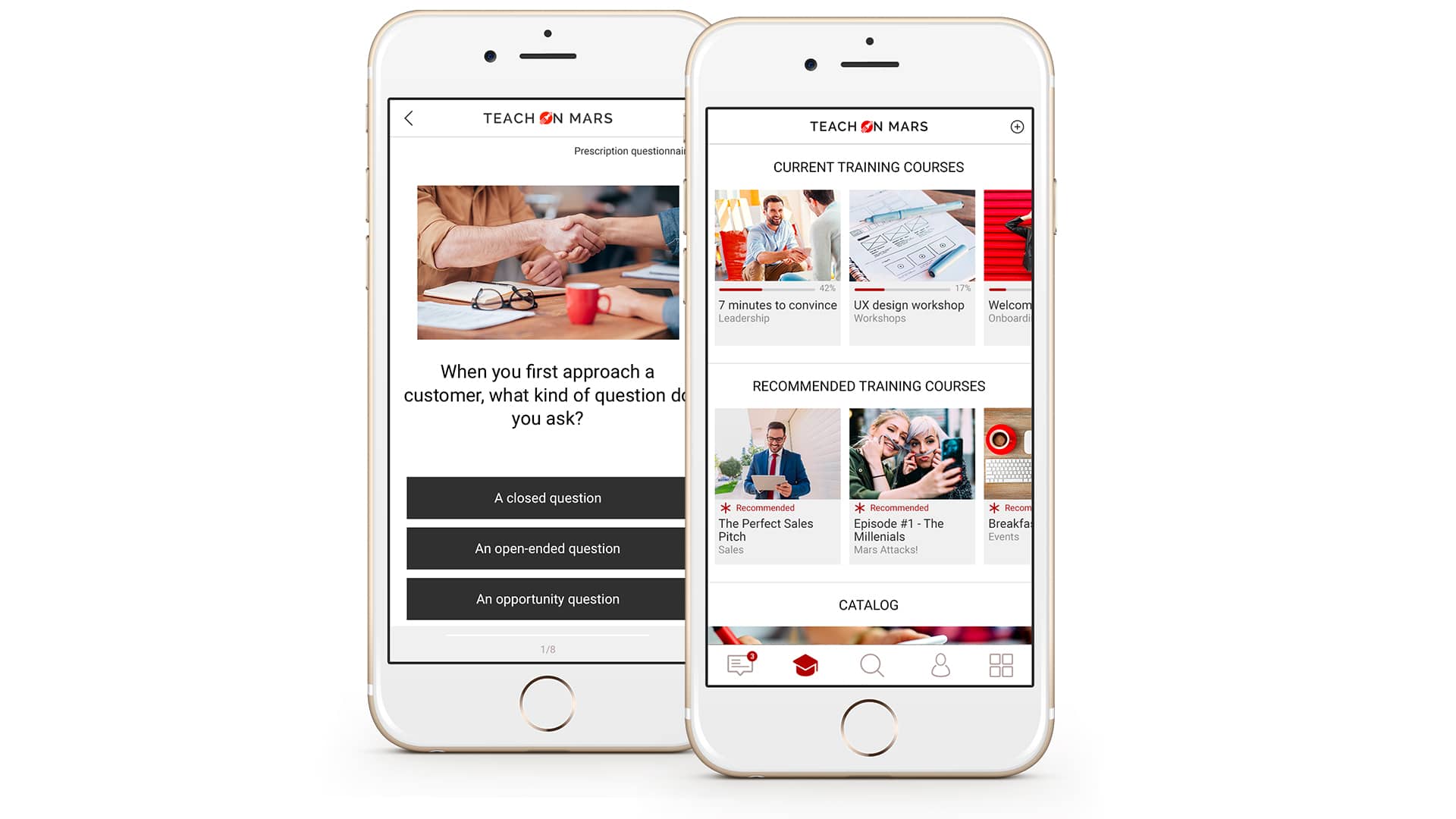 You can also have Callisto's all-new AI algorithm send recommended learning activities – including most popular training courses and those your peers have been following – direct to your Wall once a week. Never miss a hot piece of content again!
Direct Links to Training Courses
We've added a feature enabling you to set up direct links to other training content from your Articles and Mobile Courses. So now you can link resources together to encourage learners to pass smoothly from one training course to another.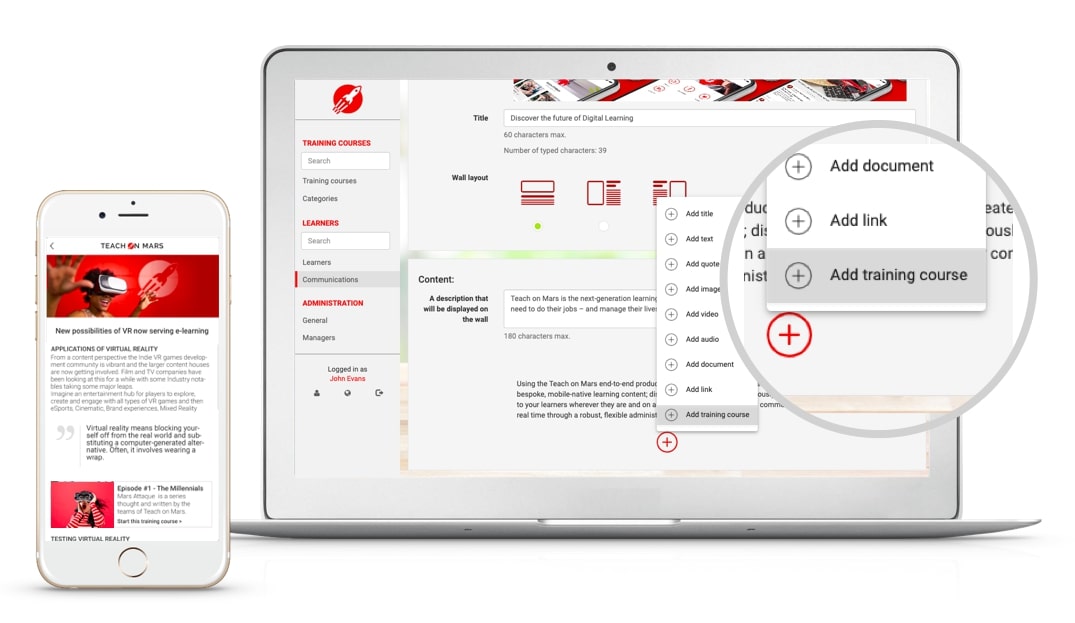 WeChat Single Sign-On
If your learners are among the one billion worldwide that are WeChat users, they can now connect to Teach on Mars directly with their WeChat ID.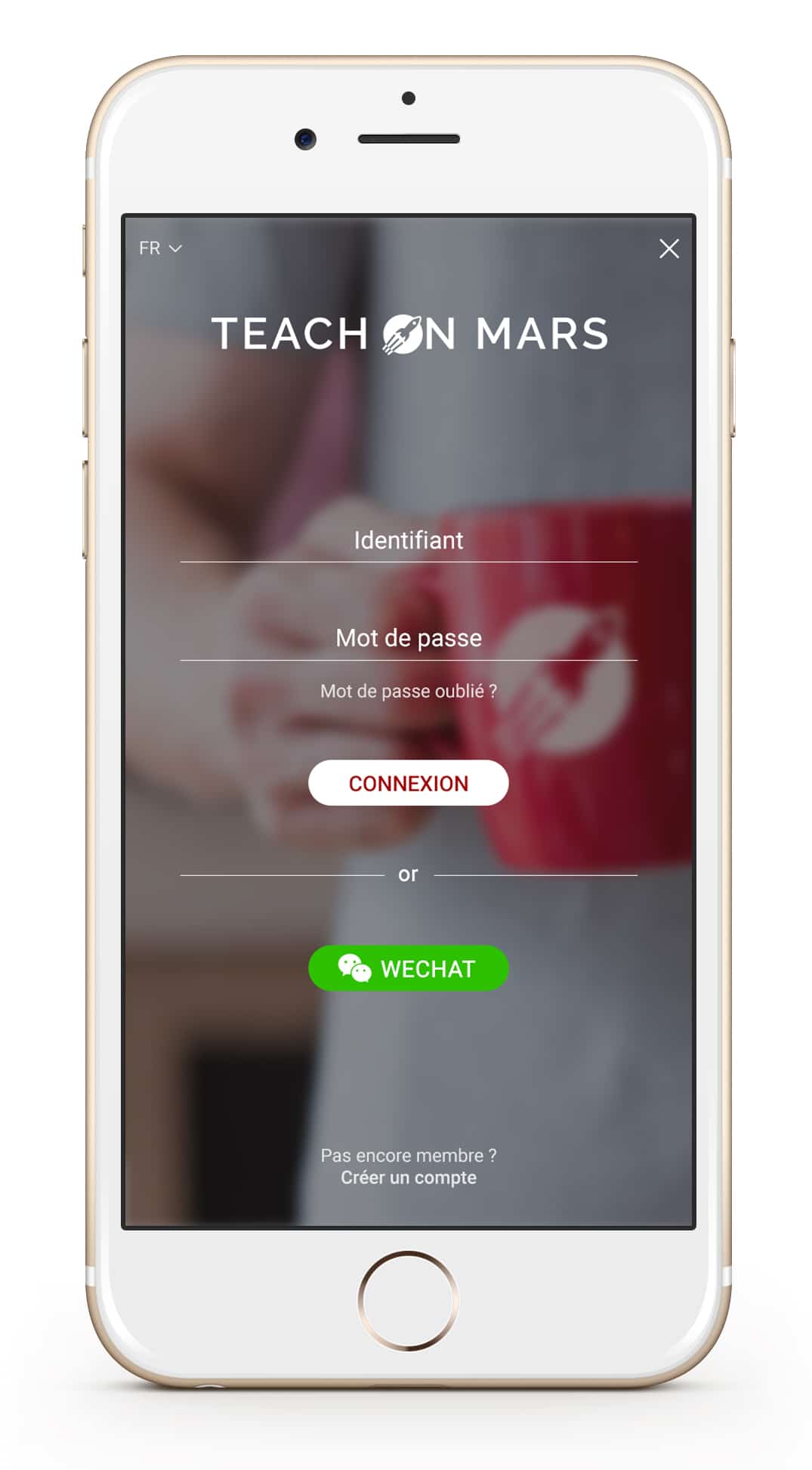 Deep Dive into your data with Business Intelligence
With Callisto, you can now connect your dedicated Business Intelligence tools directly to the Teach on Mars Mission Center to take your analysis to the next level. Home in on data from a precise period; compare data from period to period; apply multiple data filters simultaneously. Then roll all that up into the complete management dashboard data provided by your other tool-suites. Installation of a BI connector is an extra-cost option that ToM-Enterprise licence-holders can activate by contacting their Teach on Mars Project Manager.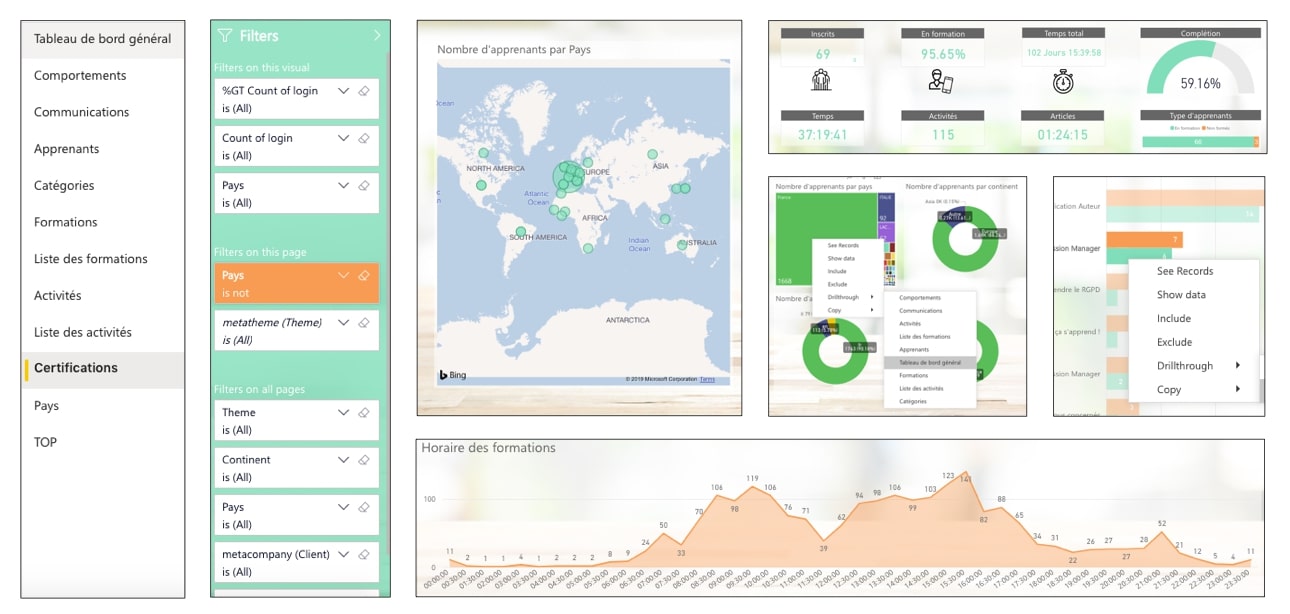 Manager Dashboard: track learning operations wherever you are
For the first time ever, managers can now view all the stats and KPIs they need to monitor their team's development activity directly in their mobile app thanks to this new add-on, available as an extra-cost option. Learners, training courses, time spent, completion percentages, progress, engagement – you can now put it all right there in their pockets!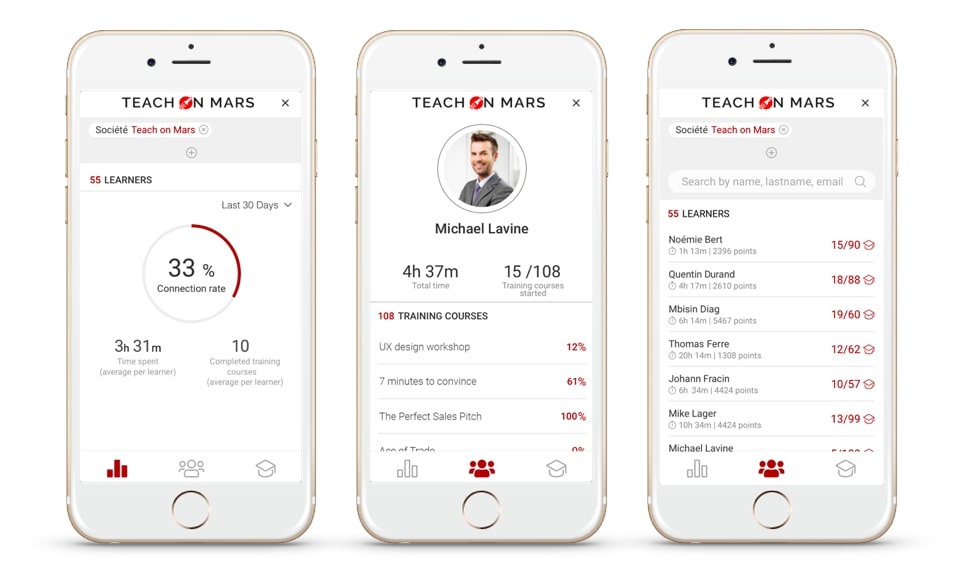 Flexible Offline & Online Content Authoring
Need to go offline but haven't quite finished working on your latest piece of learning content? No problem – simply download your content into a Teach on Mars Excel® template and you can carry on your work on the go. Take as many language versions as you need – and even export your media if you like.
Then re-import your Excel® template into the Web Authoring tool whenever you like and get your fully updated version on-line again. You can now switch back and forth between the two creation options quickly and seamlessly!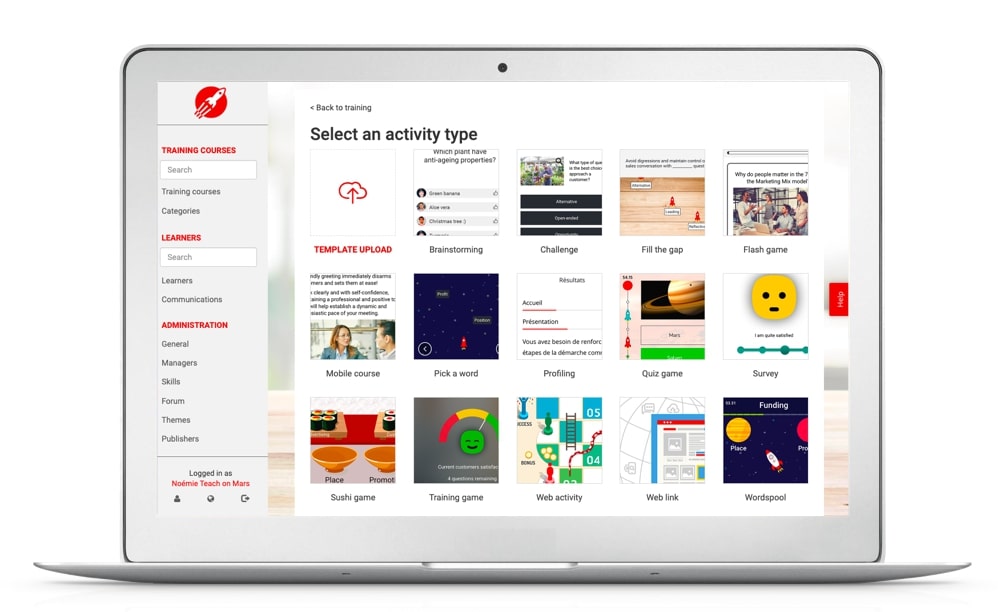 Share Communication Templates with managers through your Mission Center
Mission Center super-users can now create their own customised, reusable Communication Templates, which they can then save and share with other managers. This is great for ensuring consistent, impactful communication to large learner populations across multiple regions or markets.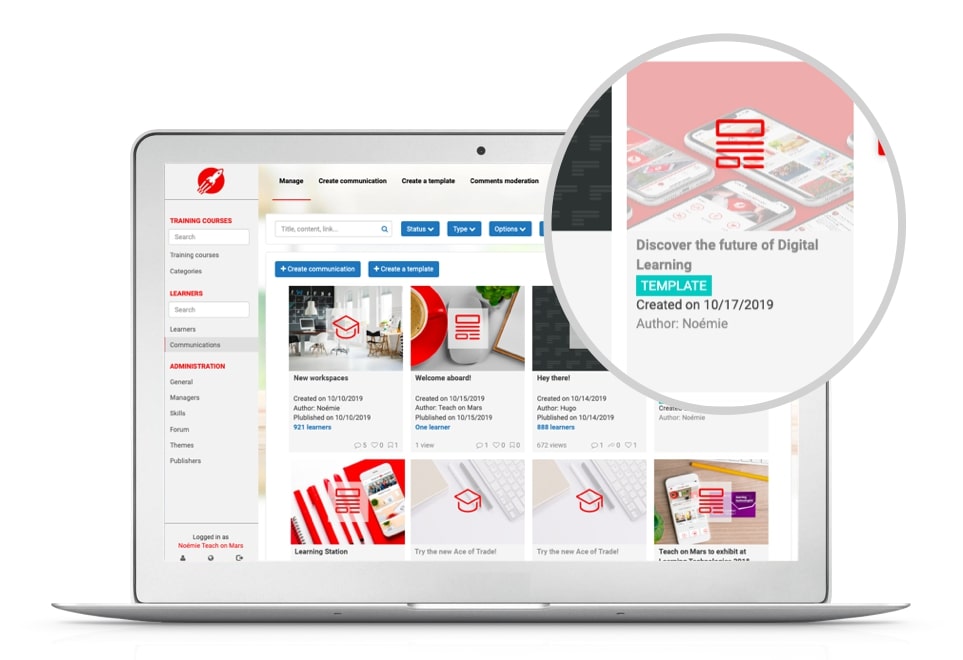 New-look Communications Hub
App managers can now choose between two views – Grid or List – for more clarity. They can also choose exactly which communications they want to display by filtering with a range of criteria including communication type, date and author or by focusing on most recent or most popular communications.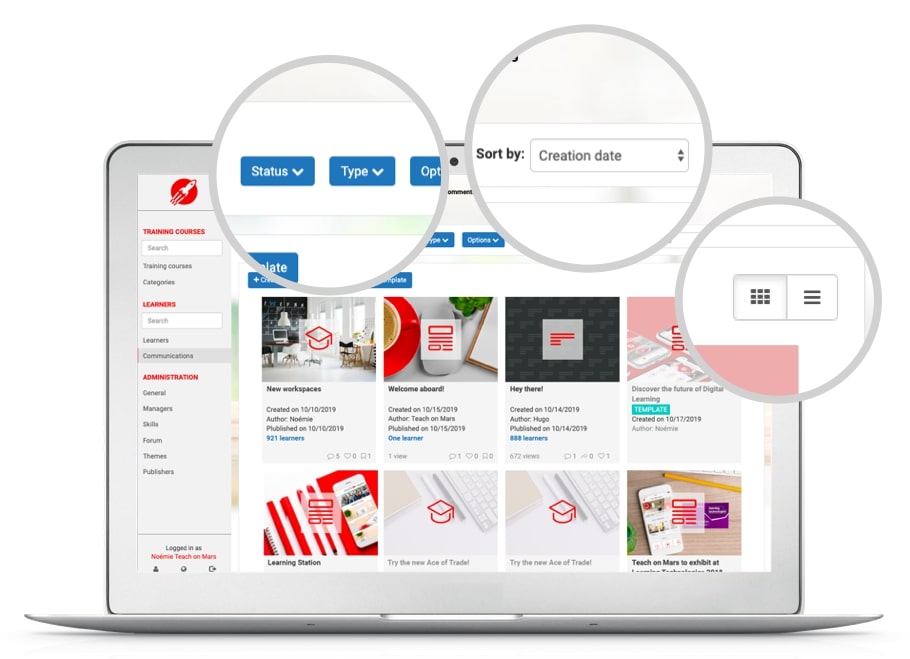 CSV Export of Wall Statistics
You can now get invaluable insight into the social activity of your learner populations by exporting your Wall statistics in CSV format. Leverage this data to optimise your communications strategy and drive engagement levels even higher.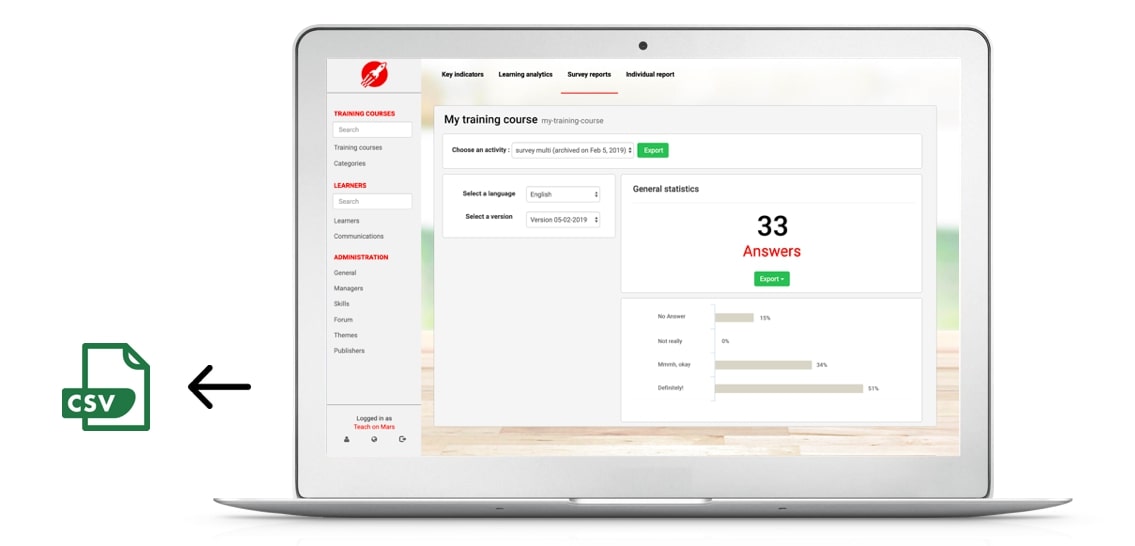 Record points in SCORM-compatible Web activities
Third-party Web activities offer huge instructional design potential. With Callisto, SCORM-compatible Web activities can now record points scored in the Mission Center like any other activity. So you can take them into account in your highest-performing learner rankings and also include them in score-dependent learning paths.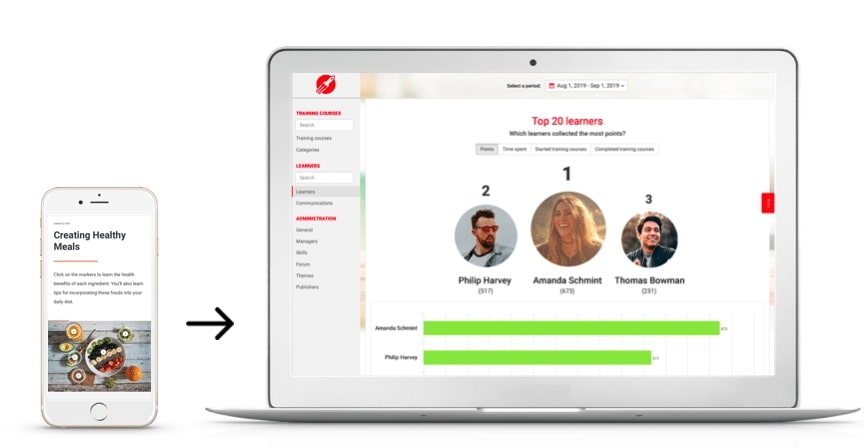 Want a sneak peek? Download today!
You can see the Callisto difference in action from early November in the Teach on Mars app, downloadable as usual on the App Store and Google Play. To get all these new features on your own app, contact your Project Manager.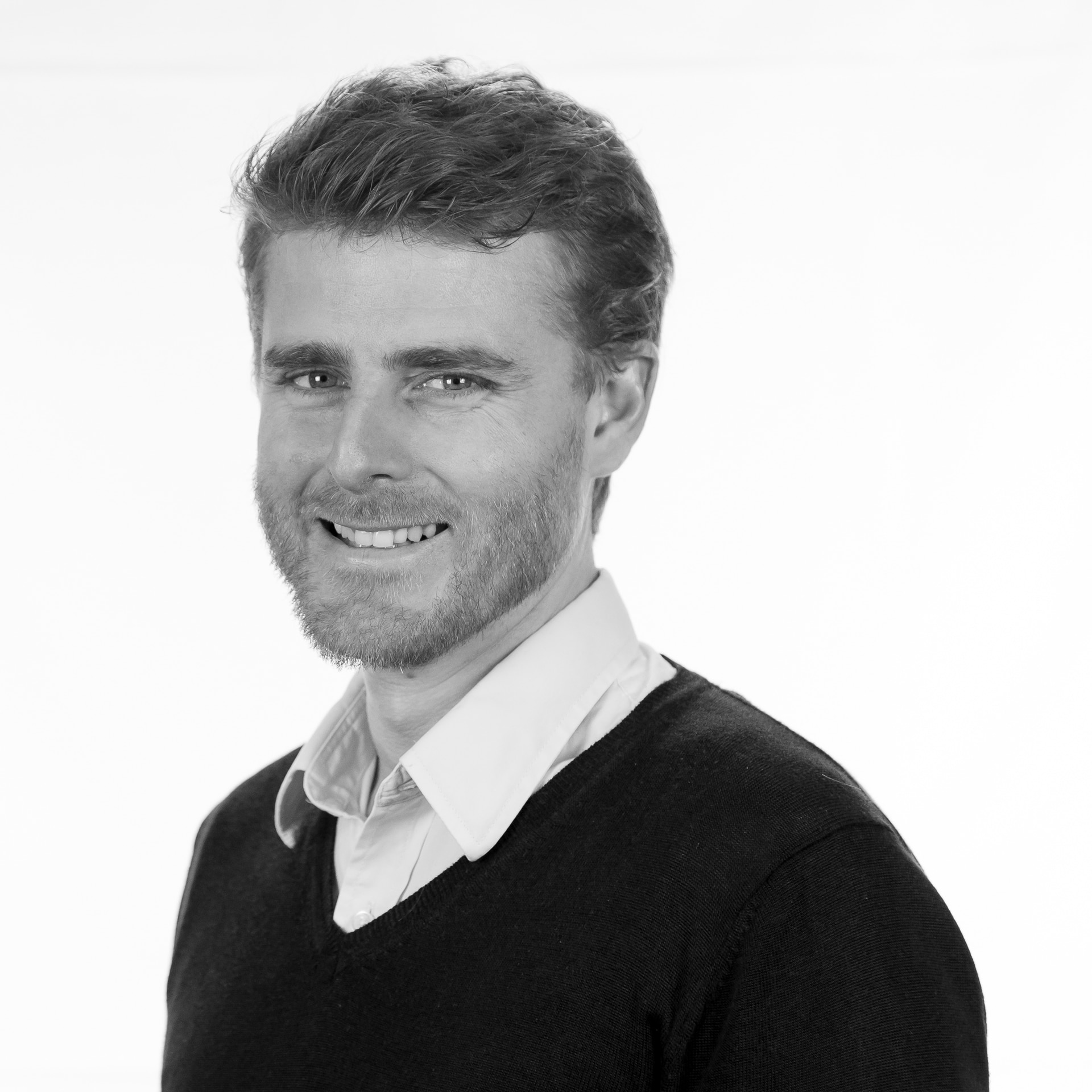 Depuis 10 ans dans la communication et le webmarketing, ingénieur de formation, diplômé d'un Master de l'IAE de Nice, Hugo a occupé des postes variés comme développeur web et responsable de projets Européens, avant de rejoindre l'équipage de Teach on Mars comme Marketing Ninja pour propulser la fusée partout dans la galaxie