On 8 March 2018, 200 Teach on Mars customers and partners were together in Paris for the start-up's first ever Partner Forum. This gala evening featured the Mobile Learning Awards, honouring the best mobile training content in 5 different categories, with the added bonus of a Special Academy Favourite Prize and a Jury Grand Prix trophy. It was an emotional ceremony at a glittering event that bore eloquent testimony to the energy and the passion at the heart of the Teach on Mars ecosystem.
This first Partner Forum is destined to go down as a landmark in the development of Teach on Mars – for the first time since its creation, the start-up played host to all of its partners and customers in one place. An important, and one that Vincent Desnot, Teach on Mars CEO, who inaugurated the ceremony, clearly found quite moving.
A shared vision of the changes taking place in learning and development
The highlight of the evening was eagerly awaited by partners in contention for the 2018 Mobile Learning Awards. The winners seemed particularly moved to have their work recognized – a fitting reward for authors who have believed in the power of mobile learning through Teach on Mars technology.
Winners of the 2018 Mobile Learning Awards
Best course in the CUSTOMER category
Les Poupées Russes and Acqua di Parma (LVMH Group) for "Finding Pura"
Best course in the PROFESSIONAL category
Groupe DMM for "Journey to the heart of relational excellence"
Best course in the CSR category
Diversity Conseil for "Discrimination-free recruitment"
Best course in the EXTRA-PROFESSIONAL category
i-ELS and its Smart Coaching programme "Mindfulness for families"
Best course in the SOFT SKILLS category
SkillsDay for "Social Selling"
Special Academy Favourite Prize
Bordeaux Wine School – CIVB for "Wine tasting"
Jury Grand Prix
SkillsDay for "Social Selling"
Teach on Mars news: Marketplace and FabLab
The evening was also an opportunity to make some exciting announcements. The Teach on Earth initiative, presented by Vincent Desnot, was been set up to lend practical technological support to important causes by facilitating the availability of mobile learning solutions. Two projects have been created for Ecpat France and Inkhata, and others are in the pipeline.
The event also marked the official launch of the Teach on Mars Marketplace. A hundred off-the-shelf training programmes have already been listed and divided into 11 categories, ensuring better visibility of their flagship content for publishers and a great way for buyers to expand their training catalogue easily and effectively!
The Teach on Mars Academy also took advantage of the occasion to officially award the first Teach on Mars Author Accreditations to six early-adopter partners. Earned through their performance in a series of rigorous theoretical and practical tests, this accreditation is a fitting reward for this first generation of mobile learning authors. And for Teach on Mars it's a critical guarantee of the quality of service it offers its customers through its certified partner network. Congratulations to them all!
Another special announcement was the opening of the new Mobile Learning FabLab. This project is the result of a partnership between Teach on Mars and IFCAM, the Crédit Agricole bank corporate university. Free public workshops will be held every Friday at IFCAM's premises in Rue la Boétie, Paris, allowing owners of mobile learning projects to exchange ideas, work together, devise mobile training content … and maybe even prepare for next year's Mobile Learning Awards?
A big thank you to all the onstage presenters and those who worked tirelessly backstage to make this event such a success. See you all next year!
The 2018 Partner Forum in figures and images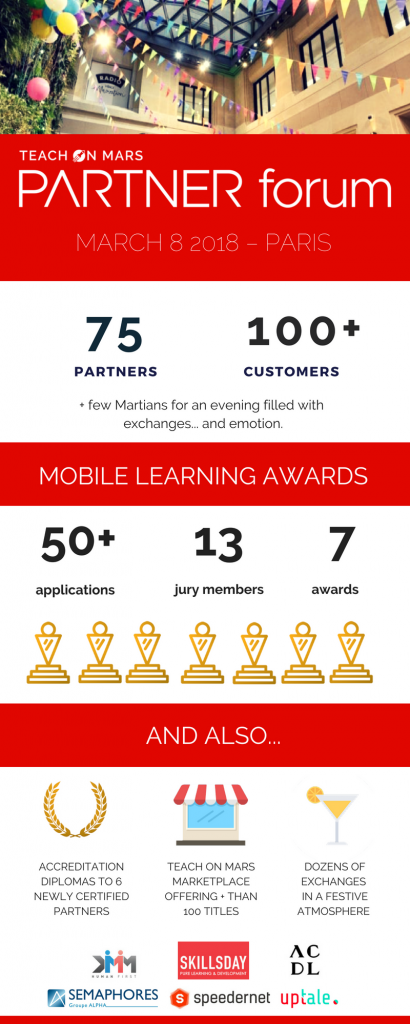 Watch the video of the event:
See photos of the evening on the Partner Forum website. 
What they said on social media…
Fières et heureux d'avoir gagné le ? catégorie "Métier" avec le module Voyage au cœur de l'excellence relationnelle lors #MobileLearningAwards @TeachonMarsfr ! Une belle consécration pour toute l'équipe ? pic.twitter.com/P87fbfqeHr

— Groupe DMM (@GroupeDMM) March 8, 2018
"Proud and delighted to win this award in the "Professional" category with "Journey to the heart of relational excellence" during #MobileLearning Awards @TeachonMarsfr ! A great consecration for the entire team"
Remise des récompenses pour la catégorie formation métier pour DMM #TOMFP18 pic.twitter.com/kvyT0qvyOR

— Sémaphores (@Semaphores_) March 8, 2018
"Professional category awards ceremony for DMM #TOMFP18"
Merci à @TeachonMarsfr d'avoir décerné le prix de la "Meilleure formation mobile" dans la catégorie "Extra professionnelle" pour l'application #MindfulnessEnFamille ☯? N'hésitez pas à la découvrir, si ce n'est pas déjà fait 😉 >>> https://t.co/4fQJOxnQuu pic.twitter.com/SbFPwufDO9

— Smart Coaching (@SmartCoachingFR) March 15, 2018
"Thanks to @TeachonMarsfr for giving the "Best course" award in the Extra-Professional category to the #MindfulnessForFamilies app. Take a look it if you haven't done so 😉 >>> http://www.smart-coaching.net/application/mindfulness-pour-enfants/"
Très heureux d'être ce soir au @VillageCAParis avec l'équipe @My_Mooc pour le 1er « Partners forum » organisé par @TeachonMarsfr ! ?
Un beau partenariat qui permet aux concepteurs de formations en ligne sur Teach on Mars de booster leur visibilité via notre plateforme. #TOMPF18 pic.twitter.com/7Q4caPAgEt

— Clément Meslin (@clemeslin) March 8, 2018
"Very excited to be at @VillageCAParis with the @My_Mooc team for the first @TeachonMarsfr Partner Forum !
A strong partnership which allows elearning designers using the Teach on Mars solution to improve their visibility through our platform #TOMPF18"
#TOMPF18 félicitations aux lauréats, merci et bravo à @TeachonMarsfr pour cette super soirée. À l'année prochaine ! #mobile #learning pic.twitter.com/XggR0JASZy

— Jean-Marc FAYOLLE (@JeanMarcFAYOLLE) March 8, 2018
"#TOMPF18 congratulations to the winners, thank you, and bravo to @TeachonMarsfr for this superb evening. See you next year! #mobile #learning"
#TOMPF18 Très belle cérémonie des #MobileLearningAwards organisée par notre startup @TeachonMarsfr !
Bravo pour votre annonce du 1er #FabLab de #mobilelearning avec l'@IFCAM ? pic.twitter.com/MYpOEHZLRD

— LeVillagebyCA Paris (@VillageCAParis) March 8, 2018
"TOMPF18 It was a very nice #MobileLearningAwards ceremony organised by our startup company @TeachonMarsfr! Bravo for the special announcement about the opening of the 1st #mobilelearning #FabLab with @IFCAM"
Marielle has been travelling in the Teach on Mars rocket ship for 6 years. After having contributed her skills in pedagogical engineering and training facilitation to guide clients towards success, she is now Product Owner, in charge of designing the new features of the solution.