Boosting employee skillsets
Connection, performance, energy efficiency and data: in a constantly changing world, VINCI Energies is accelerating the rollout of new technologies to support its customers in their digital transformation and energy transition processes. To meet current and future challenges related to technological and organisational changes, companies need to think ahead and adopt agile models.
The VINCI Energies strapline, "Powered by your energy", is particularly appropriate when it comes to learning: the engagement of company employees has reached new levels thanks to an innovative HR policy, and in particular the "Click & Learn!" mobile learning app.
Digitisation of training was initiated by the VINCI Energies Executive Committee to meet a dual challenge: help employees adapt to a new digital culture and improve the learning experience in a context of rapid external growth.
A new digital learning format to serve the Group
The aim of the VINCI Energies Academy is to transmit the people skills, culture and DNA specific to the Group. It delivers around 15% of the training courses offered each year in the Group, through face-to-face or e-learning, and in a wide variety of fields covering all areas of expertise and job descriptions. Learning also takes place through in-house institutes supported by VINCI Energies brands which offer commercial training courses based around their primary business activity. At the same time, a programme to create academies around the world is being rolled out to help disseminate the culture of VINCI Energies.
The mobile learning system created aims to diversify the digital learning offer in the Group. "We want to add a new string to the VINCI Energies learning bow by expanding the training formats available," explains Alexandra Pansier, EdTech Solutions Manager in the VINCI Energies Academy. This system is targeting all employees in the 1800 companies that make up VINCI Energies. As the app is linked to the staff directory, all employees with a business email address have access to "Click&Learn!".
The "Click&Learn!" solution
Le dispositif de mobile learning, qui s'appuie sur l'application "Click&Learn!", s'intègre dans une approche de blended learning. Elle associe des moments d'apprentissage synchrone et asynchrone, pour une meilleure efficacité. « L'objectif est de répartir la formation dans le temps grâce au digital, avec des moments synchrones et l'introduction du digital certes avec des elearnings de types SCORM, mais aussi avec du mobile learning. Pour cela, il faut des outils collaboratifs. Il y a plusieurs modalités de digital, qui sont autant de cordes ajoutées à l'arc du présentiel » poursuit Alexandra.
L'application a vocation à être un outil groupe. Elle a été lancée en février 2017 en France et les premiers lancements hors de France ont été orchestrés progressivement à partir d'août 2017.
Certains contenus disponibles dans l'application sont élaborés en interne par l'Academy. Il s'agit par exemple de formations dédiées à l'onboarding de nouveaux collaborateurs et au système de management « Quartz Découverte », disponibles dans plusieurs langues. D'autres formations sont conçues directement par les entités locales dans les pays, à l'instar du Brésil et de la Belgique très moteurs dans la production locale de contenus.
« La solution "Click&Learn!" fonctionne sur tous les devices : smartphones et tablettes iOS et Android et sur PC avec la Web App. Elle offre une souplesse d'utilisation pour pallier les éventuelles contraintes réglementaires dans les pays, qui auraient pu être des freins au déploiement de l'outil. Son caractère multi-canal permet de renforcer son adoption » précise Alexandra. « Le mobile learning se prête bien à des capsules de formation courtes. La "Toolbox" présente un grand intérêt pour retrouver à tout moment les concepts clés à réviser avant sa prochaine réunion avec des clients » ajoute-t-elle.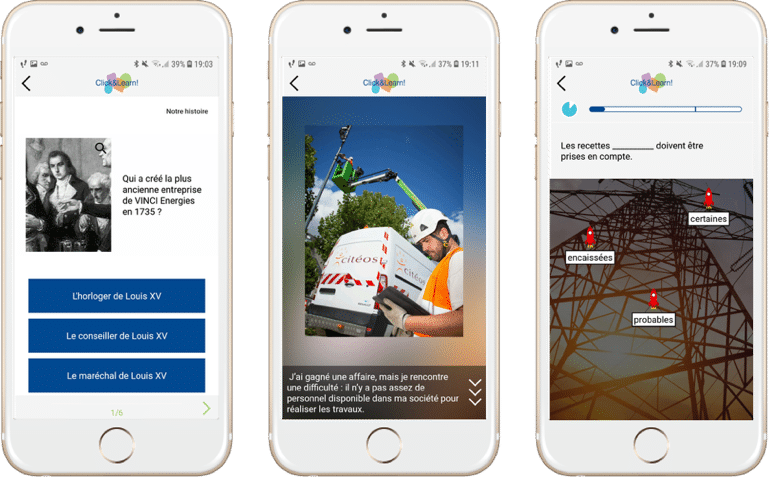 Results that speak for themselves
The "fun and entertaining" app is inspiring learners in 90 countries:
15 training courses available, two of which are mandatory for VINCI Energies employees,
121 minutes of training on average per learner since launch,
68% completion of training rate and 94% retention rate for learners, who say they are very interested in the content,
A significant increase in the number of people trained via mobile learning compared with the face-to-face version (e.g.: +33% on "Quartz Découverte"),
Optimisation of training costs, including an improvement in the "costs / learning benefits" ratio for learners, by avoiding the need for whole-day attendance and travel costs.
The answer to a business challenge
The "Click & Learn!" app can be used to facilitate the "cultural change" that goes hand-in-hand with improvement of the learning experience, and it also embodies the concept of "just in time" by offering the right information at the right time. "Employees now have training opportunities right in their pockets. They know where to find the information when they need it," explains Alexandra.
The Teach on Mars solution is perfectly suited to groups with international operations and a decentralised organisation. Its flexibility allows both the Group Academy to offer a training strategy and tools to individual countries, while local entities can deploy the systems independently within their area of operation. "The solution provides a great response to a real business challenge when faced with the issue of rapid external growth and the need for fast onboarding of new employees. Its implementation is simple and instantaneous, even on the other side of the world. Easy management of languages is highly practical for companies with international operations."
The "Click & Learn!" app helps convey a modern Group image to employees of recently acquired companies. "This promotes the employer brand and creates a sense of pride because we're updating the conventional view our employees might have of training."
Three key factors for success
"An easy-to-use back office, fast content availability and accessibility for all employees have facilitated onboarding and adoption of the tool. For example, Belgium and Brazil have immediately understood its potential."
Championing by ambassadors to help promote the application – whether the local academy or a local HR contact – is essential for successful rollout in each country. Support for individual countries is therefore fundamental.
The training courses are devised by international working groups, which facilitates local adoption.