Teach on Mars just underwent serious refueling and is set to proudly accompany you along the digital learning highways that beckon in the outer reaches of our galaxy!

€7 million to finance the next-phase international deployment of its mobile learning technology
This latest round of funding, announced on January 24, 2019, has been conducted with Omnes, Région Sud Investissement (advised by Turenne Capital) and the company's existing investors. It will see Teach on Mars enter a completely new phase of its growth, consolidating its position as European champion in the mobile learning sector with the explicit objective of leadership on a global scale.
Three strategic priorities
Firstly, it will continue extending its international presence, primarily though the formalisation of Value-Added Reseller distribution partnerships in Europe. Secondly, it will accelerate its programme of partnerships with providers of premium mobile-first learning content. This will strengthen its unique offering of multilingual learning resources specifically designed for deployment in a connected, mobile learner experience. Finally, it will maintain an aggressive R&D policy in order to consolidate its technological leadership. This will specifically include further investment in the development of smart algorithms leveraging the latest advances in artificial intelligence. These algorithms hold the key to significantly reducing the cost of creating and indexing learning content. They will also enable radically enhanced competency and performance management through the automatic construction of ultra-personalised training paths based on real-time semantic analysis of the needs, progress and learning preferences of individual users.
The challenge of "permanent learning"
"Since 2013, Teach on Mars has moved comfortably ahead of the first-generation pack in the race to make digital learning mobile-first," explains Vincent Desnot, Co-Founder and CEO of Teach on Mars. "The next challenge is to deliver on the promise of "permanent learning", where every aspect of the user's connected lifestyle is linked to his ongoing development. To do that, we must continue to pursue our objective of offering the finest learning ecosystem in the market. Teach on Mars will ultimately become more than a digital learning solution: it will be a tool for the continued employability of the new generations entering the workforce and a means to harness the power of collective intelligence for our client organisations."
Two new investors
This new funding round marks the arrival of two new institutional investors, Omnes and Turenne Capital's Région Sud Investissement fund.
"We are delighted to join forces with Teach on Mars for the coming years. Omnes truly believes in the power and the relevance of a mobile-first experience when it comes to the digital learning space. The impressive execution so far by Vincent Desnot and his team led us to support their international expansion plan as well as their product roadmap", says Xavier Brunaud, Investment Director at Omnes.
"An undisputed pioneer and leader in the fast-growing mobile learning marketplace, Teach on Mars has rapidly succeeded in convincing more than 50% of France's CAC 40 companies thanks to the quality of its solution. We are proud to support Vincent Desnot through this new growth plan designed to reinforce the company's international presence and consolidate its dominant position", states Marie Desportes, General Partner at Turenne Capital.
In the press…
Les Echos, 24/01/2019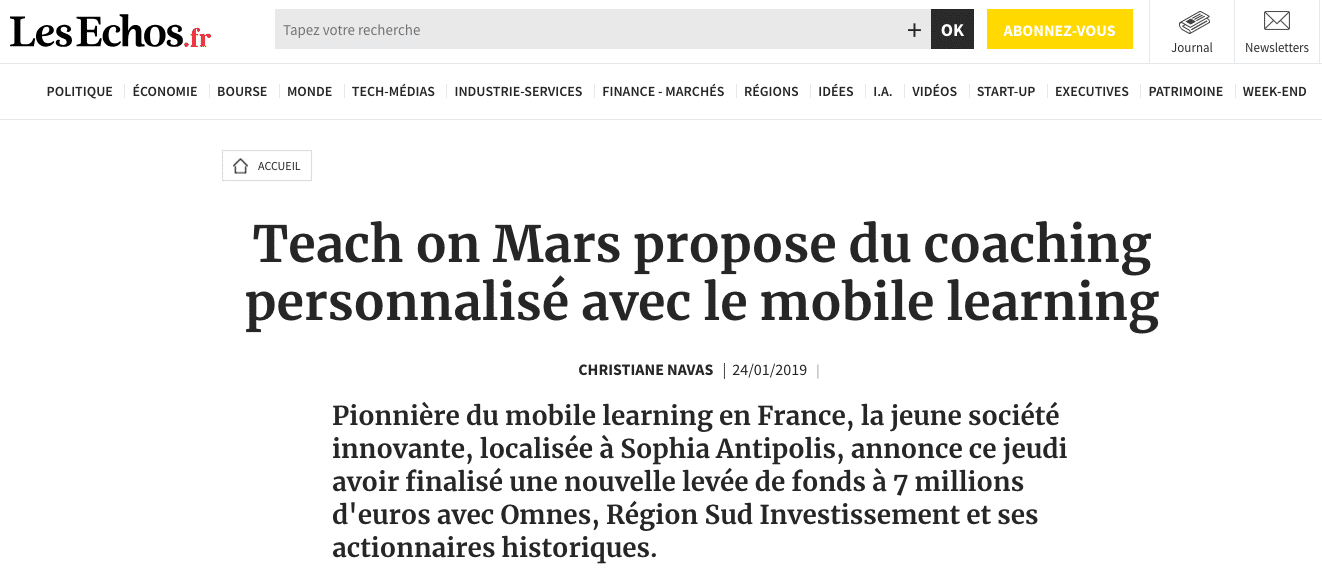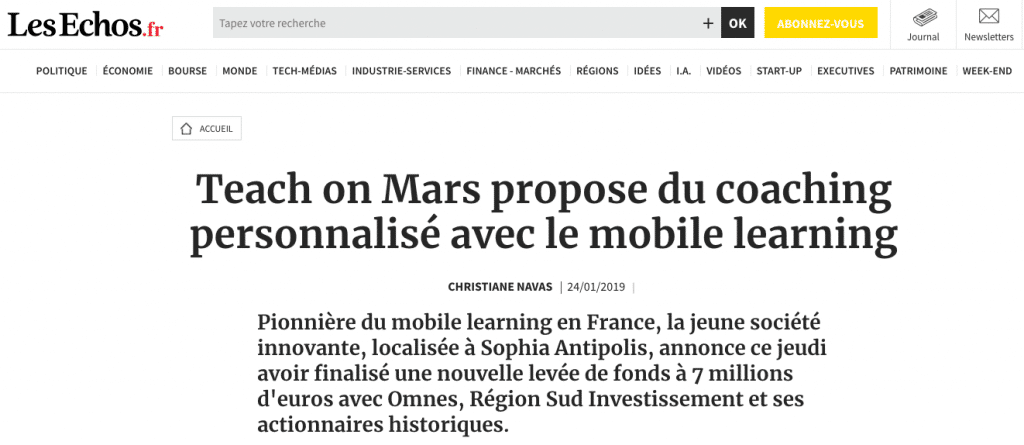 La Tribune, 24/01/2019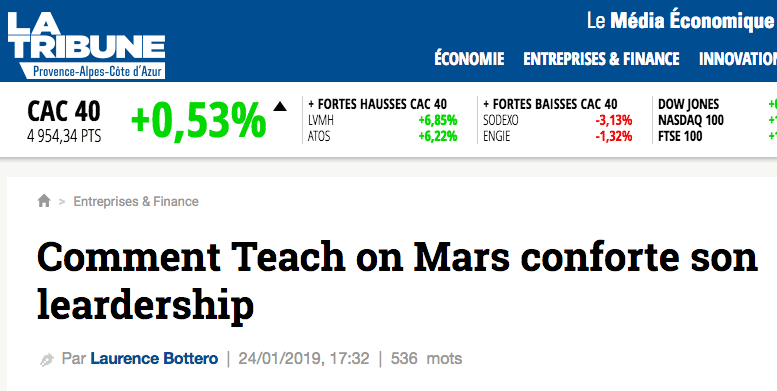 FrenchWeb, 24/01/2019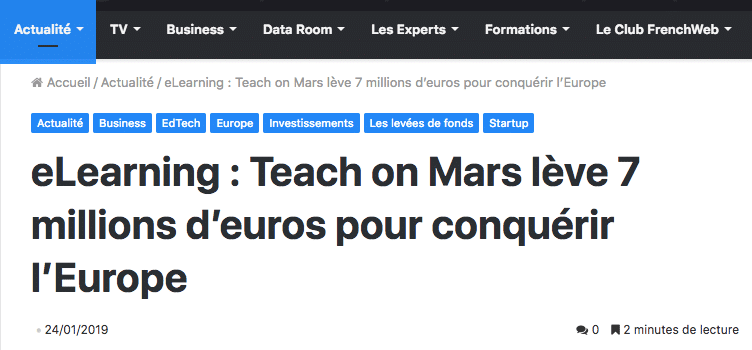 Capital Finance, 25/01/2019

… and on social networks
Bravo 👏🏽 @TeachonMarsfr qui lève 7M€ pour poursuivre le déploiement international de sa technologie de mobile learning 🌎 #PassFrenchTech@ARIIREGIONSUD @FrenchTechCdA https://t.co/Bd0X0kBc1Q

— La French Tech (@LaFrenchTech) January 24, 2019
.@TeachonMarsfr lève 7 millions d'euros pour accélérer son déploiement à l'international.
A lire sur https://t.co/PDm9A0wOaC pic.twitter.com/V2ymvY6blG

— Nice_Matin Eco (@NiceMatinEco) January 24, 2019
Bravo pour la levée de fonds de @TeachonMarsfr, membre de notre cluster : https://t.co/cJTPdyGx2B via @LesEchos

— EducAzur (@Educ_Azur) January 24, 2019
[REDIFF] La #startup Teach on Mars lève 7M€ et décolle vers l'international https://t.co/ukTxXdoyFZ #SophiAntipolis #Nice06 pic.twitter.com/qD9TsW6Ucc

— Tribune Côte d'Azur (@Tribuca) January 27, 2019